Secret Santa
---
To my Secret Santa at

Draw my original character Jan. Here are a few stats:
Age: Early 30s
Hair Color: Blue
Hair Style: Usually in a bob that frames her face (with uneven bangs)
Occupation: Office Secretary (who occasionally does style makeovers as a side gig)
She loves sweets and is a coffee/tea kinda person. Brightly colored clothing with crazy patterns are her thing.
A few references: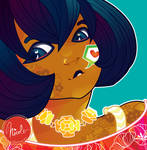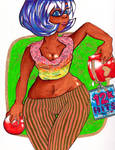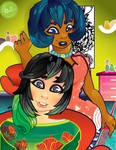 Make it fun!
Use any medium/style you feel comfortable with.
Create a new outfit for her. Put her in a unique setting. Draw her with your own characters.
Whatever you need to do to enjoy it.
I'm not a picky artist, so no pressure!
Check Out My Sketches on Instagram
Follow Me On Twitter
Friend Me On Facebook
My Rough Sketches on Tumblr
My Likes On Pinterest