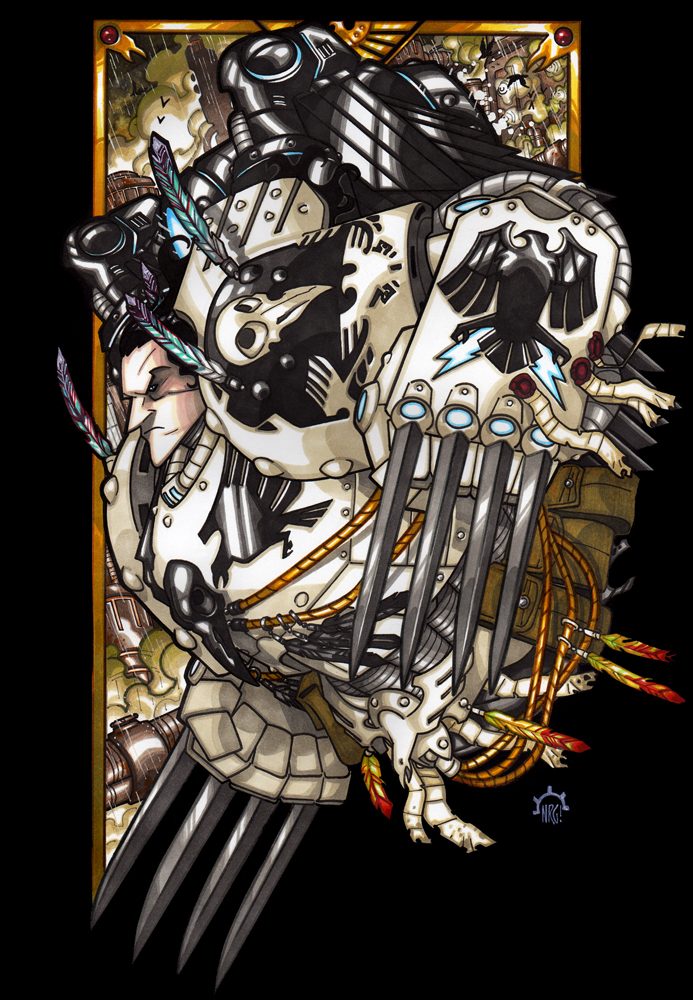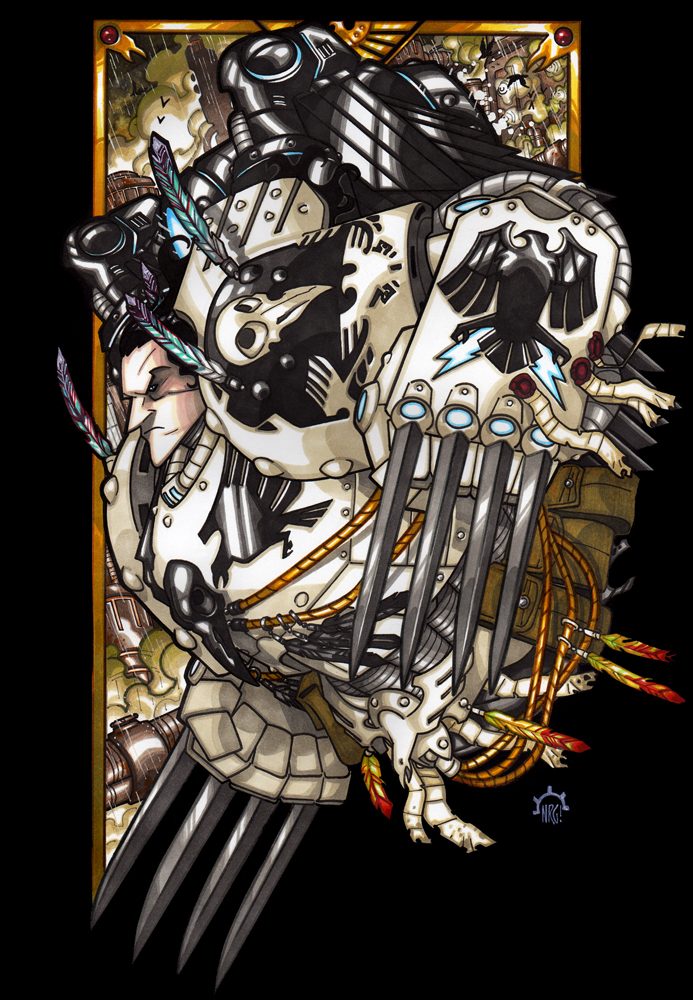 Watch
Good evening, distinguished watchers and watcherettes...
As someone mentioned over at the B&C (the Warhammer 40,000 Space Marine forum, for those of you not in the service of The Emperor
[link]
), it's been almost two months since my last addition to the
Libris Primaris
. Of course, that last addition was made way back in June and there was the *ahem*
baby
affair in the middle. So, you know how it is...
But, for those loyal to the Emperor's finest, here is the latest favoured son in the ever thinning list of mighty legends I'm illustrating:
Corax
, Primarch of the
Raven Guard
Legion.
I really enjoyed working on this Primarch even though I often overlookd him in the fluff and his legion as a whole. They always struck me as a successor chapter, which was not the case at all. Funny, because I've always loved
E.A. Poe
, and there's lots of references in this legion's theme from that great horror author; the last words of Corax nonwithstanding:
'Nevermore'
.
With this Primarch I tried to think of a darker version of
Sanguinius of the Blood Angels
, and I was happy to see that in the final version these two and my illustrations clearly underline their heritage, but accentuating's each brother's defining characteristics. Corax is much more of a predator, his features hard and crow-like. His wings are of hard metal and engineering and his raven's talons made to instill fear into his enemies and a sense of swift death, rather than the amazement and overwhelming feeling that Sanguinius must've projected, being much more radiant and gracious.
One other detail I loved painting was the background Forge World of
Lycaeus
, Corax's homeworld. It seems to me that these industralised, gritty, smoke and fog filled amospheres are what best represent the gothic foundations of the Dark Millenium.
But enough patting myself on the back. I hope you enjoy this legend of The early Imperium and let me know yout thoughts/comments/critiques as usual!
See you all soon!
Nic.-
© Games Workshop Ltd. 2010