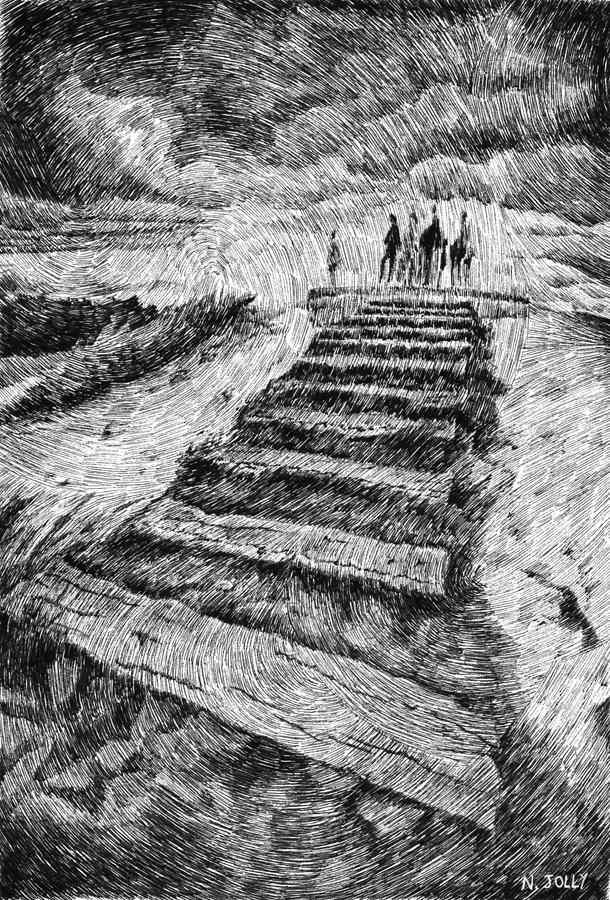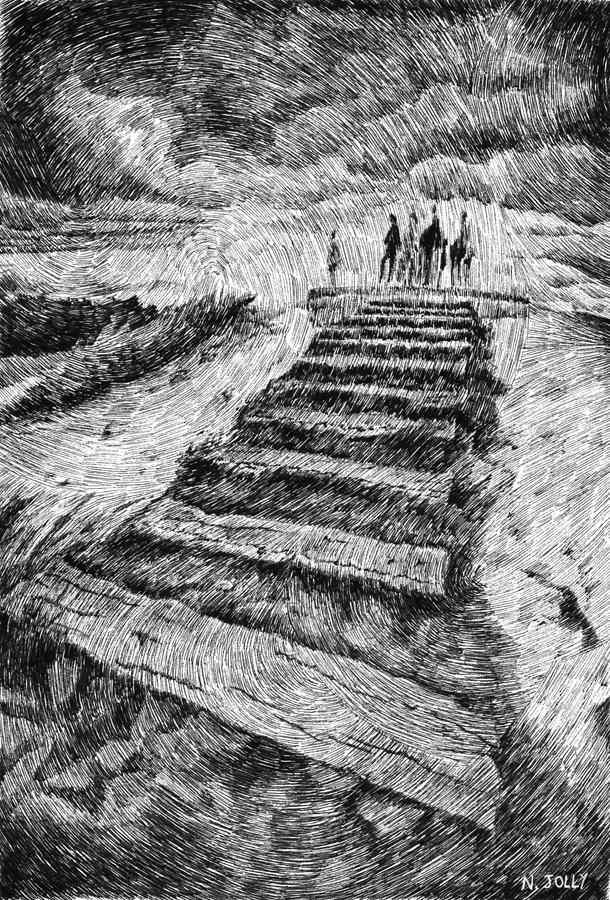 Watch
Made in ink on paper 30x42cm.
Details :
For more works : FACEBOOK NICOLAS JOLLY
Don't hesitate to leave a "like"




I do commissioned work, send me a note if you want I draw art.More like this:
:thumb337364770:
This is fantastic--you manage to evoke a mystical atmosphere that is further accentuated and strengthened by the way you've rendered it. And you managed, with those pen strokes, to give expression to something very seldomly explored in most artwork, which is the wind itself. The hazy, meandering lines and vague, shadowy figures are taken a step further in the way you indicate variations of light quite subtly, amplifying the render to the point where it is vague enough to give a sense of mystery and wonder, but solid enough to give tantalizing details and avoid the feeling of a cheap cop out to ambiguity.
The pathway, figures, and the clouds are all compellingly rendered, but there are some areas which feel a little difficult to pin down--most notably the mass of angular shapes in the lower left, which I assume to be rocks, but am not sure, and the hazy definition of what I think is some hills and trees to the center-left. These do little to detract from the initial impact of the piece, as they are subordinate to the main flow of the composition, but they still feel a bit unresolved. The piece is moving, though it feels like there's room for a bit more narrative within it--strictly speaking, the atmosphere and implied narratives are some of the strongest points for me, and very compelling--only they feel like they could be pushed a little farther.
The powerful emotion, overall mood of mystery on a stormy august day, the balance of ambiguity and tantalizing detail, and the strong sense of composition make me love this piece. The unique rendering makes it stand out and amplifies it everything good about it further, and is something you just don't see often. You clearly are very talented at your craft, and your work is captivating. In all, this piece, which feels like a dream, flowing and dancing and surreal, with the sense of a cloudy veil over the experience of reality, works well for me.
The Artist thought this was FAIR
5 out of 5 deviants thought this was fair.