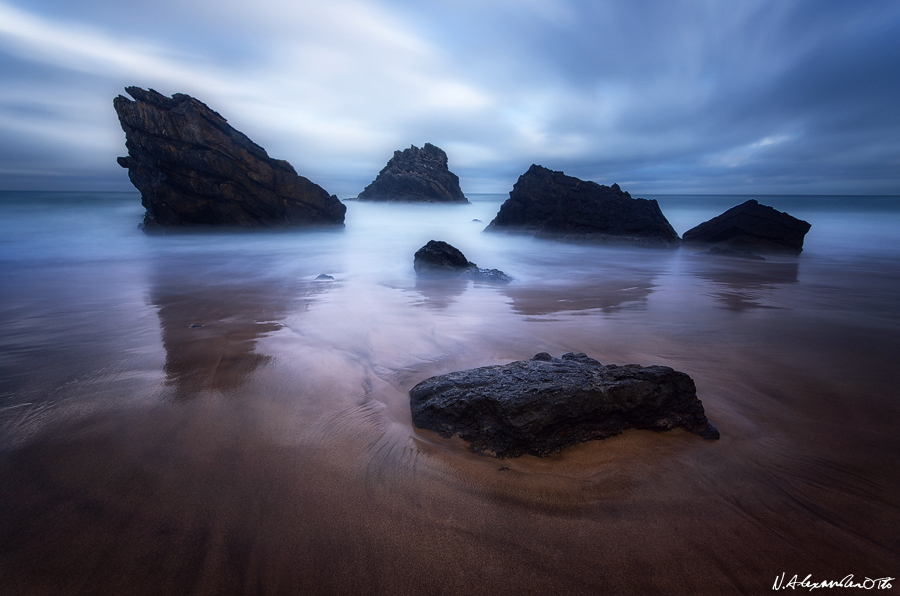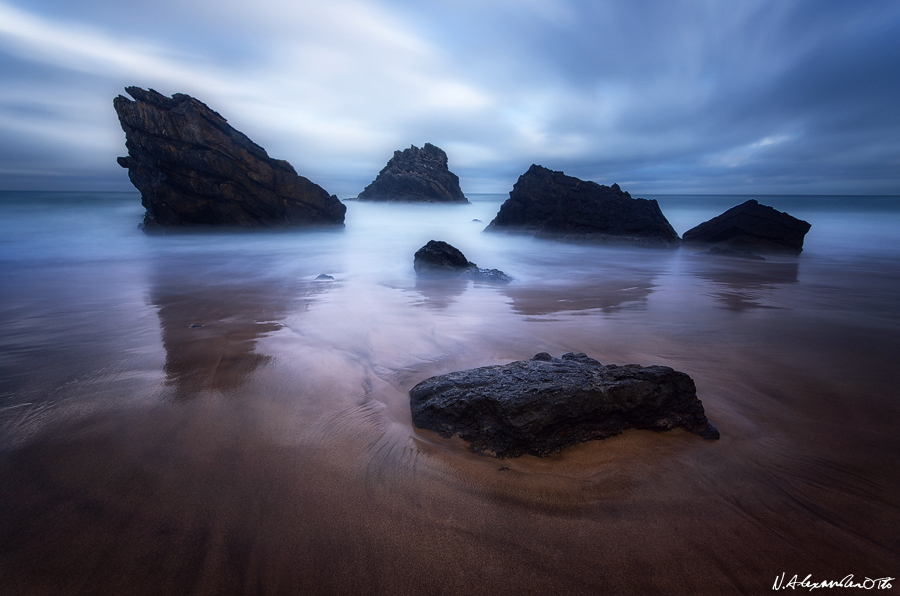 Follow me:
Facebook
|
500px
|
Google+
|
1x
_______Tech Info
Pentax K5
Sigma EX 10-20mm f/4,0-5,6 DC HSM
Slik 780 DX Pro | SH-807E
Aperture:
f/10
Shutter Speed:
45s
ISO-Value:
100
Focal Length:
10mm
Filters:
Haida ND1000 Slim
Time:
8:25am
_____Random Info
This shot was taken at one of Portugals most famous beaches: Praia da Adraga near Sintra. These characteristic stone formations were certainly a challenge to compose but luckily I had the right winds and clouds for creating a dynamic sky and enough surge for the misty-touched midground which contrasts the dark tonalities of the sand very well. I do prefer such ominous pictures over the classic sundown anytime, so I am very content with the outcome.
And major thanks to
JanPusdrowski
for lending me his lens hood for the trip. Without it most of my seascapes would've suffered under the weather circumstances even more, with rain drops coming from all sides most of the time.


Featured here:
darkhaiiro.deviantart.com/art/…
"The Living Infinite" drags the viewer right into the picture. The soft blur due to the long exposure emits pure calmness. Those rough rocks make for an interesting contrast and give the picture more depth, they attract and build some tension, without them the calmness couldn't be conveyed. Blue tones dominate the picture and generate a cold feeling.
The viewer stands on the cost after a long, harsh and cold day, breathing the fresh air. Instant relaxation overcomes the mind, with a warm tea waiting back home.
This piece of art is carefully composed and presented to the audience, well done!
The Artist thought this was FAIR
2 out of 2 deviants thought this was fair.