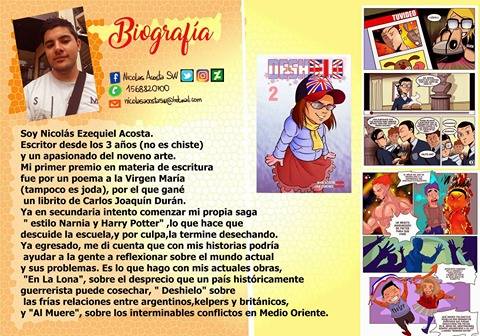 Em portugues: Eu sou Nicolas Ezequiel Acosta.
Eu escrivo desde os 3 anos (nao é uma piada), e um apaixonado pelo nona arte.
Meu primeiro premio nos assuntos da escritura foi por um poema para a Virgem Maria (nem é a piada), pra que eu ganhei um livrinho do Carlos Joaquín Durán.
Ja no secundário, tento comencar meu propio saga no "estilo do Harry Potter ou a Narnia", o que gera que eu tenha algo de decadencia na scola, e, pela culpa, terminei descartando.
Ja graduado, percibi que com minhas histórias podería ajudar a gente a pensar soubre o mundo atual e suas problemas, o que eu faco com minhas atuales trabalhos, "Na Lona", soubre o despreco que um pais historicamente belicista pode colher, "Degelo", soubre as geladas relacoes entre argentinos, britanicos e kelpers, e "Morte Segura", soubre os interminavels conflitos no Medio Oriente.
In English:
I write since i am 3 years old (not a joke) and with great fondness for the ninth art.
My first price regarding writing was thanks to a poem for Holly Mary (neither this is a joke), for which i won a little book of Carlos Joaquien Duran.
In high school, i try to start my own "Harry Potter or Narnia style" saga, for what i lost some care for the school and, out of guilty, ended up discarding.
After graduation, i realized that with my stories i could help people to think about nowadays world and its problems, what i do through my current works "Down And Out", about the contempt a traditionally belicist country can reap, "Un-hating" about the cold relationships between Argentinians, Brits and Falkland Islanders, and "Onslaughted", about the never- ending conflicts in the Middle and Far East.