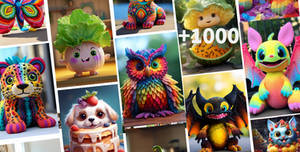 Ai Plush Art Gallery
This collection are over 1000 illustration to help you get inspired in filed of game/animation/illustration project.All images are made of AI. Support my work by contributing to my tip jar every month.
---

Image size
1280x1024px 491.26 KB
I really love all your portfolio displayed here. I especially love the expressiveness in the eyes of your characters. Thanks a lot for sharing it with us.