Over 90 of my illustrations have been published by Jaded Ibis, in a twisted story book written by the master, Tom Bradley. His writing was inspired by my work. It's the greatest gift an artist could ask for... images given a voice, a sculpture given a symphony.
After lurking in the shadows for several years, this beast of a book has a taste for blood. YOUR BLOOD. Or at least your eyes...
The pre-sale is ending very soon. If you buy now, you'll be saving big ca$h, and will have access to exclusive prints that you will not be able to see any other way! EVER AGAIN! I am legally bound to not let you see these images. They are secret... and some of my greatest work.
Order here -->
jadedibisproductions.com/FAMIL…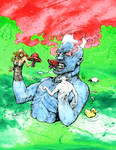 (this is the cover)