Just so you know, this is an actual thing bullies and abusers like to do. They expect you to sit on your hands and take whatever they dish out on you, and the second you DARE to stand up for yourself, as soon as you dare resist, they throw up their hands and cower as if you're the one who's been unreasonably attacking them. They go "Waaah, now you're the one hurting me!" It's a manipulative way to get you to stop and submit to them, by making you feel bad, and whether she realizes it or not, that's what Cristina is doing.
Anyway... that's the full scene. I hope you've all enjoyed it. You know, these last four pages weren't even originally in the comic. I drew them just a little over a month ago, adding them to the first half of the comic at the last minute 'cause I felt something like this would tie up that chunk of the story nicely.
We've still got about 20 pages left to go, so enjoy what follows from here.
That's it for today!
More Planet Ripple >>
nickinamerica.deviantart.com/g…
My website >>
www.planetripple.com/
Previous page >>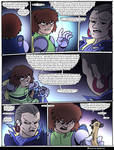 Next page >>
Start here >>
Commissions are always open.

Bust- $10
Full body shot- $20
+$15 for each additional character
+$15 for a background
Comic book cover/page- $30
Feedback is appreciated.
Image details
Image size
2563x3367px 4.74 MB