CONTEST THEME > Draw my OC Kiara in your style.

Deadline > Sep 9 th



REFERENCE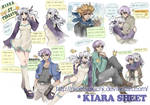 More reference...
fav.me/d3gph9f
i928.photobucket.com/albums/ad…
✙ About Kiara
Kiara is very cheerful and cute girl. She always has twin Dandelion on her head because she's flower in human form. Enjoy every sweet dishes. Singing is her special ability. Kiara can use magic with singing like healing or barrier spell.
✙ Like
Sweet dishes, Cute things, Flower, Lolita dress



RULES


✙ No hentai, No ecchi
✙ Maximum 2 entries per person
✙ Art must be your own [No using bases]
✙ Add this journal link in the description to mention the contest.



PRIZE


✙ First Place : 3 month premium membership + Color art request from me + Winners Package from
AnotherContestGroup
✙ Second Place : Color art request from me
✙ Third Place : B/W art request from me
✙ All entries'll receive llama from me [ If available] and journal feature every two week



SPECIAL RECOMMEND*


✙ You can change her cloth
✙ Other character that can be there: Any member from Dragonball because Kiara is Fan OC from this series.
dragonball.wikia.com/wiki/Main…
✙ If you draw Kiara with Trunks, it must be great ♥
✙ I judge by creative not art skill ;w;
Please send the note to me with the entire. All entries'll be here
nicetsukichi.deviantart.com/fa…
If you have any questions, please comment