GREETINGS!!
I just recently got really big into homestuck so be ready for a good amount of that stuff!!
Sorry I was gone for so long! A good amount of stuff was going on and I needed some time away. I will take long breaks every now and then, so be ready for that!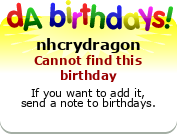 Get a FREE visitor map for your site!