Dearly beloved,
Here are the commission info. I'm a beginner in the field of commissionering so if something is unclear or you have any questions or suggestions please comment.
/Polaków zapraszam od razu na fejsbukowy fanpejdż; w rodzimej walucie wychodzi dużo taniej/
What mediums I use?
Felt. Lots of felt in various colors and of various thickness. Up till now I filled the cubes/keychains with cotton, but quite soon I'll have a much better spongy filler. I make the "chains" from mouline and that won't change anytime soon.
What do I sew?
Cubes mostly. And by cubes I mean animals/pokemons/objects/heroes converted into cube-shaped plushies. Always cute, sometimes funny. That's the main idea behind BXD.
But I enjoy making keychains as well and there's a variety of shapes and forms and I'm not limiting myself yet since I'm only just a beginner in this field.
Pricing:
Pricing depends on the size, how much materials I used for the particular craft and the time spent sewing it. The more detailed and colorful the cube, the more it costs. And mind you, not everything can be made into a 2x2cm cube.
For keychains: €2 - €5; $2,5 - $6,5
For example: the Captain America shield chain/Mjolnir/Loki badge are €3/$4; each. The food chains are around €2/$2,5;.
Cubes (simple cubes; for example a bunny, cat, but also Pikachu, Psyduck):
size 3x3cm - from €3/$4;
size 4x4cm - from €4/$5;
size 6x6cm - from €5,50/$6,50;
To compare: the dragon cube I made costed €8/$10;. Madagascar's Julian went for €6/$7,50; and the same goes for the Companion Cube.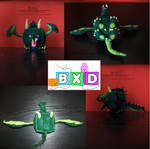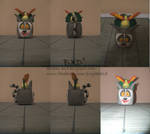 Note that those are the average sizes I work with. The cube can be easily made bigger. The smallest size I work with is 2x2cm. That's hardcore sometimes.
Shipping:
Around €2/$2,50? I'm not sure yet. It all depends where the little cute craft will be send to. The shipping also includes the wrapping.
How to commission me?
Send me a note with "Commission" in the title or an email to haneganai@hotmail.com. State what you'd like for me to make, or if you'd want one of the crafts I already have in stock. I'll reply to you with a price and the estimated time I'll need to make the cube/keychain. If you accept the deal please send the money via Paypal to haneganai@hotmail.com. Paypal always charges a transaction fee unless you choose to send the money under the category of "gift" to friends and family. You don't have to do this but I would appreciate it since the fees do add up to a lot.
After the payment is processed, I will put you on the list of commissioners as seen below. I will work on the commissions in a first come/pay basis. You can cancel the commission anytime before you pay, but there will be no refund afterwards. You will receive a photo of the cube/chain so you can tell me if you want any changes before I ship it out.
The entire process can take anywhere between a few days to a month (especially since I spend 8h of my day at work) depending on your spot on the wait list so if you want to have this ready by a specific date, please don't come to me at the last minute.
Things I don't make?
I stick to cubes and keychains for now, but in terms of those I have yet to not accept a challenge, though obviously there are things I make better and those I still need to work one. I always give it a try though.
Commissioners' list:

- complete!
I recently purchased a keychain from ~nezstorm and I have to say, I am 110% satisfied. Not only was it much bigger (and nicer-looking) than I expected, it has also stood up to a lot of everyday wear and tear without so much as a single loose thread. The details are wonderfully and intricately done, the stuffing makes it incredibly soft, and the overall effect makes it one of the most attractive decorations I've ever had on my keychain. It's even the perfect size -- not so large that it gets in your way, but large enough that there's no chance of ever loosing your keys at the bottom of your purse again! I don't have plans to purchase any more keychains any time soon, but when I'm ready, I'll definitely purchase from Nez again.

Polyfill is fantastic for stuffing and extremely inexpensive. Also, this journal for commissions look fantastic. In the future I would suggest Etsy as a more permanent shop and a great place to get feedback. If you ever get on Etsy, I will definitely buy from you!