A bunch of things happened this pass quarter.
_______________________________________________________________________________
Goals of the Previous Quarter
[✓] Experiment!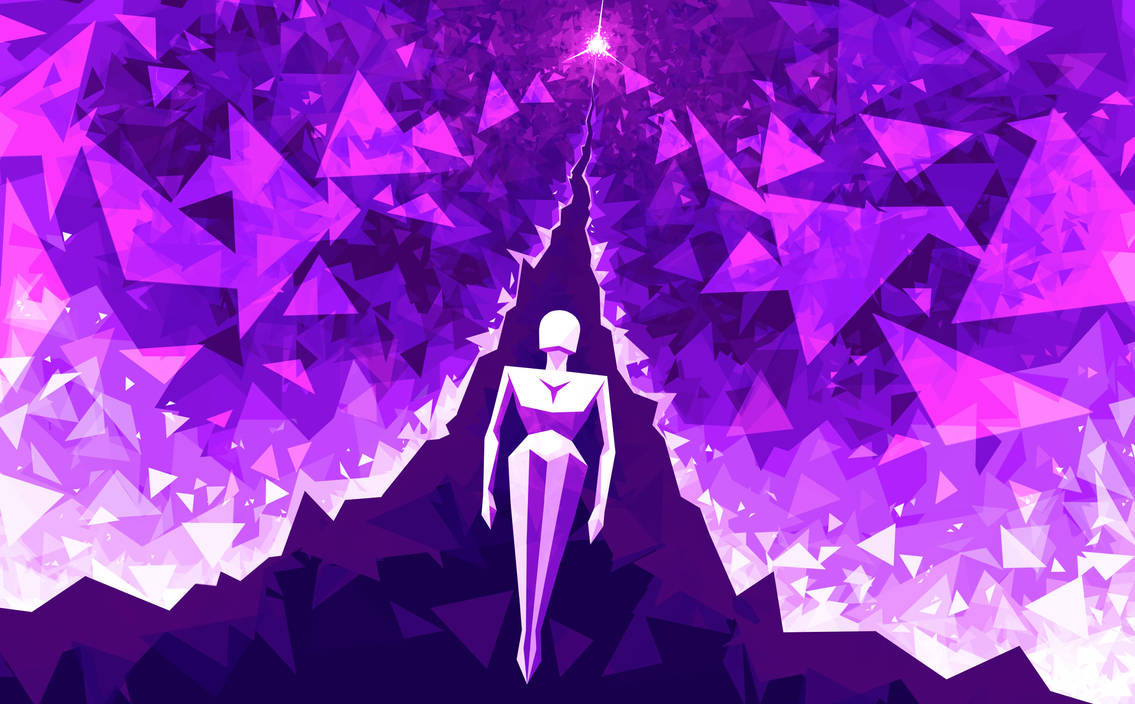 When I say a lot of things, it mostly happened in this department. I found a visual style that I find really striking. A little bit more tweaking needs to be done to it, such as a little bit more desaturation, but in general, the geometric forms are great. It captures what I'm going for perfectly - representations of the most fundamental facets of the cosmos, as well as humanity. They are to be simplified abstractions of the concepts they're based around, with just a hint of sophistication. Nothing horribly complex, but not so simple that it looks like a parody of what its suppose to symbolize.
After
Tnil
and
Kyn
, I strayed slightly closer to the side of realism, which may be partly due to the commissions I was working on (which was more on the side of realism), but I began to play with lower saturation and how to make them harmonize with higher saturation. Still got a long way to go, but I think I'm close to figuring it out.
Synr
and
Etier
are examples of this and they're probably my least favourite from the bunch, because they look so experimental.
Byneur
and
Thyren
turned out great and they are quite fun to draw (even if the latter took forever to complete). The near perfect level of abstract I was aiming for in those specific images.
At the beginning of the month, I also made an ambient track (
you can listen to it here
), with the help from a friend of mine. This was something I had absolutely
no
experience in, as well. After listening to it again after a lengthy period of time, I can see where I need to improve and what I could cut out. It's like writing, or hell, generating artwork. Optimize. Get to the point. Cut out what doesn't need to be there and add depth and refinement to what needs it most. I greatly look forward to slapping more notes on a keyboard and singlehandedly regressing centuries of humanity's advancements in music theory.
[✓] Complete the nine different castes.
YES! Done! And I'm really excited about it! Well, I was. Creativity is a curse - it always wants to create
more
. More things need to be refined, they need to be final and they need to be "perfect." For now, this is a step in the right direction.
[~] Illustrate the world all Astra inhabit.
I have to admit, I didn't have the time to actually draw the world, nor did I realize how difficult it would've been to complete this. This is a very strange and abstract world setting and the land has to show that. I don't yet feel confident in defining how the world looks without first refining the design of the Astra - the ones that inhabit it. In accordance to the lore I've established, it was the beings that were born first, then the world came into being soon after. I need to see the finalized designs and imagine how they would interact if I overlapped them before I start. I shall revisit this one in the future.
However, when it comes to
figuratively
painting a picture of the world, I can't say I failed at doing that. I wrote quite a bit of lore and information on the nine different castes, which has no doubt aided the process of connecting them all together. Personally, I need to actually write/draw out my thoughts in order to organize them properly, otherwise it's all just a big, jumbled mess. With this catalogue of information, I can better visualize what needs to be edited and moved around. Massive step forward, nonetheless.
_______________________________________________________________________________


A very good quarter, but we still have much to do. And thus, more goals must be established!
Goals of the New Quarter
Experiment!
Refine the nine different castes.
Revise, expand upon and tie up loose ends of the lore of the world.
Finish first draft of plot for the Astral Triptych.
I've been writing more than drawing as of late and thinking about how to proceed after finally getting the rough idea of my world out there. I've pondered writing and narrating several lore pieces and other random topics and posting that stuff on that horribly vacant YouTube channel of mine. For a variety of reasons. But... I already have a lot on my plate. I'll need to figure out the proper moment to do that and if I
truly
want to do that in the first place. As it stands, I think I do - priorities and thoughts are known to change, however.
Also, a heads up, I'm starting a new job the day of posting this update, so if there's a decrease in the amount of work I'm releasing and progress I'm making, that would be the reason why.
_______________________________________________________________________________


If you haven't seen this already, I've started up a Discord Server dedicated for those that I like doing what I'm doing/interested in - visual arts, writing, worldbuilding, gaming, etc. all themed around my personal project, the Astral Triptych. As of right now, we already have a veeery small number of people and they're... well, at least they're good company.
If any of this interests you, feel free to join in, hang out and chat! It's only going to get more active from this point on. If you're like me and don't like joining massive servers and watching unbridled chaos overtake every single area of the server, now would be the perfect time to hop in!
Right. I believe that's everything.