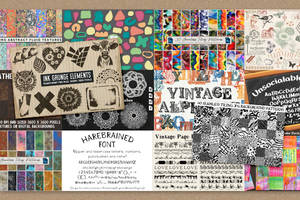 HG Designs Subscriber Area
Lots of high resolution goodies for graphic design including textures, photoshop brushes, seamless patterns and more.
---

659.9K
Views
1
Collected Privately
Description
Update:
Many of you have mentioned that you are unable to open this brush library in older versions of Illustrator. At this point I don't see any way of saving these for older versions of Illustrator. Please make sure that you click on a little triangle icon in your brush pallet and go "Open Brush Library" -> "Other Library".
I am proud to announce my very first pack of artistic brushes for Adobe Illustrator. This pack contains over 90 brushes of different shapes and forms. All the information you may require is in the Read Me file. Just download and have fun!
+Faves, comments, critique, suggestions and features are welcome as always.
Please use responsibly.