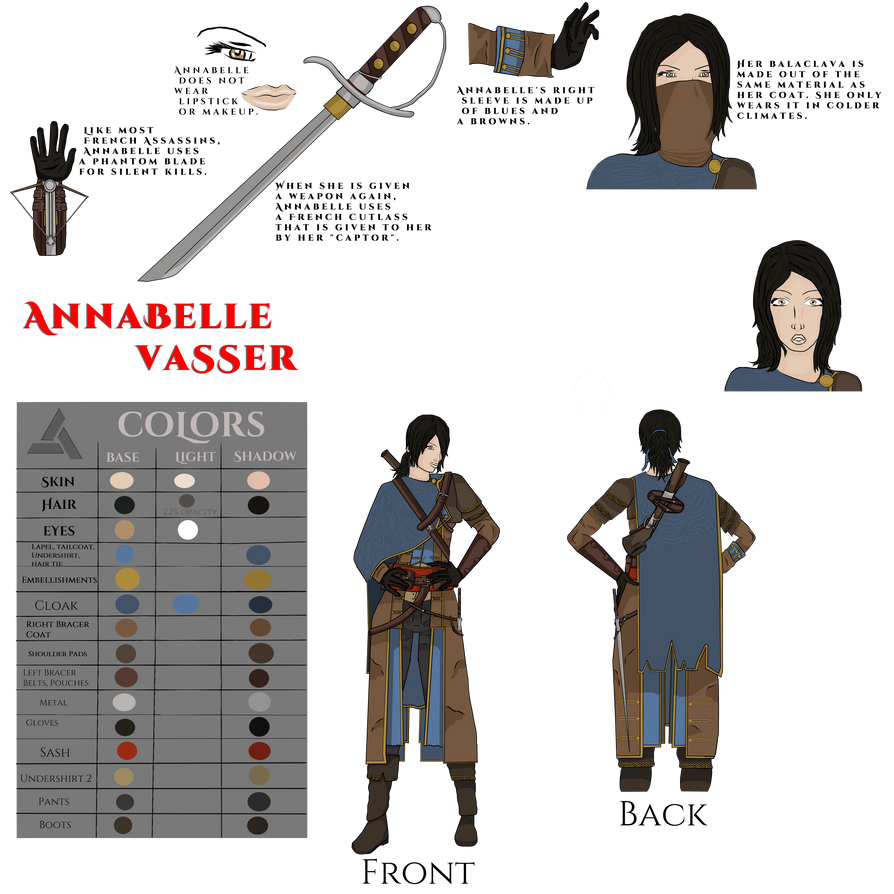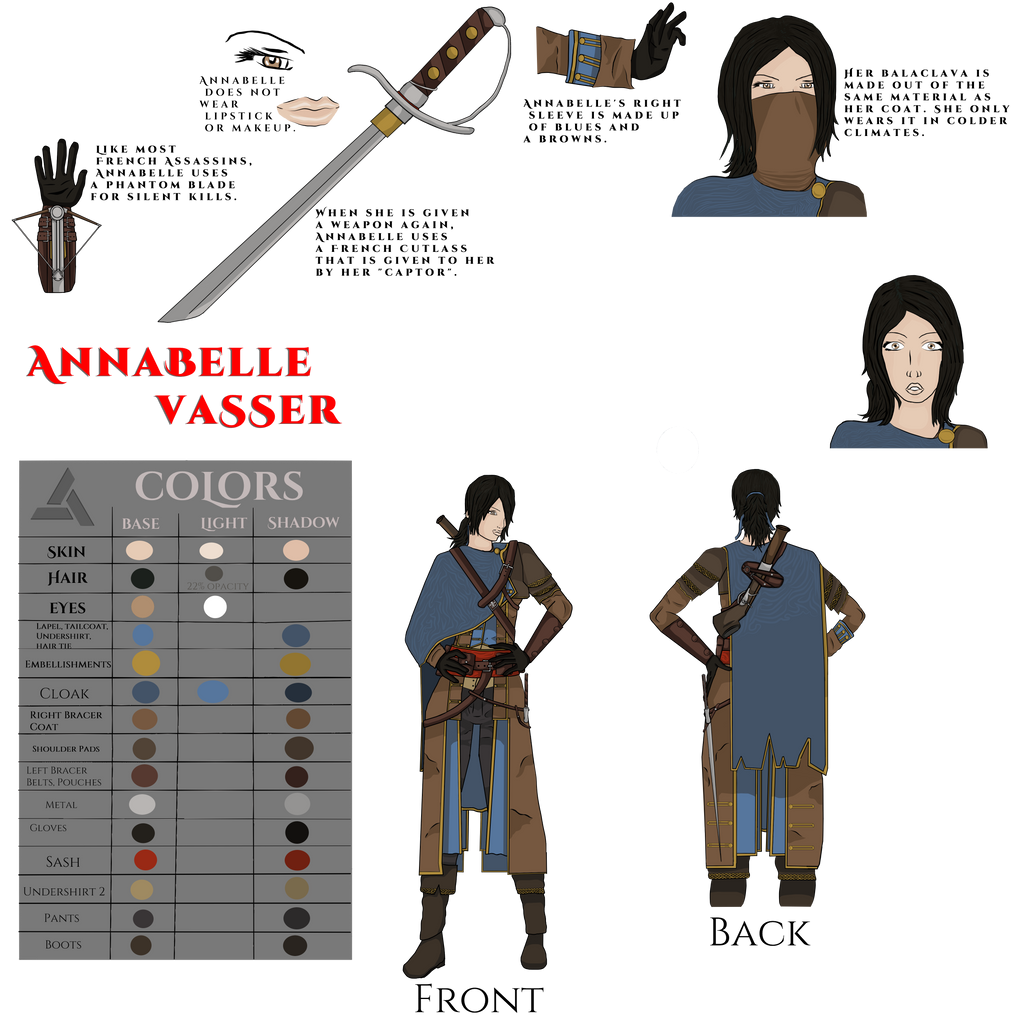 Watch
This is the reference sheet for my Assassin's Creed Fan Character: Annabelle Vasser. Annabelle Vasser is the character that I RP with my husband.
Biography
Character Name:
Annabelle Laure Vasser

Birth and Death:
1728 - Unknown
Nickname:
Abbie, Annie, Anna, Belle, Elle, Ellie

Alias:
Michel du Bois, Ana Maria
Relatives:
Kieran Muirin Vasser (son) (black-haired, born of the sea) appears in Deception: Volume 3. After finding his Templar father, Kieran takes his Father's lastname to advance through the ranks of the Templar Order.

Abigaïl (daughter and twin sister to Kieran)

Charles (grandson and son to
Abigaïl
)
Unnamed Son


Documented Descendants
Cassandra Cattaneo
History

Updated: 9.28.18
Annabelle's bruised body throbbed as she stood amid fetid corpses on the beach. Water lapped at broken toes. She could see the hazy silhouette of the smoldering town.
- Annabelle witnessing the destruction of Callao in the 1476 Lima-Callao earthquake.
Annabelle Laure Vasser (1728 - Unknown) was a 18th-century French seamstress, formerly Annabelle Laure Blaise, and unbeknownst to some, a Master Assassin of the French Brotherhood. She was the daughter of two Merchants: Julien Alexandre Blaise and Marie Jeanne Blaise. She was born in a rural hamlet.
Her parents raised her until the age of seven. Her mother had become sick, so her father had packed up everything they knew and moved them to Paris. Soon after, her mother died. A year after, they robbed and murdered her father. Annabelle is sure that her father had just given up on living.
Until she was taken in by the Brotherhood, she was living on the streets, stealing to support herself. Merchants caught her several times, beaten for her crimes, and placed back on the streets. Annabelle would learn from this and become "stealthier" by using a hidden talent.
When she was caught the final time, she was stealing a piece of bread. The old man abused her, and by the time she could escape, she was bleeding. A man named Jacques Francois Vasser intercepted the little girl. He noticed she had a talent for Eagle Vision and brought her before the Parisian Brotherhood of Assassins.
The Assassins sent Annabelle to Jacques's chateau under the guise she was his daughter, and under the guidance of Master Vasser and a variety of other trainers, she came into her own. Annabelle developed a hatred for the Templars and a strong adherence to the Creed, but she would also question the actions of the Brotherhood from time to time. Jacques would write off her concerns as thoughts all initiates go through.
Nothing significant happened as she rose through the ranks to Master Assassin. Her first mission went smoothly.
During her second year as a Master Assassin, in 1746, the French Assassins got a lead on a POE buried deep within the oceans of the Pacific. The Parisian Brotherhood of Assassins sent to the Americas to retrieve it. Upon doing so, she set off a series of Tectonic events that cultivated in a massive earthquake which almost destroyed Lima, and a tsunami that devastated the port city of Callao.
Bruised and broken, Annabelle's body washed ashore on the tsunami. If it wasn't for the tidal wave, she would have died. She didn't, but five to six thousand inhabitants did. This left less than two hundred survivors. Breaking the Creed devastated her, so much so she turned to alcohol as a direct result. She became a drunk.

Upon voicing her concerns to Jacques, he told her they were necessary causalities. The Assassins couldn't allow the Templars to get to those sites. Let alone, the relics contained within them.

In 1752, the Parisian Brotherhood of Assassins placed a boy in her charge. Louis Pierre Aubert was born into the Assassins. He was a bright boy, but Annabelle noted he was far too aggressive. Like Jacques, he would agree that the innocents which died in the Callao-Lima Earthquake was a necessary causality. One could say Louis was fanatical.

The French Brotherhood sent Annabelle, Louis, and Jacques to to Rome, Italy. The Italian Brotherhood of Assassins possessed an ancient artifact which possessed the ability to get someone to tell the truth and "bend" reality to get people to believe what they were seeing was real. The Scales of Truth had been in the Italian Brotherhood's possession since the beginning of the 16th century.
The Italian Brotherhood wished to send their Piece of Eden to the Colonial Americas for safe keeping. The Mentor of the Italian Brotherhood sent Annabelle.
On the evening before she would board a French frigate bound for the Colonies, Jacques asked her to marry her. His proposal conflicted her. Upon conversing with her apprentice, Louis convinced her it would make a good marriage. After all, their children would make good members of the Assassin Brotherhood. Although she did not love him passionately, she accepted.
In 1756, near Fort La Croix in the River Valley, she was traveling to deliver a relic—the Scales of Justice—to Le Chasseur, a Frenchy Spy so he could deliver that artifact to Achilles Davenport, the Mentor of the Colonial Brotherhood. Her ship, a French Frigate named the Arlette, was accosted by a Templar sloop-of-war named the Morrigan.
After a fierce fire-fight, Annabelle made her way to the other ship. She fought the captain, and to her surprise, he had the antique weapons of her order: two Hidden Blades.
To spare the lives of the crew that did not understand what they carried, Annabelle traded her freedom for their lives. All of her weapons were taken by the Templar and locked into an iron-wrought chest with of being able to pick, and the Templar clasped Annabelle in irons. Rather than be subjected to the Templar and his crew's mechanisms, she threw herself into the icy waters, accepting death as an alternative to capture. He dove after her. The relic—the POE—fell into the Templar's hands.


Annabelle is set in her ways, but the Templar makes her question the Creed's beliefs. Whether it was Stockholm Syndrome or something more remains to be seen.


As we RPed, Annabelle's back-story evolved into what it is today. This did not nearly take as long as Cyras's did, but it seems much more fleshed out.

Annabelle would dress like a man as was the norm in the 18th century for a woman on a ship.

Annabelle is a Latin Baby name. In Latin, the name means: beautiful. loving, lovable, and graceful. For Annabelle, the graceful part inspired me to pick it for her.

References

Female standing poses
-
Sellenin
---
I only role-play with my husband and few select people.
If I were to RP with everyone who wanted to, I would never have any time to concentrate on my published work.

Credits
Annabelle Vasser (c) Lydia Larue

Such a cool character! I really like her outfit!
Reply

I'm sorry this is late, but I'm hardly on Deviantart anymore, but I did want to say thank you. My husband and I have been developing Annabelle's character for a year.

Reply

no worries your fine! Thats awesome, its really nice when you can work together on a character and story with someone ^_^
Reply