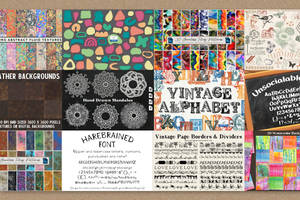 HG Designs Subscriber Area
Lots of high resolution goodies for graphic design including textures, photoshop brushes, seamless patterns and more.
---

900gradients for GIMP-Inkscape
60.2K
Views
1
Collected Privately
Description
These gradients can be used both in GIMP
and Inkscape.
[link]
--
Two methods exist for importing gradient files into an already open Inkscape document. The first is to use your window manager to drag a file and drop it onto an open Inkscape window. The second is to use the File → Import... (Ctrl+I) dialog.
Imported Gradients will appear in the Inkscape
Gradients menu under Fill and stroke Shift - Ctrl - F
--
To Use these Gradients in GIMP you have to
copy the .ggr Gradient Files to your local GIMP
Gradient directory.
~/your user directory/gimp_version/gradients
Alternatively you can place them anywhere you
want and point to those folders in program
options.
Ready Gradients can be used with Blend Tool (L)
to fill the selected area with the gradient of
choice.Gimp has a powerfull Blend Tool with lots
of options.
Another use for gradients is to use them while
painting. Pencil, Paintbrush and Airbrush tools
have options to use color from grandient instead
of foreground color.
If you use a pressure sensitive tablet pen there
is a choice to use a color from gradient under
pressure sensitivity dialog.
Any B&W image can be remapped to a gradient under
Color menu.
You can import a new palette from any gradient.
Those gradients who start with Atmospheric
attempt to make Common Atmospheric Effects
done in 3D programs in GIMP at ease of
drawing a Gradient from bottom of image to top
with Blend Tool.
There are many Basic Gradient possibilities
that done for a quick visual reference and
easy of use. Their names start with Basic.
These are playings with pure form of primary
and secondary colors along with white and
black.
There are also a few modifications of original
Gimp Gradients like neons in new colors, and a
few unclassified new gradients that neither fit
in atmospheric nor basic.
Other GIMP Addons
[link]

Brilliant, very useful.
Excuse me, the link to the file seems dead.
Do you happen to have another, good sir?