Welcome to my Commissions Info!
I've been wanting to try out commissioning. Hopefully things can go smoothly in doing commissions :')
Waiting List/Commission Progresses
Table of Contents
• Styles, Add-ons and Backgrounds •
• Do's and Don'ts •
• Work Examples •
• Commission Form •
• Terms of Service •
• Closing Remarks •
➖➖➖➖➖➖➖➖➖➖➖
Styles, Add-ons, Backgrounds
Styles
Add-ons
• Sketched Lineart -

$1

•

• 2 characters total -

50% price of a Style

•
Backgrounds
• Simple Background (Plain Color/Transparent/White) -

free

•
• Gradient Background -

$1

•
➖➖➖➖➖➖➖➖➖➖➖
Do's and Don'ts
Do's
Half-animals (i.e. w/ cat ears)

Game/Anime Characters (depending on the reference)
Don'ts
Full Mecha/Armor, Furries/Animals

Boys (depending on the reference)

R18, nudes, porn, lewd, NSFW (anything that contains Sexual content)

Detailed clothes will be simplified



*A maximum of 2 redraws of a (rough) sketch
➖➖➖➖➖➖➖➖➖➖➖
Work Examples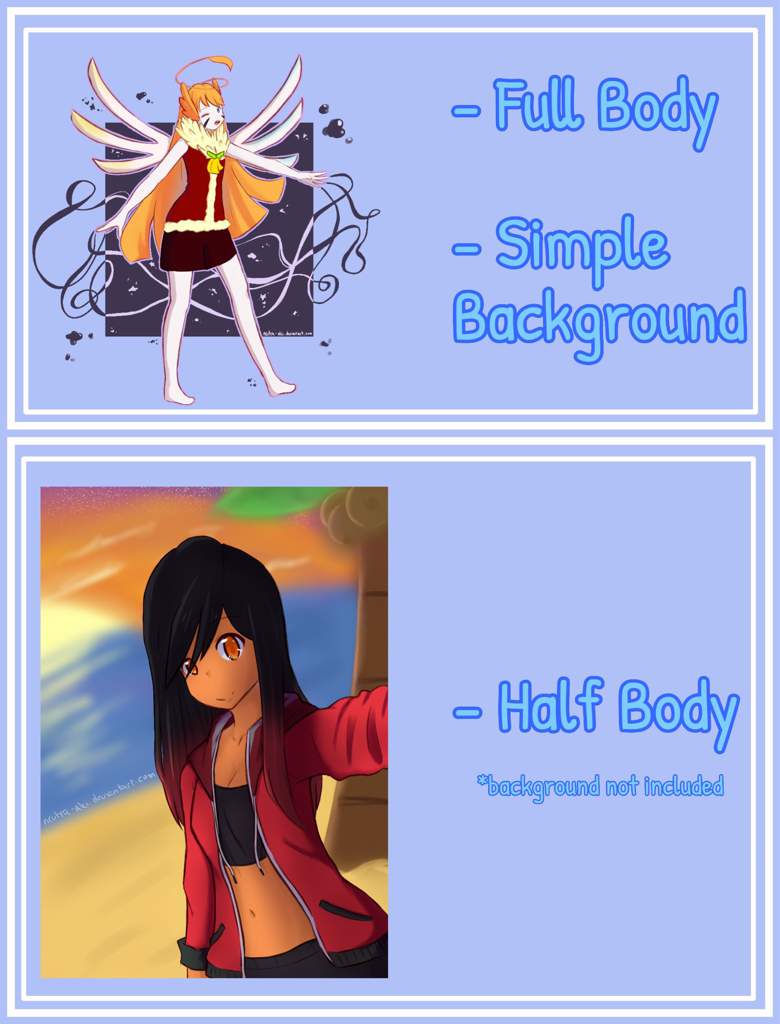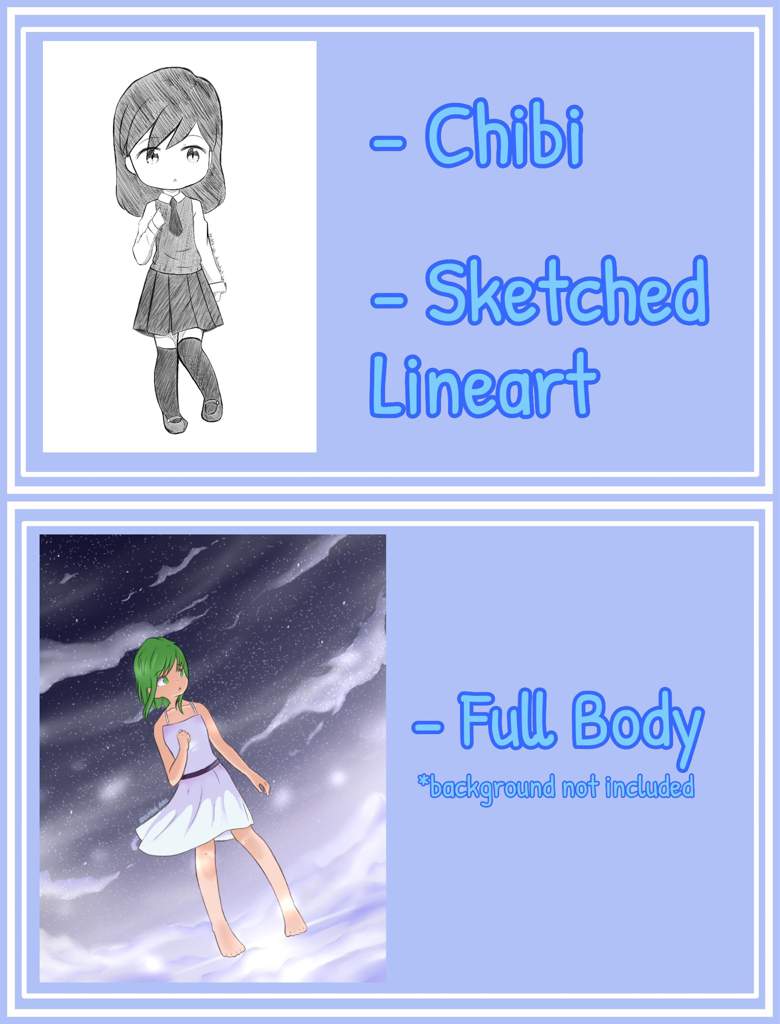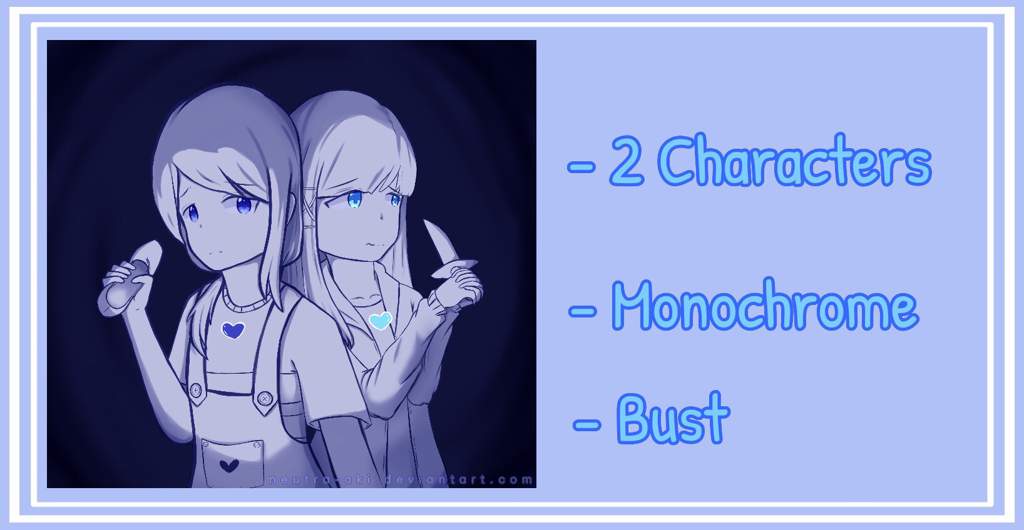 ➖➖➖➖➖➖➖➖➖➖➖
Commission Form
completely optional but to make things neater and easy to read
OC Name(s):
References:
Background:
Style:
Add-ons:
Paypal Email (for Paypal payment):

+with Custom Design
Colors of your choice:
Image References:
Notes:
Example:
Name(s): Aki
Likes: marshmallows, family, friends, anime, and her own scarf
Dislikes: their own mistakes
Style: Full Body
Add-ons: Sketched Lineart + Monochrome + Simple BG
Paypal Email: (insert PayPal email)
The price of that example would be $7
Do not add your address when paying or I'll be refunding and ask you to pay again
➖➖➖➖➖➖➖➖➖➖➖



Terms of Service
• Paypal and

points are the only payments I can accept.
- US dollars only. Don't mistake the $ sign as Australian or Canadian money
• Pay first before we start on a commission. We have to trust each other in order to start the commission.
• The Commissioner has to be patient after the commission has been accepted. Meaning no rushing and giving deadlines.
• The Commissioner must agree to NEVER remove/replace the watermark after recieving the final piece.
• The Commissioner can ask for WIPs (Work in Progresses) but must not trace/steal/repost when sent.
• Asking for a different art style won't be accepted. I am no magician who can do/forge any art style :')
• I'm not yet ready for commercial use. Please never use it to make money out of it.
• Will refund and ask again to pay if the address was added. Don't want scammers taking free art >~>
• If I've haven't finished your commission for more than half a year, please tell me to give a refund.
• You'll recieve your product in DeviantArt for quality issues.
• Lastly, I have the right to decline your commission. Hope you understand if I did.

Think that my ToS is confusing? Feel free to ask questions! I don't bite :3

➖➖➖➖➖➖➖➖➖➖➖
Interested in commissioning me? Note me or contact me on one of my social medias:
Or email me at neutraakicommissions@gmail.com

have a good day~!