Upcoming trips
this year, which means photos to look forward to:
I tried buying lighting online, but unfortunately it got lost in the post...need to search in brick and mortar stores. Lots of ideas for portraits to execute once I get that sorted out.

My photobook
Wien in Lomo
was shortlisted for the
Athens Photo Festival
! Genuinely unexpected and very proud.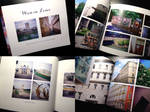 Don't forget that
Little Miss Frank
is available as a print.