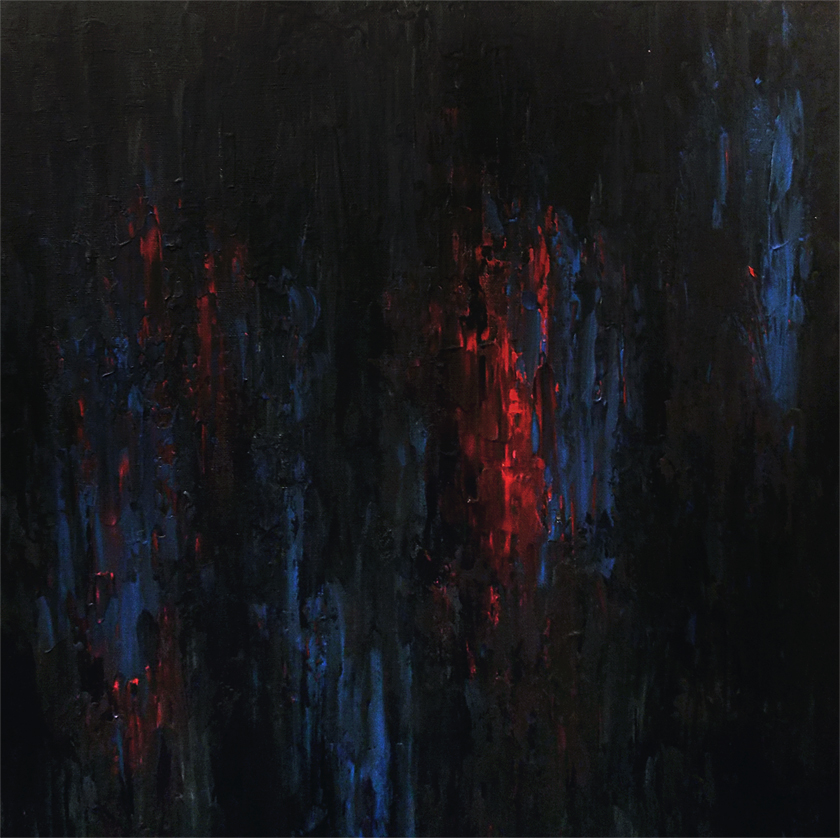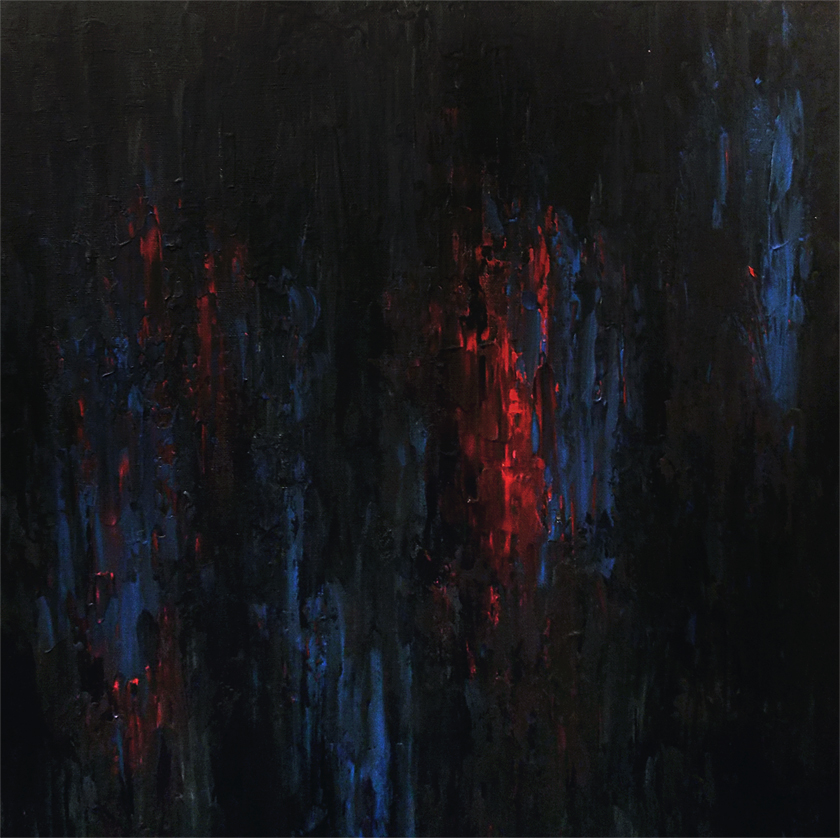 Watch
FOR SALE

20150329

Acrylic on canvas, 19.5" x 19.5"

---

To be replaced with a better photo once I have access to a DSLR. There's a lot of distortion in this photo.
To be honest, abstract art can mean different things which means I may have a different interpretation of the following piece than what others may think about it. This is one example of such art works: "Reason" by DeviantArt user neuroplasticcreative is an acryllic on a squared canvas, mostly covered with very dark, cool colors blending into each other as if trying to figure themselves out while trying to escape from one another. It is always a rare instance where a painting on canvas is perfectly squared since most of the time artists prefer bigger space for their work to flow more freely. The limits of such canvas in this painting help assure a feeling of claustrophobia to the viewer: trapped in a box, with no light no way of getting out of it.

From what I can assume to be a commentary on the adversities reasoning faces on a daily basis, it also reflects the difficult ath one can get to reason. How to know what you think is right or wrong? How can you differentiate yourself from the shadows of ignorance around you, or within you? Are you also part of the darkness, or is ignorance the only way of discovering the light beyond, the imaginative way of realizing the truth about you, about the world? A difficult concept to portray in one single portrait, but I think this canvas does that just about right, althought it could mean different things about the same idea. The reasoning is there, but it is not perfectly clear what the artist was trying to explain. Perhaps nothing was meant to be explained. So how does that connect to reason? Reason tries to explain things, so that must not be the meaning of this artwork. Pure speculation is what we can conclude from such abstract work. This is its true objective: to make you think and reflect. The artist's vision is the greatest asset of this painting.

The painting has its own original aspects: dark colors to assume reason, or the dark corners of it. The executions odf such media to convey such an abstract plot, such a marvelous and challenging theme. Maybe not a lot of viewers will see much technique to it, but with a closer look the strokes can be seen, the textures can be felt. The trick of the red light at the foreground conveys such feelings of despair and doubt many may feel. This creates a haunting impact not many will get on a first glance, or too many individuals may ignore. A closer look to a work like this one stays with you, and leaves you pondering as to what it all meant. To me, this is the kind of art that stays memorable. Although such a complex theme may not get entirely justified in a painting like this one, it is still a commendable performed opinion on the shadowws of doubt, and the reasoning humans get from it.
The Artist thought this was FAIR
1 out of 1 deviants thought this was fair.

Although some art quality can be lost in translation due to bad resolution, I can understand where you were going with this. Still, not too much has been derived from your main idea, whatever it is. I still need to analyze it.
Reply

Thank you so much for taking the time to post your critique - I appreciate it. I really enjoy learning interpretations of my work - as it's sometimes quoted, art is a mirror, reflecting my intentions as well as the views, ideas, and imaginations of those who look at it. For that reason, I don't often explain my motivations behind paintings, and I've found that people actually rarely ask! So it's really interesting when someone tries to analyse beyond the surface appearance.

I unfortunately don't have a good digital camera, but I borrow my housemate's DSLR from time-to-time to take photos of completed paintings. You've just motivated me to borrow it and capture a better representation of this one!
Reply

Thank you for the reply. If you ever fvBulletineel the need for another critique, or know of someone who might be interested, let me know. You can twit me directlg @macaweagle or send me a message on Deviantart. See you around the blogosphere.
Reply

The more I look, the more I see - love it
Reply

Reply