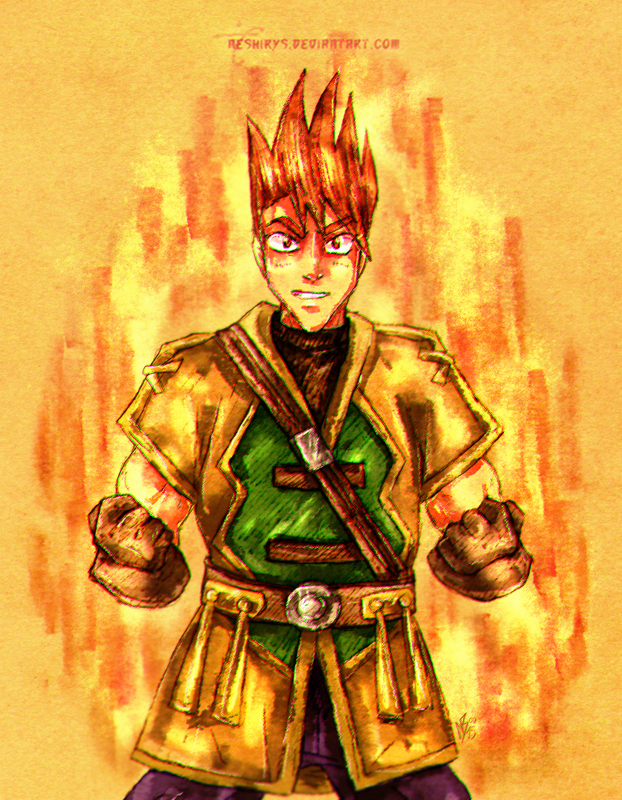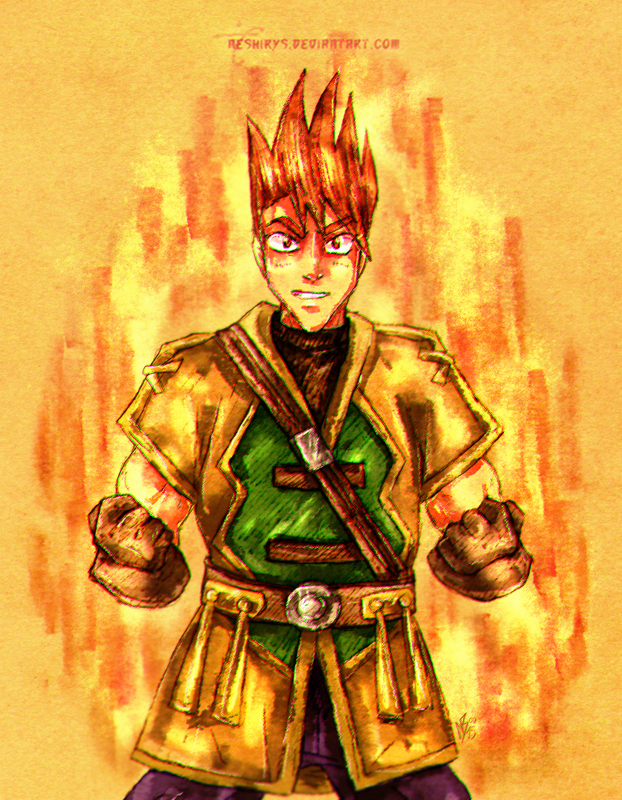 Watch
"Isaac... I can't let him go alone... It's times like these when we men have to stand together!"
Garet is a Fire Adept and he is the one who is tasked to personally accompany his closest friend all throughout the Golden Sun series. He is often brash and hot tempered and at times a source of comic relief but Garet is a brave and loyal friend who can be relied on. He shares complete trust between himself and Isaac as though they are brothers.
Illustration for "The Solidier" by
SkyberrySymphony
->

If you want to share my artwork on tumblr, please
REBLOG HERE
->
neshirys.tumblr.com/post/11117…
More info about
Golden Sun Legends
->
neshirys.tumblr.com/post/97757…
Golden Sun fans, we need you!
Garet/ Gerald (c) Camelot & Nintendo
Art (c) Neshirys
___

My Tumblr
->
[link]

Commissions
->
[link]
More of my stuff on dA:

Ha hah! He looks so intense here!
Reply

Bot only is his design awsome, his theme is just -w-
Reply

Reply

I REALLY hope operation aunrise gets its fundings
Reply

Hehe, we'll see

I really wish they would make remakes..
Reply

I KNEW I WASNT THE ONLY ONE THINKING THAT CAMELOT NEEDS TO MAKE REMASTERED VERSIONS

Reply

..That's why we're working on this 8DDDDD
Reply

Heck I even bought dark dawn to help support
Reply

He looks a little like he's going super saiyan:
fav.me/d48f7up
That might just be me, though <;
Anyway, I like it a lot <3 Especially the clothes and how you drew the metal clasps, their texture is fantastic.
Reply

Reply

Reply

Won't be too long, Neshi! (okay, it probably will with school and all... buuuut we'll get there eventually!)

Reply

Haha, ummh yeah i know the saga, but never played xD, i've heard good comments =B
Reply

You definitely should try it when you find some free time, really! :33 I'm not a gamer myself but this game was worth my time.
Reply

I'm not a gamer either, and i'm not an rpg fan, actually there are just 2 rpg games that i like a lot and are chrono trigger ( snes ) and chrono cross ( psx ), maybe cuz you see the enemies and cowarly you can avoid em x'D, but in almost all rpgs you can't see enemies, you are walking, then black screen or something and then you are battling xD. Anyways, i heard goodcomments about golden sun saga, and sure i'll give a try (=
Reply

powerfull Gret!!!!!!!!!!!!!

(

handsome

)
Reply

Reply