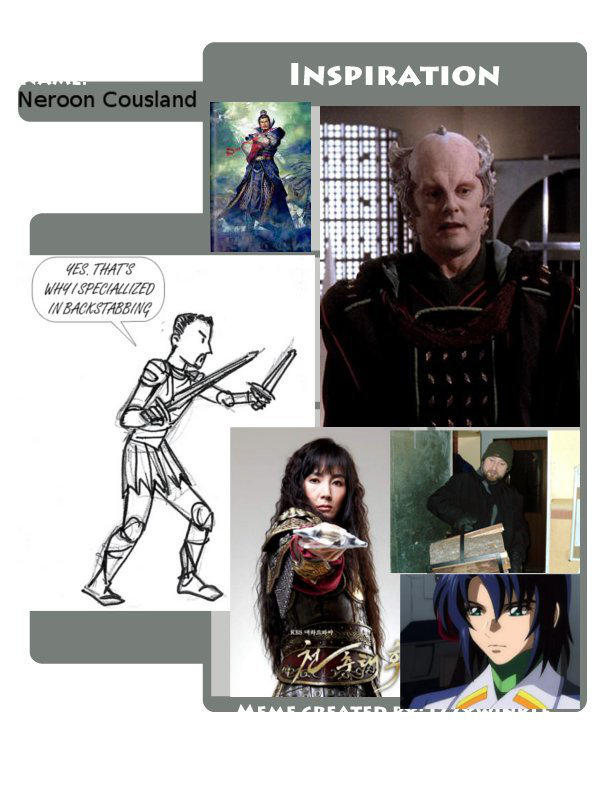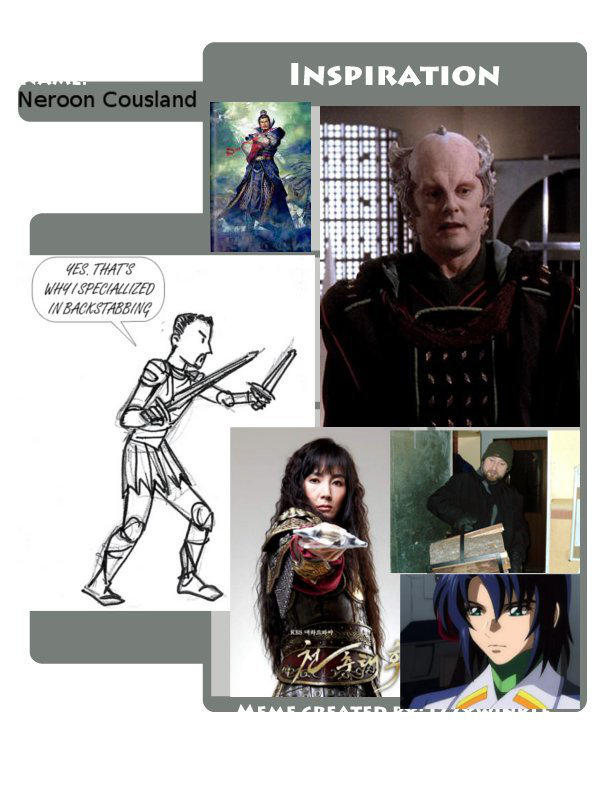 Watch
Finally a Dragon Age meme, that doesn't include any actual painting

! So I could actually make one myself. Neroon Cousland my Dragon Age Canon character.
The drawing of him, together with his catchphrase

was made by

. Used with permission.
Top Left: Cao Cao. Despite this being a drawing, he is a historical Character from "Romance of the Three Kingdoms". Archetype of military leader who is also an accomplished scholar with lots of historians still argueing about good vs evil.
Next to him: Neroon from "Babylon 5". A "fake villian" you could call him. Seemed a militarist in seasons 1 & 2, was then revealed as always having cared for the Minbari as a whole not just his own caste and clan. Merely happened to have different opinions about what is best for the Minbari than Delenn. Made the ultimate sacrifice for his people. Mine survived, but lots of fangirls say Neroon Couslands fate is worse than death

.
Middle Right: Yours truely. My canon characters choices were very much based on "What decision would I make?" in DAO.
Lower Left: Empress Cheon Chu of Goreyo. Rose to fame as military leader. Never was offically Empress, but had de-facto authority. Parallels to Neroon Cousland should be obvious.
Lower Right: Athrun Zala from "Gundam Seed". Fights to protect not destroy. Very loyal to his comrades and doesn't shrink from a Civil War if neccessary. Eventually gets involved with a female who used to be his enemy.
Original Meme is found here:
[link]

haaa Cao cao.... in Dynasty Warriors series, he is more like a villain but he is so charismatic!

Reply

LOL. I've never played DW, but I know about it. From what I hear the plot bears about about as much resemblance to actual history, as Messalyns personality to Lady Galadriels

.
Charasmatic the historical one was by all accounts indeed.
Reply

It's funny and nice at the same time to see my work in your meme. I feel honored though.
About the references, I'm afraid I don't know a lot about them.. I didn't follow Babylon 5 neither the other characters, though I think Cao Cao was a character in the historical film "Red Cliff"? Unfortunately in that film he was the bad guy, and believe me, he wasn't a charismatic one. Not as Neroon is, anyway. Appart from that, it is always interesting to see these memes, because they help us to know better the character, and also if there's enough interest, to gather information about the referenced influences

Reply

You are welcome.
You made me realize, that sometimes one should provide a more detailed background for ones inspiration choices. Lets just say I purposely choose a drawing, rather than a screenshot form the movie. It was made for an international market and they sure know how people used to Hollywood movies need their black and white morality. I've watched the 84-part TV Drama and read the oringal book (well an English translation of it

). Cao Cao for me is the guy who defeated an army 5 times his owns size at Guan Du by being a leader who surrounds himself with subordinates who tell him the frank truth rather than play the old "tell him what I think he wants to hear" guessing game, like the paranoid megalomaniac on the other side. Then after winning burned all letters implicating people who might have had 2nd thoughts about being on his side instead of taking bloody revenge.
Babylon5 has a heavy story arc, so if you watched only part you really wont get much context. Here I think my description was better, though.
Gundam Seed is one of the more well-known animes. So I was hoping people would recognize him. Well never mind.
If you want to know more about Empress Cheon Chu here's 78hours of info

:
[link]
On her though, I think the background info I gave pretty much sums up why she is also an inspiration despite it being short.
Reply

I think that more than a black and white morality, Red Cliff just shows the story from the other point of view. I've also read some things about Cao Cao and I know he was an amazing strategist (he should be, to unify a country as big as China) - but actually, most great rulers had to be cruel too, since it's almost imposible to rule and be soft. After my holidays in China this year I learnt a lot about that country and while the first emperor, Qin Shi Huang, was admired as the one who made China what it is now up to 2000 years ago, he was a man terribly cruel who killed thousands of his own people in his megalomaniac paranoia. By the other way, it is the same in all countries, you only have to look at many Roman Emperors, Napoleon himself or any other rulers who dreamt to unify big terrotories into one Empire.
I must say I think your information about the characters was quite interesting. Unfortunately, I couldn't imagine what to say except for the one I know a bit about

. Gundam I have heard of, but I was never interested on big robots japanese anime (actually all I know about Gundam is what they speak about in the Sgt. Keroro anime)
Reply

I don't watch most robot fighting anime either. Gundam Seed is the exection, since even tough it does have big fighting robots the focus is on plot, characters, drama and politics. You could compare it to the new BSG in that regard.
Reply

Yay! Its nice to meet another rotk fan, story wise I sympathize that wu is basically ignored for the wei-shu rivalry but i really am a fan of Jiang Wei because he doesn't really now when to quit.
Reply

Ohh Wu has its moments in the spotlight. But Cao Cao is my favourite character nonetheless.
Reply

yah they do have their share, I'm more of a shu guy but its like their corresponding "bad guyness" is in relation to shu.I mean at red cliff their all buddy buddy but when its sneak attack on Guan and at Yiling you can practically hear the crackling laughter and the mustache twirling.
Reply

Haha, indeed. Well ROTK doesn't really have good and evil as such.
Anyway if you like it, you really should give the Period Drama "Empress Cheon Chu" a try.
Reply

thats the best part the three factions are all led by megalomaniacs willing and able to do anything for the seat of emperor that and zhang fei getting drunk and losing a city.
Reply

Awesome.

I need to do one of these for Rahna.
Reply

Thanks to you, too. As a non-artist even just copying, moving and stuff took quite a lot of trial and error.
Reply

Oh, trust me, I know. I almost had to redo a huge chunk of the meme for Rahna because I screwed up on the party members question... I managed to finagle things so I didn't lose as much, but it was still definitely a panic worthy moment.
Reply

Ah yes, I've been meaning to do a DAO meme like yours at some point. Which program do you recommend for all that cutting and stuff?
Reply

Well, for mine I just used Paint, which comes with Windows. My version is new and awesome Windows 7, so there were all kinds of cool things you can do, most of which I didn't even touch 'til the Rahna meme. I decided to experiment and just save a
lot
. Turned out pretty cool(if I do say so myself

). You just have to open all the pictures you want to use in Paint, then cut the parts you want and copy them to the meme(which also needs to be open in Paint).
And I'm currently trying to figure out who, exactly, are the top influences on Rahna's character so I can do this inspiration meme.

Reply

Ahh I C. I'm sticking with Windows XP, for the time being and DLed GIMP for the picture editing.

Have fun with Rahna's version!
Reply

I'm gonna have to use XP as well, since my computer is currently out of commission...ah, well, I'll manage somehow. And I know it'll be fun, because Rahna is probably my favorite Warden and the closest thing I have to actual canon(this is what happens when you write a nearly 30 chapter long--and getting longer!--fanfic for one particular Warden...).

Reply

Awesome! I love reading about people's oc!
Reply

Thank you! So far the only way to read about Neroon was from Sonias comics.
Reply

lol true! You should write about him!
Reply

I do! When I am annoying DevArts friends with comic suggestions about his escapades. Now that reminds me, you've been exempt so far....

.
Reply

LOL! XD I sure have been!
Reply

Ok, next time I have an "This would make a funny fancomic"-lightbulb-over-head-moment, you'll be getting a note.
BTW: You new Avatar is very cute!
Reply