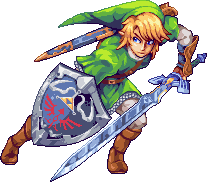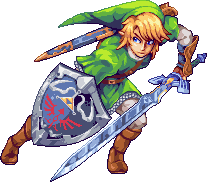 Watch
This is the most difficult Pixel Art I ever did.
Hope you like it :3
Pose is based on this:
zeldawiki.org/images/6/6b/TP_L…
Link belongs to Nintendo
Artwork belongs to me.
Daily Deviation
Given 2014-09-25
Before starting to read this review, have in mind that i am a HUGE fan of TLOZ, so i made 2 reviews. My objective review, what i SEE on the picture, and my subjective review, wich is what i THINK of the picture. Also have in mind that i'm not from the US nor the UK, so English is not my native idiom. I might have made some mistakes.
With that being said... Let's begiiiiiiin!
MY OBJECTIVE REVIEW
The detail is absolutely great, but it's not perfect, you missed Link's ear ring and some of the molding on the shield.
The colours are wrong, Link's clothes should be darker.
Link is also smiling on the original, you changed that.
And that's basicly everything wrong with your picture, now, let's talk about the "Pros"
The image causes a good impact, and as i said: The lavel of datail is absolutely great. You can easily recognize who's in the picture, that meaning it's not messy or anithyng. You used different shades of green, brown, blue, yellow and red, so the picture is pretty colourful, wich is good.
My OBJECTIVE overall score: 8/10
MY SUBJECTIVE REVIEW
While being based on a previous pose, you made some minor changes to the actual image. Basicly: You changed the colours. I totally loved the colours you picked.
The level of detail is AMAZING and combined with the lovely livid colours the image causes a great first impression.
There were some missing aspects, like Link's ear ring, and some of the molding in the shield, but if you ask me: it looks better that way.
Now, if you look closely to the original, it looks as if link was smiling, but you changed that, and honestly, it looks better your way than what Nintendo did. It feels more reminiscent to the first games of TLOZ. However, To me it feels as if link had no life, without his face expression. Again, it looks better that way.
You must've put a lot of effort into this. And in my opinion: It paid up. Because this is one of the best if not the best fanart i've seen about TLOZ
This is quality art, and i love it. If i was to give it an overall score: I would give it an 9,6/10. It's not perfect, but it's very close to being it.
You did an outstanding job.
-I do not speak english, as i was born in South America, so there were some points i wanted to put in my review that i couldn't put. But i feel they were not that important, so it's not a big deal.-
The Artist thought this was FAIR
140 out of 184 deviants thought this was fair.
Pros:
- Amazing use of colour to indicate shadows and highlights, it really brings out the depth of Link
- The brighter tone as compared to the reference really shifts the image towards a more traditional Zelda pallet rather that the TP pallet, which works excellently and adds to your originality
- The attention to detail and subtle marks really makes this stand out as compared to other pixel art
Cons:
- Some wrinkles are overly exaggerated, making them appear too sharp, deep, and/or unnatural. For example, the sleeve of the outwards shoulder feels too sharp and unnatural
- The shape of the sword looks warped: the depth at the hilt is perfect, while it diminishes to flat at the tip, making it look twisted or warped. It also appears to curve at 2 points: (pardon my sword terminology) the wide point on the blade, and at handle.
Overall:
A wonderful piece of Pixel Art. A few iffy spots here and there, but easily remedied with a bit of practice. Keep on doing this; this is one of the best pixel art pieces I've seen and you have a lot of potential!
Good luck with whatever you end up doing (*hint* this stuff - it's awesome) and keep on keepin' on

The Artist thought this was FAIR
137 out of 143 deviants thought this was fair.