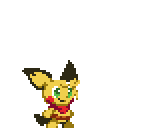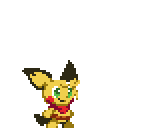 Watch
It's Faith from

's wide range of characters! I did this as part of a trade with him.
He requested that I flatten this guy in more ways than one so things are a bit more squishy than usual! :3
You can view Faith's spritesheet here:
s30.postimg.org/uw3dkvf4h/Main…
But obviously you'll to ask Pikacshu about using it!

The thumbs up Is so cute <3
Reply

I would probably favorite this seven or more times if I could
Reply

Wow you make realy good sprites

Reply

omg this is amazing

OO
Reply

Your Sprites are pretty cool o v o
Reply

Smooth, lineless, flattening animation~ It looks fantastic!

Reply

So squishy it looks like he just turns into mush sometimes! lol
Reply

Flipin adorable. That banana just fits the little guy so well.
Reply

Banana? What Banana?
I know he's the same color as a banana but...

Uh-oh! Did bananas take over your computer!? That might mean the rest of the world is next!
I would've expected apples to take us over first!
Reply

D'oh blasted auto correct. I meant the Bandanna or neckerchief. XD no I have a defense to all fruit on my computer. I call it Tinker and it's one mean digital parrot.
Reply

Yeah, it is very fitting! I really like working with neckerchief and other stuff that goes around a character's neck, so that made it even more fun to make the sprites.

Also it's good to know the fruit haven't attacked. Tinker better be on high alert, though; you never know when the fruit might discover what Minute Maid has been doing to their families!
Reply

Indeed it just suits the little guy. For Plokman he kinda always wears one for the fact that he had his skin ripped off his face below his nose. (Don't worry he is a robot so it's not gross under it just a lot of metal teeth and jaws.)

Indeed those blasted tomatoes are always getting uppity. Someone should of never let them know that they were fruit. As for Tinker any fruit tries him he rips it to shreds. He is one mean little fluffy ball. XD
Reply