FOR THOUSANDS OF YEARS I LAY DORMANT! WHO DARES DISTRUB MY SLUMBER WITH THESE TAGS AND DECLARE WAR ON THEIR KING!!!
Lets see, here are my list of people who tagged me :3

,

,

,
,

.... huh not much then but still XD
first I'll do

(who tagged me twice with this),

,
,

, and

's tag first since their the same =w= and in the order that I've been tagged with different tags shall follow =w=
Rules:
1)Post these rules
2)Post 8 facts about your character
3)tag 8 people

wants to know about Yukio or Kazuto, so I'll do both while

wants to know about Yasuhiro or Tatsuya, and for

she said I can chose whoever I want, and
wants to know about Kazuto, Yukio, Mikazuki, Tatsuya,

and says i can do whatever the heck I want so yeah XD
Yukio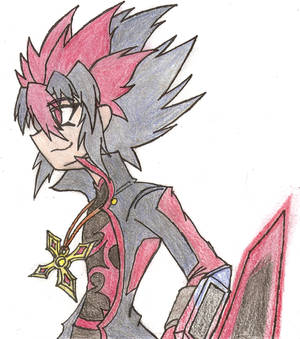 1.)
He has a habit of doing whatever he wants, even when he enrolled into You Show Duel School, he would skip classes just to browse around the city for fun, the only time he ever stay in for class is when he wants to learn how to entertain duel
2.)
Yukio has already studied about how the summoning methods would work by watching other people's duels and play style
3.)
He rather duels first then ask questions later
4.)
There was a time where Yukio abused his time abilities powers, just to be the first one in line to a bakery.
5.)
Yukio has it bad when he gets a taste of anything good, he tends to act like a kid who's inside a candy store XD
6.)
Yukio shouldn't be left alone even for a single second, e also shouldn't be trusted to be left alone at all or else he'll get into mischief
7.)
He's such a fanboy and a nerd when it comes to duel history, despite the fact that he doesn't look the part
8.)
He's always thinking about Kokoro (

's oc)
Kazuto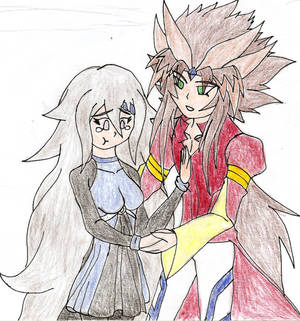 1.)
He has a bad habit of teasing people he likes just for fun, especially when he loves to tease Kiseki (

's oc)
2.)
He's mostly the calm and rational type of person, so when Zarc has started his rampage, he was the only one who managed to stay calm and talk strategy with any remaining people who are willing to fight back.
3.)
He prefers to spend his time reading books.
4.)
He has a strange fascination to learn more about his own past lives and would write them down in every detail of what've they've done so far.
5.)
No matter where he goes he always have an air of authority despite the fact that he doesn't mean for it to show
6.)
He get's excited whenever he gets to do an ordinary activity because he always experience a higher social standing
7.)
He's actually from a wealthy family, but he prefers to explore the world and it's secret
8.)
Like Yuu he has a soft spot for sweet bread.
Yasuhiro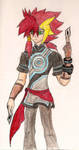 1.)
He's Basically cold-hearted and very blunt towards anyone who would either try to talk to him or befriend him, there are a rare chance when he let certain people be close to him, but it's unknown why he does it.
2.)
He has a very extreme hatred towards SOL Technology, when he and his cousin found out that they were the ones who fired his older sister Aila, who refused to further develop A.I. to be used on people.
3.)
He rarely listens to Hajime, as he always stays out late after dark, and would return the next day.
4.)
He was force to attend to school with his cousin, much to his displeasure.
5.)
He has a habit of proving a point in the most extremist way possible.
6.)
Yasuhiro's own way of finding information about his sister is either going to the dark web in vrains, or to randomly search the cities of street gangs, while in disguise, and beat them up for answers, if he doesn't get them, he just leaves them bruised and leaves them a dangerous warning to not even follow him
7.)
Yasuhiro was the one who designed his own shirt.
8.)
Yasuhiro prefers to just sleep in the most peaceful spot he could find.
Tatsuya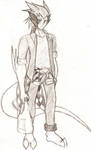 1.)
He basically practiced martial arts and boxing when he was a kid, he learned how to fight from his dad
2.)
His wings are basically folded on his back, and they can slip out through any fabric
3.)
His bed is basically filled with many big soft pillows, because he has trouble sleeping in bed
4.)
His favorite foods are Chicken Dumplings, and White Rice with soy sauce, he puts soy sauce in almost all of his food
5.)
If Tatsuya continues to fight in his normal base form, he starts to get more feral and battle hungry.
6.)
He's a very doting brother when it comes to his younger siblings
7.)
He has a bookcase filled with some adventure novels, manga, foreign movies and comics from other countries, and snap-in model figures
8.)
He has a pen-pal who lives in I-Island, who later came to live with him and his family so that he can take the U.A entrance exam, said friend ended up passing, but the staff at U.A are fixing his schedule due to said friend having taken two types of courses.
Mikazuki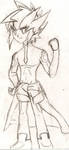 1.) Despite having no memory about himself, Mikazuki actually acts the same as his old safe, albeit if it's only a part of it
2.) He has no shame in declaring the person that he likes
3.) When Mikazuki did regain his memories, and remembered that he was suppose to be guarding the numeron code at the moon, he remembered how bring and lonely his job was
4.) The Key Mace was a weapon that was given to him was actually not the weapon he wanted, but overall he still uses it
5.) He's basically takes in any animal that would be injured and take care of them until their at full health, and find them a good home
6.) Mikazuki had to learn how to cook for himself whenever his Adoptive mom would come home late
7.) He's very optimistic in any given situation that he get himself in.
8.) He usually carrys a mp3 player with him, despite it being old fashion.
Next is

Rules:
1. You have to post all the rules, no exceptions!
2. Answer the twelve questions you have been asked, then create your own questions for who you tag.
3. Choose twelve people.
4. Actually tag these people.
5. Can't say you don't do tags.
6. Tag backs are allowed.
Now for the questions

1) Hello! How's your year been so far?
-50/50, the remaining year didn't went well for me
2) Satisfying or not yet?
-Hard to say
3) What projects do you have in store?
-Eeeeeeeeeh hard to say when you have to find a job =w=;
4) What dreams do you have and how close are you to accomplishing them?
-I don't think i'm close to accomplishing them
5) More of a cat or dog lover?
-Dog =w=
6) Like to travel?
-Yes XD
7) How often do you produce art?
-Not to often like I use to
8) How many series do you follow?
-Hard to say XD
9) How would you feel if all of the nature and animals disappeared from the face of the Earth?
-Welp we're dead XD
10) How would you feel at the idea of living on another planet?
-That would be awesome, except we might end up going to war if it happens XD
11) On a less serious note... do you know how to cook? Because I still can't x'D
-..... Somewhat =w=
12) Something you want to say before ending?
-Take me =w=
Now for my questions:
1.) What movie did you ended up seeing this year?
2.) What do you jam out to lately?
3.) Who would you fight? A Bear, a Liger, or an army of scorpions?
4.) If you could, where would you want to meet you online buddies? At a convention, or at unsuspected place of your choosing?
5.) Abridged or non-abridged series?
6.) Do you have a novel of an anime, or the manga version?
7.) Best way to work out? Dancing to a video game of any music of your choosing, or running around doing errands?
8.) Weapon of choice? A Chair, a broom, a vacuum cleaner, a vase, or a plate of cheese? XD
9.) If you could swap places with someone in DA, who would it be?
10.) You suddenly have a meet a adorable puppy, who can summon a demon dog out of nowhere to eat someone's soul, would you keep it, or run away from it?
11.) Pancakes or Waffles?
12.) Who would you pick as your main in the latest Super Smash Bros. game?
Finally it's

's tag
Rules:
Pick one OC, and state at least five facts about them that you think no one else knows. The more obscure, the better.
Welp think I'll go with this guy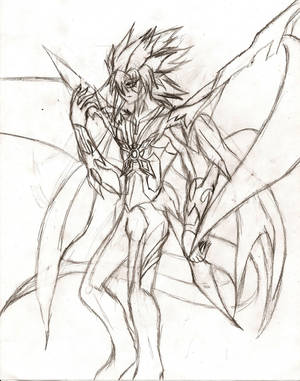 1. This is the true form of Yukio's ace monster, and the true reincarnate of each of his reincarnations
2. He basically oversees time itself.
3. Each reincarnation gets either a different form of how to control time, or have a similar abilities from their previous reincarnates
4. It's basically the strongest being of time itself as he rules it
5. He's basically in love with the Fairy of Reincarnation and declares his love for her
And done, as for who I want to tag, I tag everyone that ever tagged me, so have fun with that XD, also i'm very lazy right now =w=