I wanted to try and do an animation slightly more difficult than this one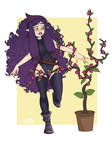 I know there is no audio in this if but I bet that all of you now have the tune in your head. You're welcome.
Cassandra and Ettore belong to me
Animation done on Procreate, 8 frames.
Image size
2732x2048px 2.17 MB