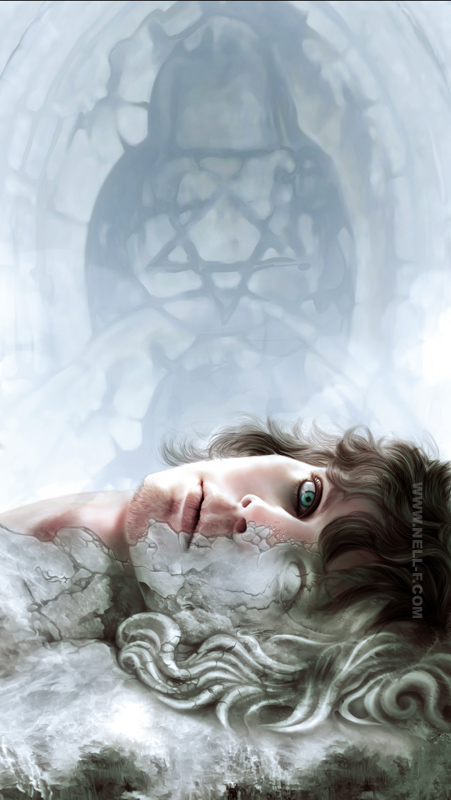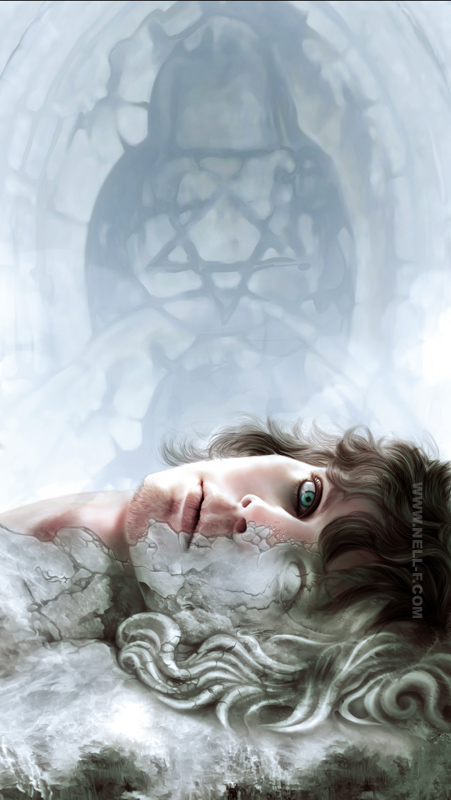 I won a contest on a magazine with this image. They told me it was going to be featured on their next issue, and I was waiting for that before submitting it anywhere... thing is... has been soooo long since then and I don't have a clue if that issue is already out there and I just missed it, or if they got broke or what happened... so here you have, quite old but still done with love

First of all I would like to say that I feel this piece is a bit more powerful than most of your work that has been submitted as of late.

The overall ideas that you have set in place work well with the symbolism in this image.
The division of the face seems to represent an inner battle to me, where perhaps one is struggling with their own masks and facades. One side is attempting to reveal it's true self while the other remains stony and perfect.
The background draws a lot into this piece, and despite that it still would have looked okay with a stark white background, the fact that you added in subtle shapes really draws one's eye into the image. I think the most important key to the background is the sharp point on the symbol that seems to be pointing to the exposed portion of the subject's face. It draws your eye in and down to the vibrant color of the eye. I think this is amazingly critical in a work of art, and usually vastly overlooked.
The man's features are flawless and smooth, which to me seems to represent an almost angelic reference. Especially when peering into his eye- it seems to reflect a sort of innocence.
The transition from the living breathing portions and the marble is amazing, and very well done. You can almost imagine either half fully completed.

The one thing I would have liked to see a bit different in this image would be the shadows on the marble portions. I think, while it is very well rendered, it could stand to have a bit more darkness to the shadows, but nothing overpowering. Perhaps that would add a bit more depth to the piece without subtracting from the lovely textures.

Overall this image feels very romantic to me, and I believe it is very well done.
The Artist thought this was FAIR
14 out of 15 deviants thought this was fair.
It's a great piece that's what all the 5 stars are for

But what I wonder about is -> The neck seems very long
Shouldn't there be a bit of shoulder still? (Or some skin going for a shoulder)
What I like a lot is the detail on his face and the crumbles in it (the stone?) And his eye, looks like he's trying to shout for help!!
I know it will take me a long time to accomplish something as beautiful as this

Still love the work though

Keep up the good work!!

(and can't wait to see more!)
Liesbeth / Siwanll
The Artist thought this was FAIR
3 out of 3 deviants thought this was fair.