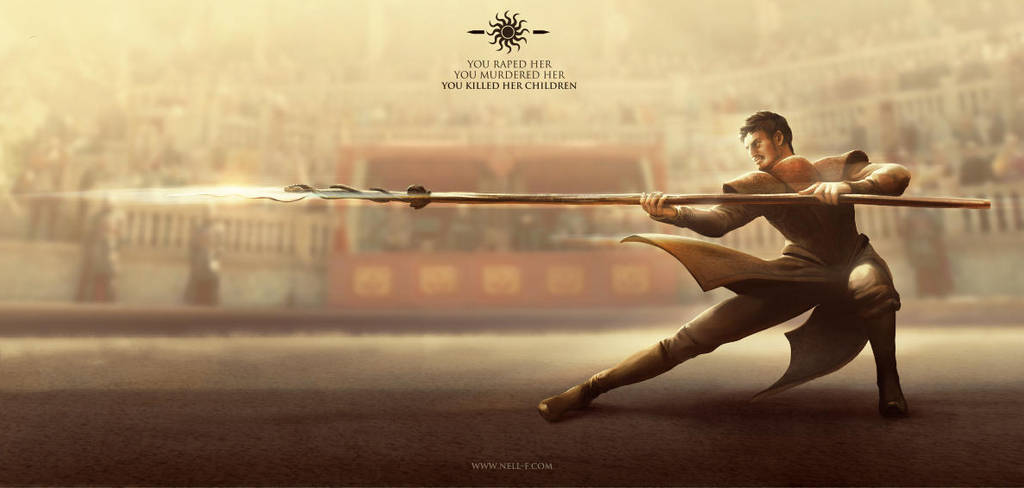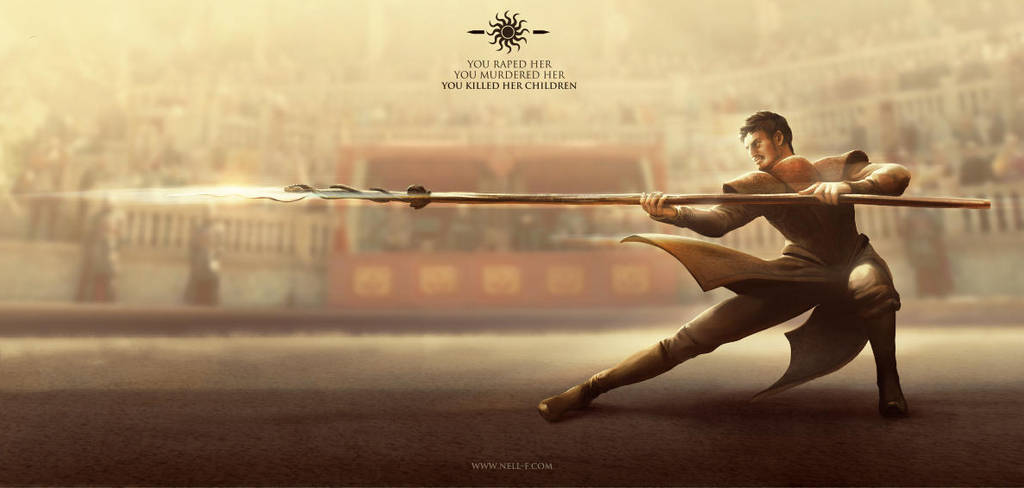 Since the speedpaint I made last week received so much love, I decided to keep on working on the image. This is the result. I am thinking on giving away a poster print on my Facebook Art Page, if you want to get a chance to take it home, go here:
www.facebook.com/photo.php?fbi…
Process in here:
www.behance.net/gallery/175665…
Have a gorgeous day everyone!
Firstly, this is an amazing piece

However, I think that it lacks much of what made the original so good. Although I understand you wanted to do a cleaner version, I personally feel that the lines here are 'too' crisp, as the rough finish to the original evoked a sense of movement and action.
I'm also not quiet sure about the face in this one, as personally, I felt that the blurred face of the first piece was more dramatic, and also made me appreciate the picture a whole more, instead of being drawn to Oberyn's face.
I'm also in two minds about the caption, as on the one hand, "You raped her etc..." embodies Oberyn's quest for vengeance, but on the other, "Unbowed etc..." was a nice link to Dorne and I find it more... uplifting, compared to the other quote.
Another matter of personal taste is the background. Again, I preferred the original as it was less distracting and had the ability to be ambiguous - perhaps it is the arena at Kings Landing, perhaps it is Sunspear where Oberyn is training, etc...
I do think that the hands in this piece are better drawn though, mainly the right hand, which was too large in the original.
Despite this critique, It's still an awesome drawing

Thanks for taking the time to read this, and thank you for immortalizing our Prince so perfectly.
P.S. I hope you do more speed painting as it look really good... (Also more GoT

hint, hint )
- TheNinjaMango
The Artist thought this was FAIR
11 out of 11 deviants thought this was fair.
I am a Game of Thrones regular viewer and a personal fan of the series and I approve this picture

I can see the character dancing with his specific spear-blade and repeating those same words written on the center top of the picture. This picture looks very life-like and vivid to my eyes.
The overall atmosphere is definitely somewhere south, either King's Landing or Dorne (althou I know it's King's Landing - because of the guards and arena in the back), you can feel the sun and the warmth of the south.
The clothing fits almost perfectly and the anatomy of the character is spot on.
Great Job!
The Artist thought this was FAIR
3 out of 3 deviants thought this was fair.