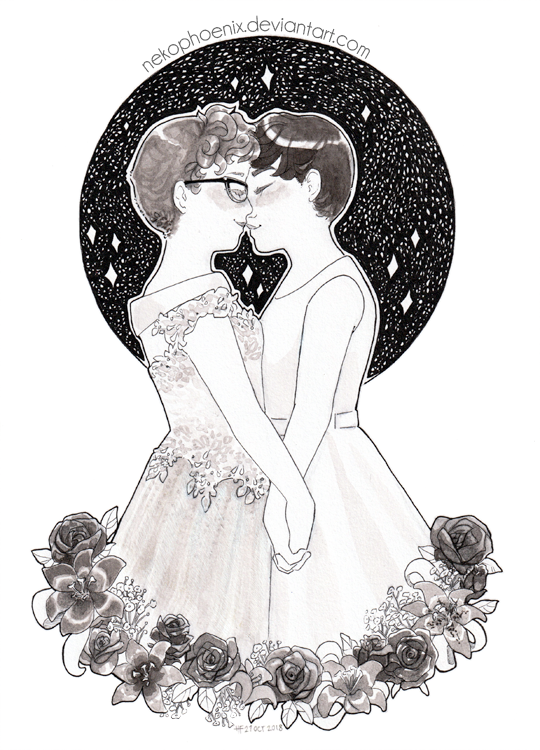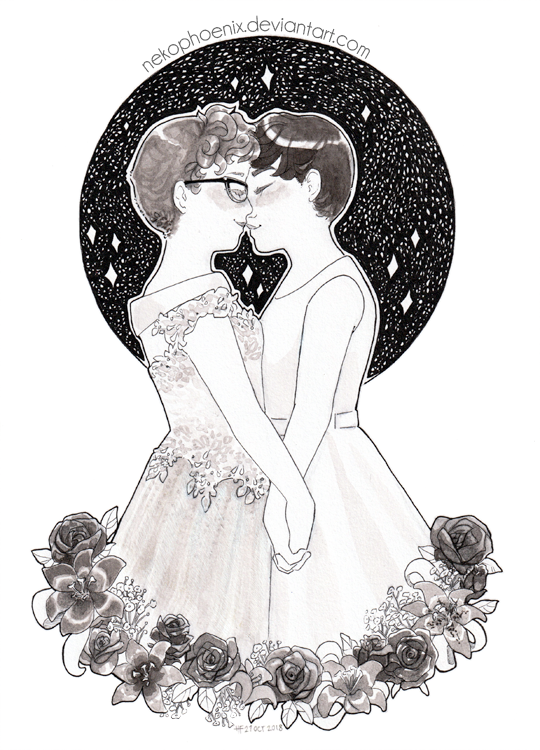 Watch
27th of Inktober
BONUS ROUND! The 27th always existed - but it was only fair the brides get to see it first :p It is a supreme honour to know these two and take part in the celebration of their love. Ruined all my eyeliner! ♡

Awww, sweet girlies in love~ :3

Reply

Reply

No problem

You've really shown that all love is beautiful, and just because one type of love could be different from another, that doesn't mean it's weird, disgusting or any less special

That's what I love about this picture. You've shown their love for each other in a pure and peaceful way, without the need for any NSFW stuff in it

it shows that love isn't all about being able to reproduce and have children, even though that's important in a relationship, but some just want to love another person because their heart is telling them it's okay, and if their mind is telling them it's wrong they have to ignore it because the heart is never wrong

what's in your heart is always something that makes you who you are, and that can be anything that makes your soul come alive, whatever makes you happy. We don't find happiness, happiness finds us by filling our heart with joy, so that our soul can be content

Reply

This picture is so romantic! You really showed their love for each other in your art! The facial expressions, the way they are holding hands... it is so tender and beautiful! Great job! I also like how you drew the flowers! The petals look so delicate and realistic!
Reply

Oh thank you so much, that means a lot to me! That's so kind of you, I'm very happy that comes across <3
Reply

This made me think of how amazing it'd be if Disney had a lesbian princess. Of course, my family would hate Disney for it and they'd want to boycott Disney, but still, I'd enjoy it and love Disney the more for it.
Reply