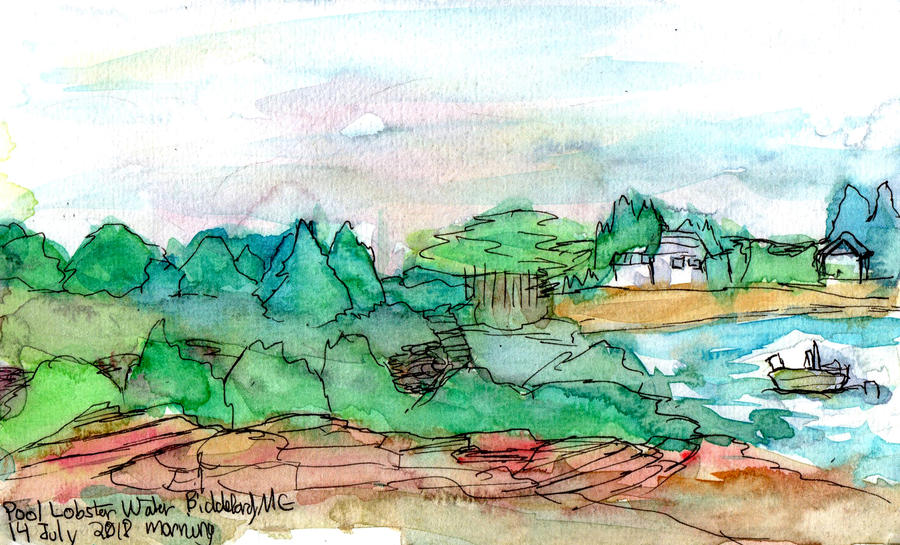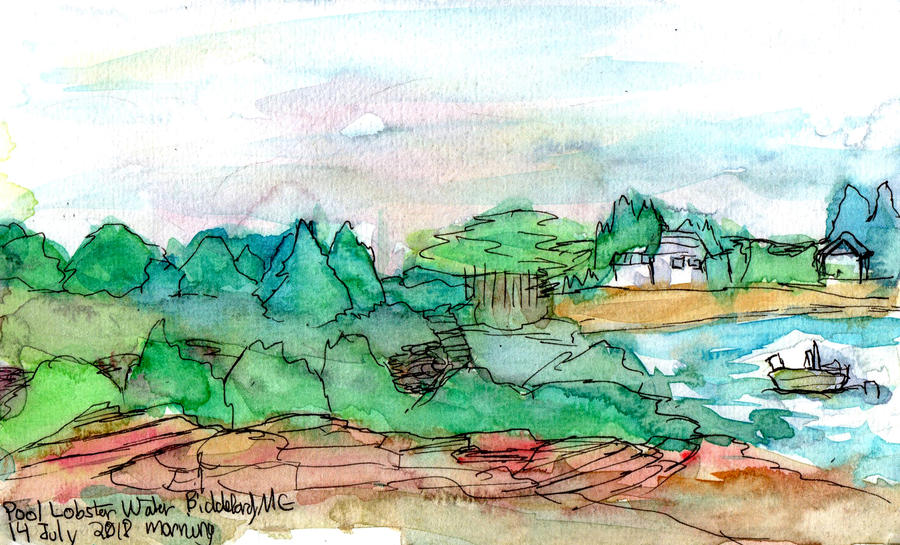 I actually did two complete watercolour sketch scenes and one half sketch yesterday, but I'm using this one as my World Watercolour Month piece for the day because it's the first one I sketched in and inked.
View from a restaurant's outdoor seating area. I've been watching a lot of
Teoh Yi Chie's
youtube videos and how he does his sketches. I love the simplicity of technique he has and how he can convey a super detailed scene with clear, vibrant colours in few lines and suggestion of details. Since I carry my art journals around with me, I've been working this technique into small pieces and backgrounds. Yesterday I had a beach day and played with a technique I've seen him and other watercolourists do that I love, which is mostly avoiding premixing, or only partially mixing, paints on the palette and letting them mix on paper. It was a bit scary at first, especially on the treeline because I felt like I was losing control, but it worked out because the simple splashing and letting paints touch did a lot more to suggest fir trees than anything else I've done, and I was able to do it quickly and go on to the next adventure!
Watercolour and ink in my Pentallic aqua journal. 15 June 2018.
~~~

Website:
www.deviousrose.com/

Ravelry:
www.ravelry.com/designers/devi…

Instagram:
www.instagram.com/deviousrose_…

Facebook:
www.facebook.com/DeviousRoseDe…

Twitter:
twitter.com/deviousrose_

Teoh Yi Chie...I watch him also from time to time...he makes lots of reviews...and is mostly specialized in the urban sketching scene. Good "teacher" you have found.

Reply

Yes, I've found many of his reviews helpful for me, especially on brushes and beginner paints, and even though I don't do urban sketches I do travel journaling so it helps with that and with all else.

Reply

Beautiful work, very nice line !
Reply