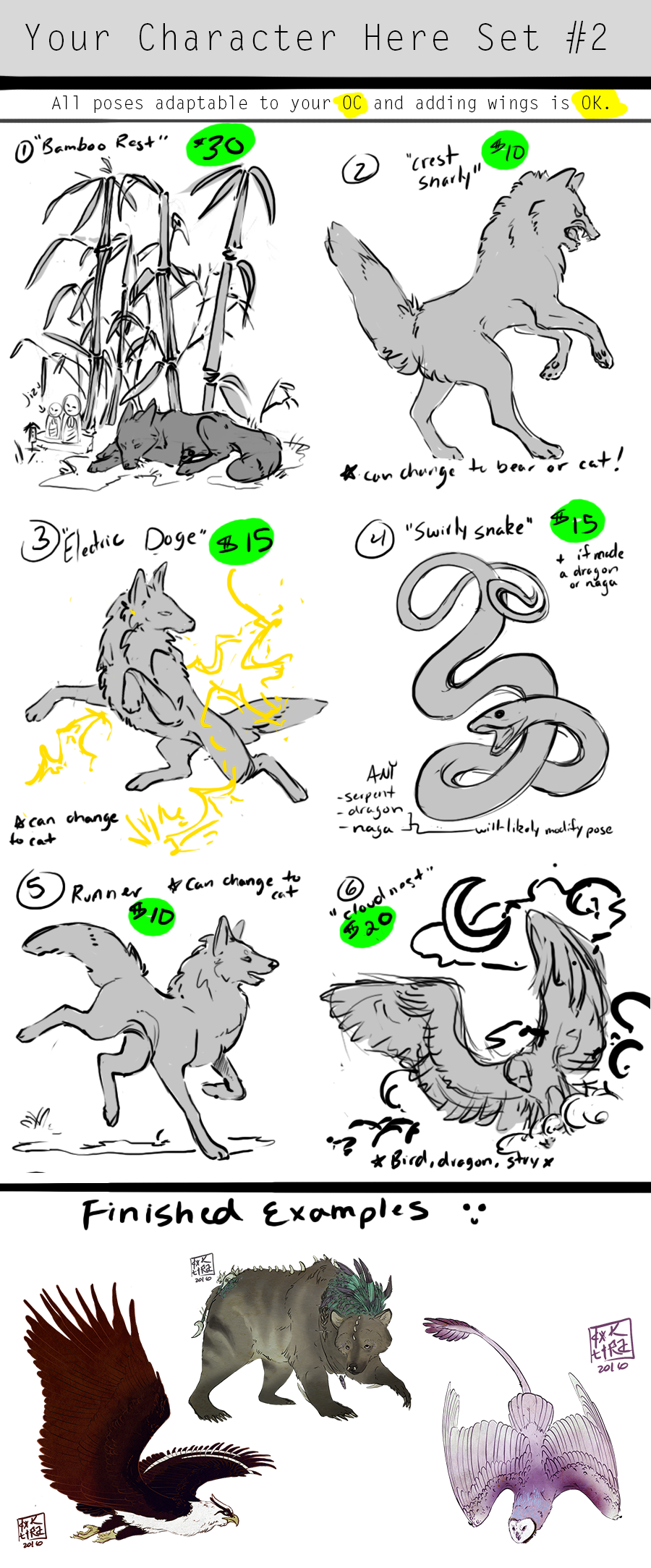 Watch
So since the last set did so well, and my commission list is vanishing fast, I am opening more!
If you want a pose but a different species, LET ME KNOW! I'm happy to modify the drawing to fit your species.

Paypal is OK!


Points are OK. Remember 100

equal one US dollar.

1.
PilafiaMadness
- Paid - Rasmus
2.
baying
- Paid - Bay
3.
canobefnur
- Paid - Ghost
4. OPEN
5.
NinjaKato
- Paid-
Beast creature concept (redone)
6. DeviBrigard - Paid -
Please comment to claim, these are first come first serve! See examples at the bottom of the deviation or here:

I could certainly adjust it to work.

Reply

Oh, Awesome!
I'd be stoked if you'd make a colored variation of the Vyllus besides what I've provided. They come in a variety of colors, with typical pattern of dark markings surrounded by a brighter/lighter color. And typically have gray belly's.

If not, I understand. I'd be glad for you to use the Red Vyllus as your model, otherwise. ouo
Reply

** sorry, I meant "how did"
Reply

I could do that. Sounds fun.

Howard you want to pay?
Reply

Sweeeet. My name is totally Howard and I will pay with paypal!

I may need to send it tomorrow though, if that is fine and dandy!
Paypalisbeingadoucheandgivingmeproblemsatthemimidiatemoment.....
I may need to murder it. ovob
Reply

And my PayPal email is Ahkwardkat@gmail.com
Reply

That's fine. XD I have a free orders ahead of you so I won't get to it today anyway. Lol
Reply

Awesome! PayPal is ahkwardkat@gmail.com

Thank you! I'll get that out sometime in the next week
Reply

I guess could I buy #5 "Electric Doge" (absolutely love that name) with points? <:
Reply

You can now go to my profile page and pay via the widget. Thank you!
Reply

Yes of course. :'D Let me make a commission widget for you. What character would you like?
Reply

My character Ghost if you don't mind! c:
i.imgur.com/9VRLilA.png
Also just a thought (which you don't have to do), instead of the lightning being yellowish it could be the lime green of some of Ghost's markings (like on the sheet)?
Reply

Afkdajaskl Why do you do this to me Ahks? More importantly I shouldn't have fell asleep earlier or else I might have been able to catch the first one xD
Can't wait to see these done!
Reply

#1 was indeed taken,sorry!
Reply

first one hasn't been paid for. I consider it open.
Reply

They asked for the claim first though but if they back out I might try to snatch then.
Reply

Reply

Wait how were you still awake? When I first posted it was like 2am here and when I last posted it was 8am. Did you ever sleep? x.x
Reply

I didn't go to bed until arteries replied to you... so about 0530 my time. Lol
Reply

Ah, I love 6 but I have no money this time xD
Reply

can i please buy #2? ♥ with paypal <:
Reply

Yes of course! Thank you. What character would you like?

The paypal is naorcomic@gmail.com.
Reply

Oh wow electric doge is so cool
Reply

Thank you!

Reply

I'd love to buy it but I haven't any decent refs, if its still open when I do I'll be back!
Reply