Long: 60 inches. Weight: 5.1 Kg
This Life-size Sunset Shimmer plush is a commission.
The client wants sexy eyes on her. So for the first time, I try to make her in normal eyes and stand pose. But she is too heave so she can't stand up.
After this one. I heard some suggestions from the client to make some improvements. Legs thinner, Three-dimensional curled mane.
For the easy wash, She has an Invisible zipper on her back and there is no wire or pipe inside. She is totally soft.
DO YOU WANT TO SLEEP WITH HER? LOL
BTW, I change my logo. Do you like it?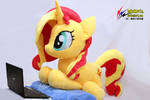 Image details
Image size
5184x3456px 1.28 MB
Date Taken
Jul 18, 2017, 9:00:18 AM