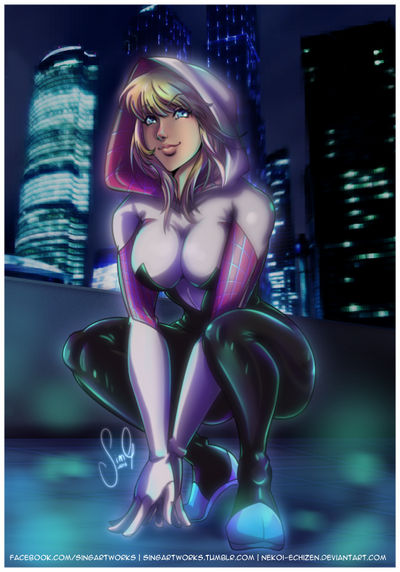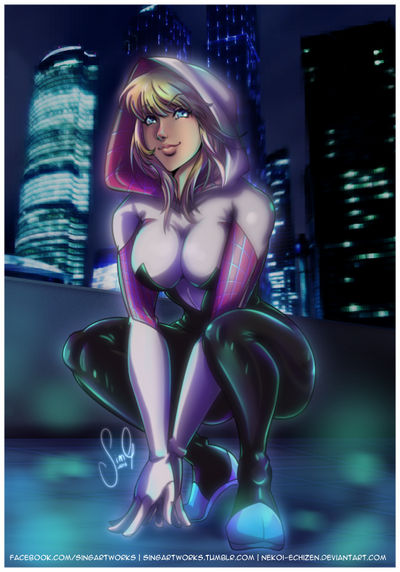 Sexier than the original Gwen
Reply

Really good, the anime style looks awesome and great reflective texture.
Reply

Very beautiful!

Reply

molto molto bella! mi piace molto Spider-Gwen! sia come storia che come personaggio
Reply

Grazie mille! Piace molto anche a me e dopo aver bloccato molte serie comics (per poche finanze ed eccessiva longevità) ho ricominciato con lei prendendo dal numero 1! E' molto accattivante come pg, se pur per me Spiderman sarà sempre e soltanto Peter Parker!
Reply

ah beh riguardo allo spendere finanze nei comics,io sto seguendo: Amazing Spider-Man,gli incredibili X-men,i nuovissimi X-men,i guardiani della galassia,Wolverine,Thor,Shield,Star-Lord,Star Wars,Darth Vader,Spider-Gwen,Ant-Man,Iron Man

sono dipendente dai fumetti,lo so ma mi piacciono troppo XD
Reply

Un tempo avrei seguito tutto questo anche io, purtroppo per adesso non posso ed ho dovuto interrompere mio malgrado sia Wolverine che Deadpool, ho lasciato solo la serie di TMNT! ._. Ed ora sto per iniziare Spider Gwen!
Reply

I love Spider-Gwen also!
Beautiful work and great details but most of all the coloring is outstanding and wonderful highlights and shading adding life to her! Very well done!
Reply

Wow thanks! Your comment is one of the best I've ever received! My dream and aim is to become a pro colorist so your comment is really encouraging me!!
Reply

Lovely work on Spider-Gwen here! One of the best I've ever seen!
Reply

Bel lavoro

Reply

Reply