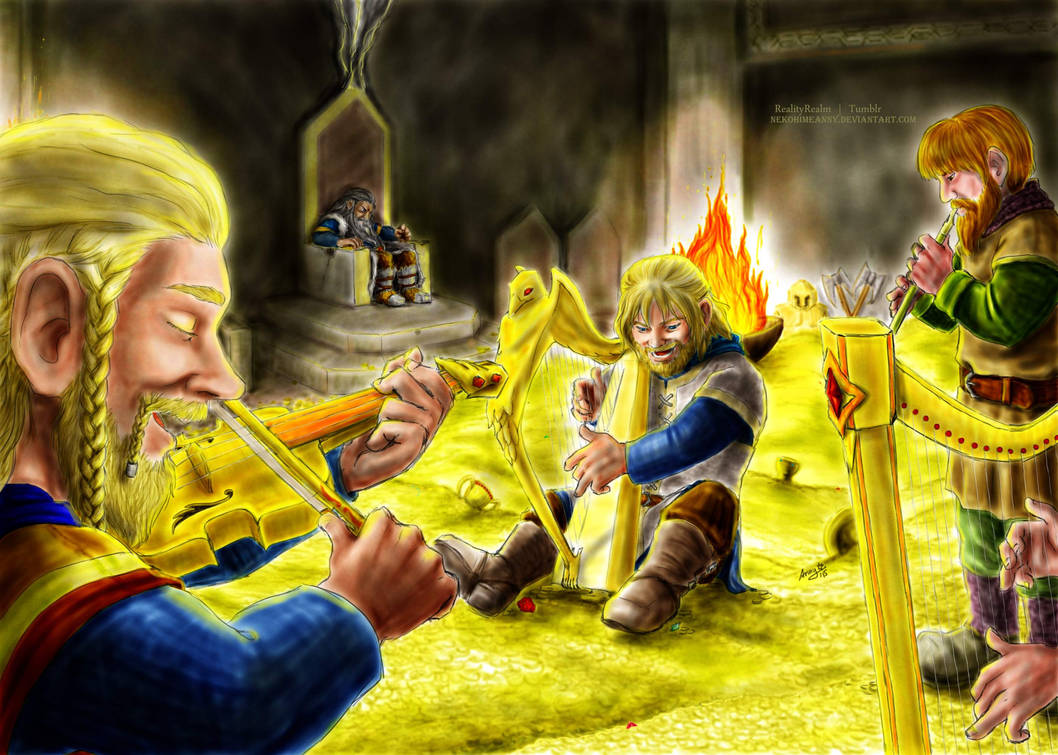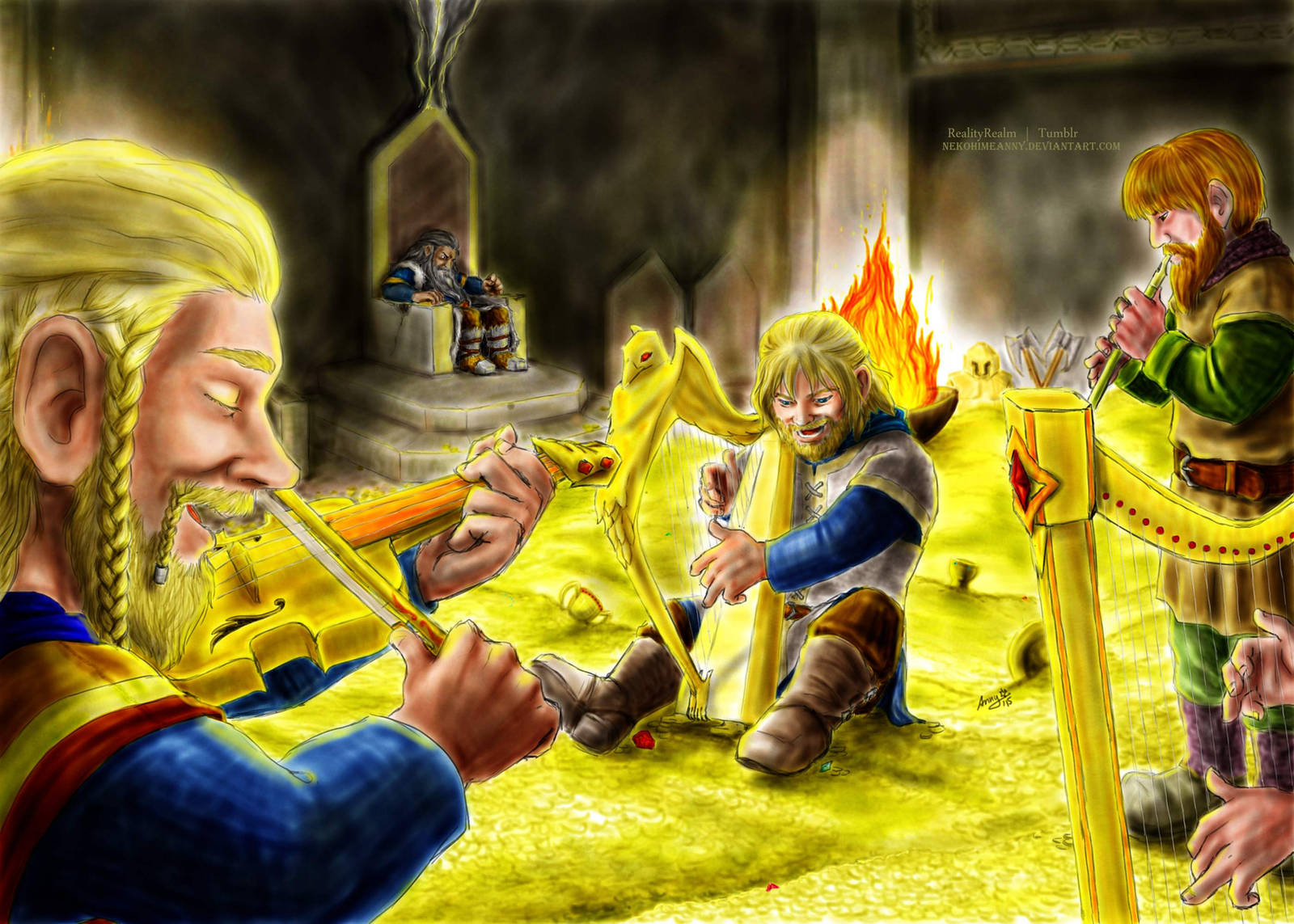 Watch
My entry for the "Never seen before" contest held by


I chose to draw a scene I would have loved seeing (and hearing) in the last Hobbit movie - making music under the mountain:

The rocks echoed then with voices and with song, as they had not done for many a day. There was the sound, too, of elven-harps and of sweet music; and as it echoed up towards them it seemed that the chill of the air was warmed, and they caught faintly the fragrance of woodland flowers blossoming in spring. Then Bilbo longed to escape from the dark fortress and to go down and join in the mirth and feasting by the fires. Some of the younger dwarves were moved in their hearts, too, and they muttered that they wished things had fallen out otherwise and that they might welcome such folk as friends; but Thorin scowled. Then the dwarves themselves brought forth harps and instruments regained from the hoard, and made music to soften his mood; but their song was not as elvish song, and was much like the song they had sung long before in Bilbo's little hobbit-hole.

Under the Mountain dark and tall
The King has come unto his hall!
His foe is dead, the Worm of Dread,
And ever so his foes shall fall.

The sword is sharp, the spear is long,
The arrow swift, the Gate is strong;
The heart is bold that looks on gold;
The dwarves no more shall suffer wrong.

The dwarves of yore made mighty spells,
While hammers fell like ringing bells
In places deep, where dark things sleep,
In hollow halls beneath the fells.

On silver necklaces they strung
The light of stars, on crowns they hung
The dragon-fire, from twisted wire
The melody of harps they wrung.

The mountain throne once more is freed!
O! wandering folk, the summons heed!
Come haste! Come haste! across the waste!
The king of friend and kin has need.

Now call we over mountains cold,
'Come hack unto the caverns old'!
Here at the Gates the king awaits,
His hands are rich with gems and gold.

The king is come unto his hall
Under the Mountain dark and tall.
The Worm of Dread is slain and dead,
And ever so our foes shall fall!

This song appeared to please Thorin, and he smiled again and grew merry; and he began reckoning the distance to the Iron Hills and how long it would be before Dain could reach the Lonely Mountain, if he had set out as soon as the message reached him. But Bilbo's heart fell, both at the song and the talk: they sounded much too warlike.

I'm quite content on how it turned out right now as I won't be able to do better in the left time

Could have added Bilbo I just noticed, but my focus was on the dwarves....
Oh yeah, can you recognize who is who? I loved the movie designs so I tried to melt book description and movie design a bit




want to share?


realityrealm.tumblr.com/post/1…