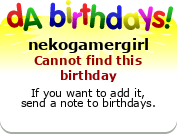 Get your own CrushTag!


greetin, im a Broke Bitch(TM)
i hate my username a lot skskks

www.paypal.me/princessweeaboo




Commission Prices:
.50 cents for a sketch
$1.00 for a colored headshot
$2.00 for a colored and shaded headshot
$3.00 for fullbody lineart
$4.00 for colored fullbody
$4.50 for colored and shaded fullbody
+.50 cents for another person in lineart
+$1.00 for another colored person
+$1.50 for a colored and shaded person

The higher the price, the longer it'll take.

I draw:
Humans
Furries
Cartoon-ish Animals (Dogs, cats, bears, deer, sheep, ponies, horses, etc.)
Babies
Scenery

For any customs or things I forgot to list, ask me!! I'll add it to my list of things if I'm willing.

PSA:
DDLG/ABDL/CGL/TERFS/MAPS do not interact with this account !!