Hi Guys, many of you visiting this page are probably familiar with my MLP colour guide: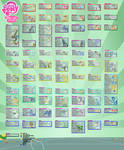 and if you've been aware of it for a while you've probably noticed there haven't been any updates for a while. The reason for this is pretty simple, when I started the guide (possibly even up until the most recent update) I didn't really have many real life commitments, however now I'm at uni (which I have to travel 4 hours 3 days a week for) plus I need to obviously do uni work, and I also changed Chinese Lion Team and have to travel for that as well each week. So basically as much as I'd like to keep working on the guide and make it as complete as possible I just don't have the time to do much for it.
However since I really want this to be a valuable resource for people, and I've heard it has been really useful for people I wondered whether I could get a group of people to help me work on it.
If anyone is able to do any of the following things, please let me know and I will give you more details/instructions:
-Fill in the template for each new character in Photoshop (this is the most time consuming part) - I then compile all of the templates into one image which is what you are used to seeing.
-Create .aco colour swatches for new characters in Photoshop using the completed template
-Create .gpl colour pallettes for new characters in GIMP using the completed template
If I could get a small team of people helping me out with these things that would mean I could keep putting out updates for this. I will be sure to give anyone who helps me out full credit for any work they do, and I will quite possibly move this guide from my own gallery to its own seperate page (possibly a new group) to demonstrate that its a group effort if that happens.