All my characters from the 's group with their related pics and text (made by me or someone else, follow the links) now ordered for an easier navigation.
Brunehault Greywald:
- Character Sheet :

Lady of thorns concept entry - BrunehaultName: Brunehault
Sex: Female
Age: 13 (before her training) - 18 (after her training)
Background: Lady Brunehault Greywald was raised as a proper young noble girl, for she was the daughter of a baron. As such, she learned how to be a lady, how to drink her tea without spilling it, how to be always elegant and fashionable. But above all, as the eldest girl of the family, she was to do a proper mariage with a nobleman. Her two lovely younger sisters didn't care as much as her. The heir to the title was some unbearably smug cousin of her, and her father wanted her to marry him as soon as possible, because he wanted the title and fortune to stay in the family. But she loathed the boy.
Hair: Blond
Eyes: Green
Stage: Woodwife
Familiar: Abyssinian (Lady Rose)
Truth: « A rose without its thorns is no longer a rose. » (= You have to accept every being as it is)
History:
Brunehault Greywald was a young girl when her family decided to marry her to her distant cousin Percy, heir of
- Early life :

Brunehault 01 - Wood TouchedShe had cried for hours, running until she couldn't breathe at all. The forest had deepened, and, even if she knew where to go to get back home, for she had followed a track, she didn't want to. She suffered a bad case of hysteria, her rational mind told her. But she couldn't help it, it was unbearable to be engaged to that Percy boy. He was a pest, a spoiled brat who liked to hurt people and animals. She had seen him beat a horse to the blood not one year ago. She had to stop him or the horse would never have recovered. Even then, this particular mare didn't let anyone approach her but Brune herself. She had a gift with horses. Her mother called her a « Centauride » whatever it meant.
But just now, she didn't feel like riding. She needed a rest.
Noticing the great oak tree at her left, she leaned on it, thoughtful. Why would her father do that? Weren't there other noblemen to marry her? Her father wanted the estate to stay within

Brunehault 02 - Cast outIt was several days now since Brunehault had returned from the Wood. Her father's anger didn't seem to diminish one bit. Her mother weeped all day about her « lost » daughter, and how she had condemned her sisters to eternal celibacy. She made her wear gloves all the time, didn't want to see the « mark » on her hand. Her sisters were taken aback, but didn't turn their backs on her. That was a relief. Radagund, 11, and Mahault, 8, were her sole joy left. That, and the long hours she spent riding the traumatized mare she had saved from Percy. Her sisters had asked a million questions about her « change », how it happened, how she felt, and did her hand hurt. She had answered trustfully, even if she had wanted badly to change the subject. No, it didn't hurt. Yes, it felt weird. And she told them about talking bushes and the dangers of the Wood. Some servants, who knew about Wood magic from legends, h

Brunehault 03 - The ApprenticeshipBrunehault was working with Fredgund for weeks. She felt more like she was working -for- Fredgund, because she hadn't learn many things and did only exhausting uninteresting tasks. Fredgund was only 23, but she sounded like an old hag when she gave Brune her orders. And there was this silly bird. The greenfinch was always watching when she was at work, like a spy. Did she stop working a minute to catch her breath, Fredgund always knew it and scolded her like she was a child. It was like she had become a slave.
Week after week, she weeded the parcels around the hut, letting only grow the weeds and herbs Fredgund wanted. She had made mistakes at the beginning, but now she had a sample of each useful plant dried for her to check when she was unsure. It was a good thing, for she had trouble remembering them at first. Ir became easier with time. She also had to do stupid things, like boil water for tea, always burning her soft skin on the metal handle of the kettle. Why would someone

Brunehault 04 - Woodwife to beOver the months, Brune had come to like Fredgund. She had a gift for teaching things. Brunehault now knew how to make potions to fix people with the flu, or some other small diseases. She was proud of it. She also knew how to weave, and was good at it. She had already learnt how to sew and embroider when she was… well, when she still had a family name. But the wool she had never tried before, and it was fun. Except for the dyeing part. That part was always smelly and disgusting. But when it was done, the wool had beautiful shiny colors. Brune had been able to make new dresses, and Fred granted her the right to be all feminine and ladylike with fancy clothes as long as she worked hard on the other tasks at hand. The girl had found out she had a talent against bugs, fleas, ticks and other noxious insects. She knew they were useful sometimes, but let them be useful somewhere else. She could brew powerful repellents. Now that she had Lady Rose to remind her to be patient and to cuddl

Brunehault 05 - The CloakBrune was 17 now. She was a pretty young woman, and her bound with Fredgund was stronger than ever. She was like a big sister, now that Brunehault had learnt most of the Woodwives' tricks to cure and protect people. But Brune still couldn't cope with her differences. She was like no other. Not a lady, not a real wood girl, not a farmer like the people she helped. What was she?
One night, she had a vivid dream. It was like she was looking at herself. Like really looking. She saw a beautiful woman with a dashing aura of kindness, watching pictures of her own past passing before her eyes and fading. She was so absorbed by the sight she didn't even notice the good she was doing. Mourning her past was refusing to let it go, and as she gripped it tight, the past was keeping her away from her true self. In the dream, she saw her hand entwined with beautiful vines, full of thorns, that moved slowly, calmly around her arm, with a peace she had never felt. Her dream-self

Brunehault 06 - The StewardshipOver the months, Brune had not made many friends amongst the young Woodwives in the Heart. She felt different, for most of them were from low extraction and mocked her haughtiness and pride. They called her a « Rich girl playing to be a Woodwife » and, despite the seeming disdain she showed them, she felt bad. It hurt her to be the target of mockery. Were they not nearly adults? Should they not behave as such? Her comrades didn't seem to think so, at least some of them. Yet she didn't overdress, she had kept her fancy clothes into her trunk, and wore only the cheaper ones. But her manners she couldn't disguise. She didn't like the same things than the other girls, and spent most of her time off tending to the plants. At least they didn't blame her for what she was. Not everyone had seen her Truth, it seemed, and it was a good thing she had accepted it before her stewardship, for she wouldn't have survived in the Heart witho
- Present life:

Brunehault 00 - The Little Red Riding HoodNight was dark, absent moon to light it. Even the dim glow of stars didn't go through the thick foliage of the forest. The creature lurked in the wood, looking for its next prey. Its abundant black fur crawled on its skin as a slight breeze washed over it. It was a wolf, one of the big ones. A lonely male wolf the size of a small pony, with a powerful jaw and cunning eye. Those hadn't been seen this close to human houses for a very long time, when winters were harsh and shepherds died along the flocks they intended to protect. Nowadays, common wolves stayed deep into the Wood, far from humans and their guns, and the big old wolves had nearly disappeared. In the old times, The Hunt had taken most of them, and when the humans began to eat at the forest, The Hunt, the game and the old wolves had made themselves scarce. This one shouldn't even be there at all. It was odd. Something was up. But the black lonely beast didn't care, and it was hungry for blood. It had c

Brunehault - Prompt PendrygBrunehault had reached the Heart, and Snow was resting in the stables. She had taken time to drink a cup of tea from the kitchen before she tried to reach the Lords to tell them about the beast. But she didn't have time to do so, because she hadn't finished sipping her cup of tea when she heard noise outside. She got out to find a boy - a human boy! - had entered the Heart. And he was not alone. He was with Dragon. Dragon was Robert Pendryg's familiar. She knew the young man from the time of her stewardship in the Heart. He was of noble extraction, and had came to her defense once in a while, when stupid boys had harassed her for being what she was: a well groomed girl with manners. She kind of like Robert. He was civilized enough, and that was refreshing. She hurried at the boy's side and listened to his story. What? Children taken? Robert in a potentially mortal danger? She couldn't sit on her hands while this happened. She had heard of the Liam Quigley rumble, during her

Brunehault - The Rescue PartyAs she arrived to the camp, seeking help and looking for the blue-haired girl, Brunehault was interrupted by a young Woodwife with a dog. Without even introducing herself, she asked what she needed the blue-haired Woodwife for. Startled at the sudden voice addressing her, Brune didn't answer right away. But she was in a hurry, and couldn't afford to be picky. She tried to explain the whole problem, with Robert Pendryg missing and her thinking she could have found him. But she was still under the effects of an adrenaline rush, and she sounded hysterical. She breathed and calmed down. She introduced herself to the newcomer, who was, it appeared, quite a pretty young woman dressed in a bizarre fashion for a lady. Her clothes were very neat, though, and that was a good point. She hadn't met a sloppy and messy Woodwife she couldn't get along with.
She searched the Heart for blue hairs, gazing around, but she saw none. She heard a dog whuffing and saw that Lady Rose a

Brunehault - The Daring EscapeBrunehault and Artemisia were trapped into a house swarming with goblins. The worst thing was it was a stone house, so Brune was completely, utterly powerless. How could she have rushed into that trap? Clearly, her best judgment was not available at that time. But then, Robert…
She held the cloak tight with one hand, the other grasping her little knife. Lady Rose came to lean against her left leg, a tiny red ball of fury, as her hairs bristled and she hissed like a snake. Brune stood her ground, and felt Artemisia searching her pockets for something she didn't seem to find. A first goblin jumped at Brune's face. She slashed her knife the best she could, and missed the goblin, but gave it a good fright, as it fell down near her feet in a desperate attempt not to be stabbed. It squawked. Lady Rose clawed at a goblin which had tried to close on them. It bled nastily and retreated. Brune heard a howling, probably a canine, from outside. Orion replied. Then several other h

Brunehault - The meetingArty and Brune had made it to the Heart safely. They had settled on waiting for Diane in some comfy chairs that were outside the cottages for the use of Woodwives who didn't like being indoors. They had talked about the recent events: their escape from the trap the goblins had set on them, their meeting with Diane, and above all, the "star-tattoo" matter. Artemisia seemed very concerned that Brunehault got that little bright star on the palm of her hand all the sudden, and knew were Diane was and if she was well. But Brune felt good. She loved the new feeling she got from that. She didn't feel lonely anymore. Not that it had been a lonely evening, not with Arty at her side. She trusted Arty, who had saved her life. But the feeling inside her eased a pain she felt for years. A loss. She felt like she was belonging to something again. At last. She tried to explain that feeling to Arty, as she had began to call her, but the Woodwife didn't seem to like it. That saddened Brune a bit.
When

Brunehault - Flowery dreamsBrune had had trouble to find her sleep. She had turned a long time in her bed, not knowing what was bothering her. When she finally fell asleep, one could have assumed things were going to get better. They did not. When she only sought rest, she found terror and anguish. She was back to the forest near her father's estate, where she had fled when her engagement to her hated cousin had been announced. She saw it, the Wood Woad, the hawthorn, with a piece of her skin covering one of its branches. She wanted to run away from it, from the bad memories and the awful consequences of that evening. But an unknown, powerful force dragged her nearer to the bush, slowly but inescapably. She was pulled toward it and fought to escape, but she finally got so close she could feel the leafs and thorns of the bush. She eventually got swallowed by it, surrounded by thorny twigs and white roses.
She panicked and screamed for help but no one seemed to hear her supplications, not even Diane, w

Brunehault - Deadly dreamsBrunehault woke up suddenly. She was back in her cottage, all sweaty and breathless. What a vivid nightmare it had been! Lady Rose, who usually was sitting next to her when she slept, wasn't here. She had a moment of panic, but then she felt her beloved familiar. She was back in the Heart, probably because that was the exact place where Brune's body had been magically transported by a vicious creature who had weakened her and other Woodwives through nightmares for weeks. How did Lady Rose get to the Heart alone was a mystery. Maybe Moonlight, Diane's familiar, helped her? It was the most probable option. Brune realized she could feel Diane again too. That was a relief. But also, it was kind of annoying. During the nightmare, Brune had felt helpless a long time. People, like Robert, and even Diane, had talked about her like she hadn't been present. Robert had been quite rude, which wasn't his normal behavior, but then, the situation had been far from normal. They thought, at first, that

Diane and Brune - Christmas feastA morning of early December, Brune was brewing some potions when she heard Snow whine. She was about to get out and see what disturbed the stallion, when someone knocked at her door. Only then she felt Diane's presence. She had been so buried in her work that she hadn't noticed it before then. She went to the door and opened it, smiling at Diane.
"Hello, Diane, Moonlight. Please come in."
She waved toward the inside of her tidy little cottage, and her guests came in. Diane took a chair, and looked around. Moonlight smelt the brew with curiosity.
"Please wait a moment, I have to take that potion off the fire, I think it's ready", Brunehault said. And so she did. When she was done, she came and sat on a chair, Lady Rose jumping on her lap. "So, Diane, what brings you to my home?" she asked in a soft tone. She didn't need any babysitting, now that she was better at taking care of herself. Diane knew that, so she must have had a r
-Wardrobe: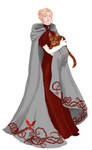 Diane Rosing:

- Character sheet:

Woodwife sheet - DianeName: Diane Rosing.
Sex: Female
Age: 12 (beginning) -22 (meeting Brune)
Background: Diane was the only daughter of the keeper of a lord's castle. Her father, Jup Rosing, was a widower since she was 3, so they were everything to each other. He took her when he helped the Lord with his hunting parties, and she learnt early not to be afraid of death. But she was very shy and didn't like to be around people, for she was not good at socializing. Only her father knew how to make her talk, and only when they were alone.
Then she got Wood Touched and the Lord of the Castle learnt about it and commanded her father to send her away, giving him money for his silence. Her father considered the option of running away with her, but he knew she was at risk to be hunted down for witchcraft, so he reluctantly gave her up, to the caring arms of the Woodwife who had helped her to see the light. She had to go, and only saw her daddy in secret from times to times. Th
- Early life:

Diane 01 - Wood TouchedDiane was hiding from the numerous people who had invaded the Lord's Castle today. There was a hunting party scheduled on the next day, and she knew she wouldn't escape this, because her father always insisted on her attending those events. But for now, she couldn't cope with the sudden arrival of people, especially the servants who were temporarily staying with them, due to the lack of rooms for servants in the main house. Only the Lord's servants lived here, and the Rosings had to shelter the guests' crews. That was ominous. She hated it. So, as soon as she had managed, she had fled to the wood, where she was sure nobody would follow her. She would return at nightfall, or her father would worry, and she certainly didn't want that. Her father was always concerned with her, since her mother died, 9 years ago. That's when she stopped babbling and talking to anyone but her father. The servants and the Lord thought she was mute. Well, let them thi

Diane 02 - The Lost PuppyDiane was with Sybil for months. She had only seen her dad twice during this time, in secret, and missed him direly. Sybil was a nice woman, but she could never be her dad. She tried hard, though. She explained all the tasks to do with patience, corrected the wrong moves without yelling once. She was all sweet. But she insisted on Diane's coming with her when she toured some of the villages where nobody knew the girl. And that made her very unhappy, for people around were staring and pointed their fingers at Sybil when she entered the village, and Diane was now « the Freak's apprentice » too. When she hid her hair with a piece of clothes, though, nobody seemed to notice her physical abnormality. Her golden eyes were considered as « brown eyes in which the sun reflects beautifully » or something like that. But she still couldn't manage to talk to strangers. Only Sybil and her dad. So she was regarded as mute by all the villagers.

Diane 03 - One o cloakSince she had found her familiar, Diane was more self-confident, and came more willingly with Sybil to help the local villagers. She even began to actually talk to them – when addressed to – with monosyllabic words like « yes » or « no ». As Sybil said, that was a beginning. Small victories were to be celebrated.
Diane was 14 when Sybil decided it was time for her to learn how to sew her own clothes. The girl had begun to show signs of womanhood, and her old rags didn't fit anymore. Sybil showed Diane all the steps: how to collect the wool from the sheeps, how to prepare it, how to dye it, how to transform it into a piece of clothing. She also taught her how to embroider (tricky part, this one… Diane got her fingers pierced by needles many times, before she came to understand how it worked), and even how to use other materials, like linen they bought at the market, or wooden pearls she could carve herself. It w

Diane 04 - The Alfa StewardThe day Diane arrived in the Heart to begin her stewardship, she knew it would be a hard year. There were so many people. The camp was buzzing with activity. Several dogs were around. Moonlight was tense. He fought his instincts, for there was a doe just next to them. A damn doe! And it was not for eating. She was a girl's familiar. Why would anyone need a doe as a familiar? This was crazy. No wonder the girl herself smelled like prey. She reeked of fear. All the sudden, she shrieked like a scared mouse. Diane sneered. Come on, it was just a boy staring. Was not even impressive. Well. He body wasn't. But he sure knew how to dress up. Diane had no time to ponder. A big guy spoke in the dandy's ear, and then the boy forced a laugh and left in a hurry. Well. That looked kind of insecure. But then he did the right thing, for Diane hadn't like a bit what the big guy had said. He called her « Beauty and the Beast ». Apparently she was both. This was offensive.
- Present life:

Diane - Prompt PendrygDiane and Moonlight were strolling in the Wood under a bright moon. It was quite a quiet night, and all the small creatures with a nocturnal activity were very busy. The forest was full of small noises. Bats were flying around, following their preys. Diane liked to follow their erratic movements with her eyes, but it was a tiring hobby and she couldn't stay long in focus. She liked those walks, when they had no worries and were completely absorbed by the night activities. They surveyed their territory, as the Alfa couple of their own tiny pack. Moonlight enjoyed the mix of scents, and occasionally they both went running after a rabbit or a doe which ventured into their boundaries unknowingly. The chase was more playful than serious, for they were not in their hunting mode. They had fed before, from the delicious deer they had caught two days ago. Raw meat was their favorite, something they couldn't afford to eat when they were in society. Cooked meat was nice too, but it lacked the sav

Diane - Sequel Prompt Pendryg - Fee-fi-fo-fumFrom her observation point, Diane didn't see the front door of the house. She saw the rear and the barn. She waited quite a long time when something finally happened. In the barn, horses began to whine, and there was a female voice calling from the inside. Something seemed unnatural about that voice, but Diane couldn't nail it. A man, quite big judging by the sound of his steps, exited the house and went into the barn. The woman called him again, and then, the door was slammed shut and barred. How odd. But she had no business interfering with other people's affairs. She smelled two women, a feline, a dog, and the man in the barn. Nothing abnormal here.
After a short while, though, there were moves all around the house, and even inside. Scuttling noises and muffled voices came to her ears, and even a cackling giggle from a non-human mouth. Goblins. Dozens of them. They seemed to converge to the house. What were they doing there? There were people in that house! Diane d

Diane - About goblin poetryDiane was in a cottage, surrounded by Moonlight and three other wolves who had answered her call. She sat in the only chair in the room, holding a goblin on her lap like it was a misbehaving boy she had to scowl. The goblin looked - and smelled - terrified. « Don't fret little guy. We're not gonna eat you. Yet. » she said with a smile who showed too much teeth. « Just tell me what I want to know, for I don't like to be kept in the dark. » The goblin shivered and held some tears. He asked:
« What is it you need to know,
Pray, that I will gladly show? »
Now what? A goblin who spoke in rhymes? Diane had thought it was only legend. Maybe fear made him return to an old habit? She had no time to find out. She had to get answers.
« Who is this Mr. Quigley and why do you work for him? » she finally asked.
« Human is Mister Quigley.
But at heart like us ugly,
He works for the Goblins Queen,
His Conso

Diane - Trust issuesThe pack was following the lead of the goblin into the Misty Paths. It felt like a very long distance. Diane was getting angry. Surely this was - not - the shortest way to the prisoner Woodwife. Moonlight began to snarl at the goblin, who hastened his walk. He was almost running when they got out the Misty Paths, into a clearing Diane didn't know. She didn't even have a clue as to their current location. What was this place? It looked like it was no England anymore. She frowned. « Where did you lead us, you tricky little jerk? » she asked the goblin. The creature didn't answer, only waved them to follow in the open. Diane and the pack were on his heels, not willing to let him escape. What trickery was that again? The ground looked odd. Like a marsh of some kind. It smelled bad, too. Clods of wild grass made the walking uneasy. And then, all the sudden, Diane felt the ground sink under her feet. She was going into the ground! « Stop him!

Diane - The Strange case of Mr. PendrygDiane had finished her traking charm in no time, but Brune had yet to complete her tonic potion, and Artemisia had not come back with the wake-up potion. Diane's impatience grew, and she began pacing inside the building, unhappy to wait. When Brune completed her tonic, Arty arrived with her potion. Everyone took what they needed to go on, and left. Diane had placed a tracker on Robert's coat when Brune still had it. She was not sure why, but she had a feeling it could be useful. But for now, using a tracker on Luna seemed more relevant. They headed to the girl's cottage, and Diane knew she wasn't going to be in it. She said so, and when she opened the door, she was proven right. The darn girl had left without waiting for them. She cursed, and began to track her by smell. It was not too difficult, for the girl hadn't tried to conceal her tracks, and Diane could even read the ground to know where she had gone. For a while, it worked, and they travelled the M

Diane - Flowery Dreams part 2Diane was worried. Earlier this night, she had felt Brune's distress, and had run to her. She sensed pain, anguish, panic, and a plea for help. She had feared the worst, and by the time she had reached the remote cottage of her friend, she stormed into the house, relieved that the door was unlocked. Only to find Brune asleep. Asleep, yes, but caught in some sort of evil nightmare she couldn't escape from. Lady Rose was anxious to wake her, but didn't manage to do it. She was sitting on Brune's chest, and Moonlight joined her, resting his head and paws on the young Woodwife. Diane didn't know what to do, Brune was struggling in her dream, sweating, moaning. But she suddenly woke up, and seemed to be really confused. The worst part was when she has screamed at the top of her lungs at the sight of a beautiful black rose that was on the floor, as if someone had tossed it here. It took Diane a long time to calm Brune down, and she had to put the rose in a box,

Diane - Venomous roses (prompt sequel)It had been days since Diane had seen Kiara, a fellow Woodwife, to try to solve the mystery of the nightmares and the velvet black roses. They had found out the roses were completely identical to each other, and one appeared every night they had a nightmare. Apart from that, they had both tried all the tricks, charms and spells they knew, all for nothing. It was infuriating. But Diane was feeling so bad that she felt the furor comforting in a way: it kept her alive and almost kicking, when all she could have felt otherwise would have been despair.
It had worsened. Every single time she had tried to sleep, even with a sleeping potion or some herb supposed to suppress dreams, she had ended up caught in that same atrocious nightmare, where she was helpless, surrounded by hostile people, threatened, and even beaten. She couldn't fight such a powerful force of untamed violence, that was engulfing her and trying to suffocate her. She felt a tight knot inside her chest, and sometimes wanted t

Diane - The nightmare before HalloweenDiane woke up with a start. She was in her hut. But Moonlight was missing. Was she still trapped in that nightmare? Were was the filthy creature that pretended they shifted the balance of things in favor of the Wood? She was darn sure she hadn't. The creature had accused them of dealing with creatures of the Wood to gain more power. Well, sorry to point out the lie on your sweet tale, horrible bony creature, but Diane had never agreed to be Wood Touched. The whole thing had been an accident.
She looked around. No Luna. No cottage. No Moonlight, either, but she could feel him again! He was in the Heart! And he was so relieved to feel her too! She had to get dressed and go to him quickly. She wanted to feel his fur and his warmth. She missed him very much. She had to find him before he decided to come and find her. First, the clothes. She was tired of being naked. From now on, she swore she would only sleep on her cloak, and never again naked. People who messed with dreams were too

Diane and Brune - Christmas feastA morning of early December, Brune was brewing some potions when she heard Snow whine. She was about to get out and see what disturbed the stallion, when someone knocked at her door. Only then she felt Diane's presence. She had been so buried in her work that she hadn't noticed it before then. She went to the door and opened it, smiling at Diane.
"Hello, Diane, Moonlight. Please come in."
She waved toward the inside of her tidy little cottage, and her guests came in. Diane took a chair, and looked around. Moonlight smelt the brew with curiosity.
"Please wait a moment, I have to take that potion off the fire, I think it's ready", Brunehault said. And so she did. When she was done, she came and sat on a chair, Lady Rose jumping on her lap. "So, Diane, what brings you to my home?" she asked in a soft tone. She didn't need any babysitting, now that she was better at taking care of herself. Diane knew that, so she must have had a r
- Wardrobe: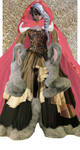 Victor O'Finnegan:
- Character sheet:

Victor O Finnegan character sheetName: Victor O'Finnegan
Sex: Male
Age: 22 (same as Diane)
Background: Victor was born in an Irish family in a village near Cork, South Ireland. His father was a toy maker named Conall O'Finnegan, and his mother Kelly raised the 4 boys, Victor being the youngest. They didn't exactly lack money but were never rich either. Victor envied the rich noble boys he saw when they travelled to Cork, and he always dreamed to live near the city.
He has the Sight since he was born, but it was only when he was 12 and still saw magic everywhere and continuously played tricks that his parents began to feel concerned about him. « Grow up », his bully brothers said. But he didn't think fairies were a kid's thing at all. One day he got sick, and his parents had to ask the local Woodwife for help because he was not getting better. It was then that the Woodwife acknowledged that Victor had the Sight and had to be trained as a Wood
-Early life:

Victor - 01 - A playful child« Victor? Where are you again? », his mother's voice called from the house. Hiding behind a fountain, Victor didn't answer. He was busy, dammit! He was crafting a new cool thing to play a trick on Bran, his elder brother, who had stolen his collection of wood chips again. Dad gave him those chips for a reason, didn't he? He knew Victor was a craftsman at heart. And that made Bran, and all his brothers, jealous. So they played hard on him. Bullied him even. Victor had no choice but to retaliate with his own tools. He wrapped up the seemingly normal spoon and got back to the house, hiding the altered object behind his back. It was lunch time. Swiftly, he changed Bran's spoon for this one. No one noticed, he had such fast hands after all.
His mother gave him a scowl. « Go wash your hands and hurry. Call your brothers, lunch is ready. It will get cold. » Victor didn't wait too long before obeying his mother's order

Victor 02 - The Lost BoyCork was quite a big city for a young boy from a small town. It was a fascinating place to be. Victor was all eyes, as he walked with his family in the crowded streets. It was shopping time. Once in a month, they all went to the city to get what you couldn't have easily in their smaller town. Some things were for his father's work, others for his mother. They also bought new clothes in there when their own became too old. At least Doug, the eldest, got new clothes. And then he passed them to Bran. Who in turn gave them to Luke. Who handled them to Victor when they were too small for him. Victor had never had new clothes on his life. That's why he stopped in his tracks when he saw the frontage of a tailor, garnished with fantastic clothes whose like he had never seen before. How delightful! There were vivid colors, and rich garments, and canes with golden or silver knobs, and leather gloves, and shiny pins, and… where on hearth were his parents? Victor looked sur

Victor 03 - That which we call a violetVictor had trouble getting used to his new life. Sure, Marsha was nice to him, and he had no more bully brothers to think about, but the forest? He was not sure about that. It made him uncomfortable. He was a town boy, and happened to go to the wood sometimes to pick logs, but it was a different thing to spend some hours in the forest, and to actually live in it. The cottage was comfy, though. A large fireplace, two beds (Marsha's and her old apprentice's who was now a Woodwife herself), even armchairs! Victor had been relieved when he had discovered the cottage was no savage hut. He had feared something creepy near a marsh or a stinky pond, because of the toad, you know. But it wasn't like that. Sure, there was water, because of the spring whose waters flowed into a small steam. The toad, whose name was Tony, enjoyed taking his bath in the current. It was convenient in fact, like having water at your doorstep. Almost like the plumbing he had heard about, that gave wa

Victor 04 - Autumn leavesVictor was sitting under an old oak tree, Shamrock perched on his right shoulder. He was knitting. This was just another kind of craft. He was good with his hands. Had always been. So, when Marsha had said he needed to learn how to make his own clothes, he was delighted. He had loved the whole process. No more stinky potions! Solid materials to work on. He admittedly had been a little disappointed when he had found out the dyes were some kind of potion too. But it was worth it. He had patiently learnt how to make woolen clothes, then he had asked Marsha if he could buy other fabrics in order to improve his skills. They often traveled to Cork, for Marsha bought and sold things in the city. She provided apothecaries with her remedies, and purchased goods she couldn't obtain in the forest or nearby villages, like cooking tools, and some secret ingredients for her potions. Victor was allowed to buy candies and to try his new tricks in the streets. He liked it a lot. He had begun to b

Victor 05 - The Mad HatterStewardship was boring. The Lord of Fall, who had welcomed Victor into the Heart, was no fun. He frowned on Victor's magic tricks, and wanted him to focus on « real magic ». What exactly was not « real » about his magic anyway? Victor sighed while tidying the cottage he had settled into. It was his turn to do the cleaning. His comrades were nice, though. They laughed when he made a prank. They even asked for more. During the last weeks, Victor had acquired quite a bunch of followers. He had never known he had it in him, to make people like him and want him around. He was no leader. But people didn't follow him because he ordered them around. No. They did so because they wanted to know what he was up to. And Victor didn't want to disappoint them. So, yeah… he had been grounded once or twice. A week. Apparently it wasn't alright to sabotage kitchen tools, or to hide frogs in girl's hoods. Victor had been thinking
- Present life:

Victor - Wood and the CityIt was another evening in London, and Victor was, as he often did, performing in some theater. This night, it was the Grand Theater near Charing Cross. Higher standards than his usual, but Victor's magic tricks could take many shapes, and fit almost every public. The show consisted on a big event, the parting of one of the attendants' head. It was a simple variation of the traditional "sawing someone in half in a wooden box" trick, only it was more spectacular with the head, and Victor used no box. He simply made the innocent spectator lean on a board covered in silk, put a shawl on his/her neck, and feigned to saw the head, only the shawl was magically tempered with, and a spell made the public believe the head was detached when it was not. Simple illusion spell that made the head appear to be inches from the body. And the spectator felt nothing and was encouraged to talk to the public during the performance. It made things less frightening and more funny. The rest o

Victor - The Pumpkin QuestIt was September. Victor had been obsessed by a single thought for a moment: he wanted to grow pumpkins in his garden. He had seen some in London, at the peer, coming from American boats. He wanted to get some seeds and grow them himself, for he thought the color and the entwined vines were really beautiful. Plus he had heard they were delicious in a soup. He really wanted them, and had been traveling the Misty Paths for a while, searching for a way to America, especially one which would lead to pumpkin fields. At last, he found something interesting, a place where they grew corn and vegetables, and explored the area with raising excitement. There were so many plants he didn't know very well, there. Shamrock was equally excited and smelled everything with a curious nose. Sometimes he even took a bite, for the taste, and expressed his approval or his disgust with his usual theatrics. After a long search involving a large amount of walking, Victor found what he sought. In the back

Victor - Roses for Arty (side prompt)One day, Victor had come to the workshop to find Arty, who he hadn't seen in days, completely exhausted. At first he thought it was her job at the theater that was too tiring and he was prepared to scowl her for working too hard. The. She told him about the dreams. The nightmares, the black rose, the lack of sleep. He comforted her as he could, and tried to help her find a solution. He brewed potions to suppress nightmares, he made dream suppressing charms, lucky charms, and all, but nothing seemed to work. He grew really worried as he saw her weaken more and more. They spent all their nights together at the workshop, and he tried to stand guard on her sleep. It didn't help, and the black roses popped up suddenly, in a blink, at a random time of the dream. He was unable to wake her up during the dreams, and could only offer the solace of his arms for her to sob inside when she woke up.
When he didn't have to stand guard, he studied the collection of roses. He wanted to know why they we

Victor - Heart and ClubsVictor headed to the Heart as fast as he could. Arty had disappeared in the middle of the night, and he was determined to learn more about this. He went straight to the Lord of Fall, explaining the dream thing, the progressive weakening of Arty, his fruitless researches, the black roses, and all. He tried to be clear and not to panic, but his stomach was clenching badly. He showed the roses he had brought on his hat, and the Lord examined them. He seemed worried. He told Victor about Diane who had come to him for a similar problem with a similar rose, and she had tried to investigate the matter, but hadn't come to the Lord with any answer.
It struck Victor with terror: the Lord was clueless. He was on his own to find Arty and rescue her from the evil creature who had taken her. He wandered in the Heart, taken aback, when he heard a strange cacophony coming from a distant cottage. He came closer, and found Orion and Shamrock, along with a curious amount of other familiars, surrounding a

Victor - Yule with ArtyIt was this moment of the year when Autumn turned into Winter. Soon, the Solstice would be there, and with it, the longest night of the year. Victor had put the last hand on his chestnut roaster, and was going to bring it to the Heart, along with a storage of chestnuts he had collected patiently during the last months. He had been quite shocked at Arty's disappearance, when she had, apparently, been trapped by a dream fairy in a bloody nightmare. He couldn't forgive himself for not having been able to help her back then, even with the help of a very large number of familiars of all sorts, and the unsuccessful tries of the Lords themselves. Since then, Victor had tried hard to make up for his absence at this crucial moment. He had taken Arty to various trips, had worked with her on powerful runes against nightmares, and had crafted things with her, to relax her and make her feel better, even if the work at the factory kept her quite busy.
Victor wanted to ask Arty to come wi

Victor - Yuletide feast with Arty part 1It was time at last. Victor came to his appointment with Arty in a state of nerves, because he didn't know if she would like the gift nor if she would accept going to the Yule festival in the Heart with him. They were to meet at the Workshop, as usual. Victor wore his usual hat and gloves, and of course his coat, but he had sewn a special festive costume to go with them, one who had the shape of a tuxedo but the deep, rich green of pines and sequins on it to sparkle like he was on stage. He had also embroidered shapes of holly on the lapels, with red sequins on it to figure the fruits. He hoped she wouldn't laugh too hard, because he liked fancy costumes, and had spent time on this one.
He had the gift box ornate with a ribbon, and was ready to give it to her as soon as they had properly kissed. He had not seen her the last days, because both of them were crazy busy. So here he was, waiting impatiently inside, looking constantly at the door. Shamrock, sensing his nervousness, shifted u
-Wardrobe: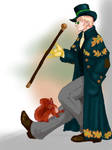 Isabelle Boisseau:
- Character sheet:

Isabelle - Character SheetName: Isabelle Boisseau
Sex: Female
Age: 15 (contract) - 19 (After stewardship)
Background: Daughter of a metis Creole mother and her former owner, a white Cajun owner of a small planting in South Louisiana, she was born free and is very proud of it. Her father isn't rich, but he provided to her needs as a child. She is his legitimate daughter since he married her mother after freeing her. Her nanny was well versed in tales of the Bayou, and she knew about the creatures in there well before a local Woodwife decided she had the Sight and had to be properly trained. It turned out to be not so good an idea, since it was during her apprenticeship that Isabelle found it funny to strike a deal with Compère Lapin. She really shouldn't have thought she was smarter than the Great Trickster himself, contract or not…
She now has her own cottage and begins to have a good reputation as a potion and charm maker, but she doesn't make much money
- Present life:

Isabelle - Solstice cock tailIt was almost Solstice. Isabelle was thinking hard. Her family, being of mixed origins, celebrated Christmas in the Christian way. But in Louisiana, it was hard to find snow, pine trees and holly. She loved the gathering, the lights, the tales, the food (except for oysters. Why did they have to make oysters?), and all, but she wanted to decorate her house properly. She could always make garlands, as she had done before, but she didn't like to stich and sew, and it was tedious, so she would reuse the ones from the past years. She had not enough money to buy fancy Christmas' balls, or other decorations. But she had made it a tradition to add a new Christmas shiny thing to her decor every year. After all, before she went to celebrate Christmas with her family in her father's mansion, her mother always came to fetch her and made sure she had taken care of her home.
She had a tree. Yes, it was a small cypress growing in her garden. But she had grown it for that purpose, so
- Wardrobe: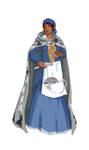 Allan Winter:
- Character sheet and looks:

Allan - Inn and out - June promptAllan woke up that morning with a headache. He had bad dreams about his little brother, once again. Or maybe it was the excessive amount of ale he had drunk the night before. He got up, and Rainbow said, in his odd bird voice: « Mornin', sunshine! ». Allan threw a malevolent glare at his familiar, who loved to tease him when he was in a bad mood, then he went to the tiny kitchen corner of his little own room in the London suburbs, near Regent's park, and began brewing willow tree leaves and bark, with a bit of thyme, and some other plants he knew. He filtered the brew after cooking, and drank it all. In a few minutes, he would feel better.
The young man had to hurry, he had a shop to run, since he had made a living of selling his potions to people in the suburbs. He owned a cart with a marquee, in which he settled when he wanted to sell potions and charms to the clients. He also read their future in northern runes like Vera had taught him, except his run
Vera Vintersdotter:

- Character sheet and looks:
- Present life:

Sticks and Stones- Vera and JabirIt was spring. On this beautiful yet chilling night, Vera Vintersdotter was out as usual. Her blue and white cloak, dotted with snowflakes of every color and shape, didn't go unnoticed. But people downtown had learnt to know her, and most of them didn't pay much attention anymore. She decided to go for coffee, and stopped randomly on a street corner nearby. There was this Coffee shop where students often came to talk about philosophical matters. Sometimes it was interesting.
She decided to give them a chance to entertain her, and walked down the three steps that led to the door. She entered the shop, all conversations stopping for a short while at the sight of her cloak, which seemed so out of place. But she had been there before, and some of the customer even nodded to her, while she took a stool in a dark corner and ordered a Java. The waiter brought her a burning cup of black coffee and she began to listen to the conversations around her. A table was debating about plane

Spring prompt - Vera VintersdotterIt was spring again. The time of the year Arion preferred, when he got to fly over blooming flowers in gardens and parks. Vera let him out more often on spring time. But he sensed that she was not too happy about spring herself.
Vera was, in fact, brooding. Spring always brought back dreadful memories to her mind, but this year was worse. She had met this stranger, a Mage who called himself Albertus. And the turn of event had quite vividly reminded her of the reason why she hated spring so much. Aïsha. The memory of her was still very clear in Vera's mind. The sunkissed half-Egyptian half-English Woodwife had been more than a friend to her. But it was so long ago! She was young, then. So young she had just finished her stewardship. It was during this time in the Heart she had met Aïsha, a free-minded Woodwife with a tendency to think she could do anything she wanted without caring for the consequences. Vera and her had instantly been friends. They even where briefly lov
(memories)

Vera (and Antef) - The Ghost GardenApril was blooming in the gardens of London. Vera liked the lighter weather, and so did Arion who had begun to stir in his cage. Vera had been to one of her favorite tea houses, which was the mansion of a rich lady who liked her divination as an attraction for tea-time. The circle of ladies had become quite addicted to their weekly predictions, and Vera was happy to have a regular income from Lady Harrington, the host, and an opportunity to have tea in one of the most delightful places for gossiping in all London. The ladies had even begun to treat her like a friend rather than an attraction, because, well, gossiping was a gift to Vera, so they couldn't resist her. Plus, she always dressed up for those weekly encounters, trying not to embarrass the ladies by appearing in old rags. True, she couldn't afford the services of the famous seamstresses they all liked, but she was quite good at sewing herself, and she knew how to bargain for fabric, in exchange for little potions o

Vera (and Antef) - The Ghost House (prompt sequel)A few weeks had passed since their visit to the deserted estate. Vera had been to every shop about occult she knew, searching for an ouija board with even a faint glow to it, indicating it could be genuine and useful to her. Finally, she had found something, in a tiny, dusty, dark shop in a dubious neighborhood. The shop was named « The Shimmering Crystal » and claimed to sell and buy things from otherworldly places and rare antics. The place itself was a huge mess of various objects of many different kinds, stored on shelves mostly. There was a forked twig next to a mummy foot, an Aztec idol (a fake, she was sure) sat next to an orb with some kind of myst within, rare books piled like they were worth nothing were assaulted by dust, an you could even buy an Indian blowpipe with allegedly poisoned darts.The shop owner's eyes had shone in anticipation when Vera, in her very noticeable cloak, had entered the stocked room. He had come to her, not bothering hiding

Vera - The ghost friend (june prompt)For some time now, Vera had been keeping her ouija board under lock and key, in an iron box, to prevent the potential mixing of magics between it and her Woodwife stuff. She couldn't stop thinking about her strange experience, her supernatural encounter, no less than a ghost, a real one. Asa Badner obsessed her, but she was too shaken by her latest encounter to go back right away. She had tried to do some researching on him, but so far, she had only found out that he was known to throw extravagant parties and be the favorite gossip of the high society, until he died quite suddenly. But the society was strangely quiet about the way he had died. Even seemed relieved to be rid of him at the time. Maybe he had been too exuberant for them? What could he possibly have done wrong? He seemed like a rich, literate man, who liked to spend his money with liberality. She could learn nothing more but strange speculations about him being a wizard of sorts, which made no sense unless he had bee
Wadjet:
- Character sheet:

Wadjet Character SheetName: Wadjet
Sex: Female
Age: (11 when she became an apprentice, 24 when she took an apprentice) 32
Background: She was born in a traveling circus where her parents worked.
Hair: Taupe-ish brown, mid-long.
Eyes: Striking blue
Stage: Woodwife
Familiar: Male Wolverine - Nigel
Cloak: Beige fringed coat trimmed with Ankh crosses and Horus eyes embroidery, ending with a swan-like symbol on the bottom.
Touched by The Wood: No.
Effect: N/A
Truth: When life follows what you're good at, heart is lighter than the Maat.
History: Daughter of Apophet, a strongly Woodtouched Woodwife born in Egypt who talks to snakes, is partly covered in scales, and was hereby the snake handler of a traveling circus and the « Snake Woman », and her husband Thomas, a human knife-thrower, Wadjet inherited her mother's character and hair, and her father's blue eyes and passion for knives. Wadjet's mother being a Woodwife, it didn't come as a surprise when Wadjet turned
- Wardrobe:
Antef:
- Character sheet:

Antef Character SheetName: Antef
Sex: Male
Age: (13 when he became an apprentice) 21
Background: Orphaned young, Antef lived of small thievery, beggary and other petty crimes in the port of Alexandria in Egypt when he met with the Fairy Circus.
Hair: Long black and thick.
Eyes: Grey
Stage: Woodwife
Familiar: Female Porcupine - Fluffy
Cloak: Purple with crossed knives, grape vines, and sinister red that could be either blood or wine.
Touched by The Wood: No.
Effect: N/A
Truth: When life gives you grapes, you can either make sour vinegar or good wine, but you have to defend your choice and live with it.
History: Antef was born in a poor Nubian family who had settled in the port of Alexandria, Egypt, because his father was a sailor. His father never returned from a trip when Antef was still quite young, and his mother tried to deal with her three kids the best she knew, but she had to work on the docks for a living, and one day, she just never returned. Antef never knew if she abandoned them or died, or was m
`