Where else to find me?



So, I have been here on deviantART since February 2007 and let me tell you it had been one hell of a ride. It was my profile on deviantART that saw the creations from the time when I was either in high spirits, or brought low, and it was deviantART that got on my nerves and made me fall for it again, all at once.
If you look at the number of my deviations, let me tell you that what you can see is what survived through the many cleaning-ups of my gallery, usually done when I was feeling (probably) overly critical about what I posted here - if I never deleted anything I uploaded here, the counter would be about half as much as it is now.
On this day (I'm editing this on September 17, 2014), I've received my first ever Daily Deviations. And I feel like DA BIG CHEEZE

Aaaand...
I CAN HAZ DIZ STAMPZ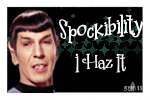 Current Residence: PLANET of Pluto (or Czech republic)
Favourite genre of music: whatever sounds good to me
Favourite photographer: Saudek
Favourite style of art: fractal art or photography
Operating System: currently? Vista
MP3 player of choice: jetAudio
Wallpaper of choice: hm, maybe some from-game wallpaper?
Skin of choice: subBlack
Favourite cartoon character: Asterix, Garfield, Mother Goose and Grimm, dEmos
Personal Quote: 'Always expect the worst. You won't be dissapointed.' - Solomon Short