Good afternoon.
I hope everyone's doing fine!

I only have a small update this time..
The first armor parts for Vi are finished.
It was my first time working with Plastazote and I really
love it already! It might not be as durable as I had hoped
(the paint will crack when bent too much) but I guess I
just have to be really careful then.
Or do you have any tips for that?
I've seen quite a few Iron Man suits made from the same
material. How do they keep it all nice?
I was basically following these steps for sealing and painting
Anyway, here's what I have so far: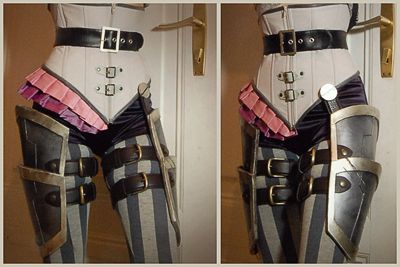 Also:
I finally have a Facebook page now:
Since most of my friends use it as their main communication
platform these days, I thought I'll join aswell, as it'd be easier
to connect and share information.
Well then. I still have to bake some cookies before I'm off
to my old hometown and join my family and friends!
Happy Holidays, take care and see you next year!