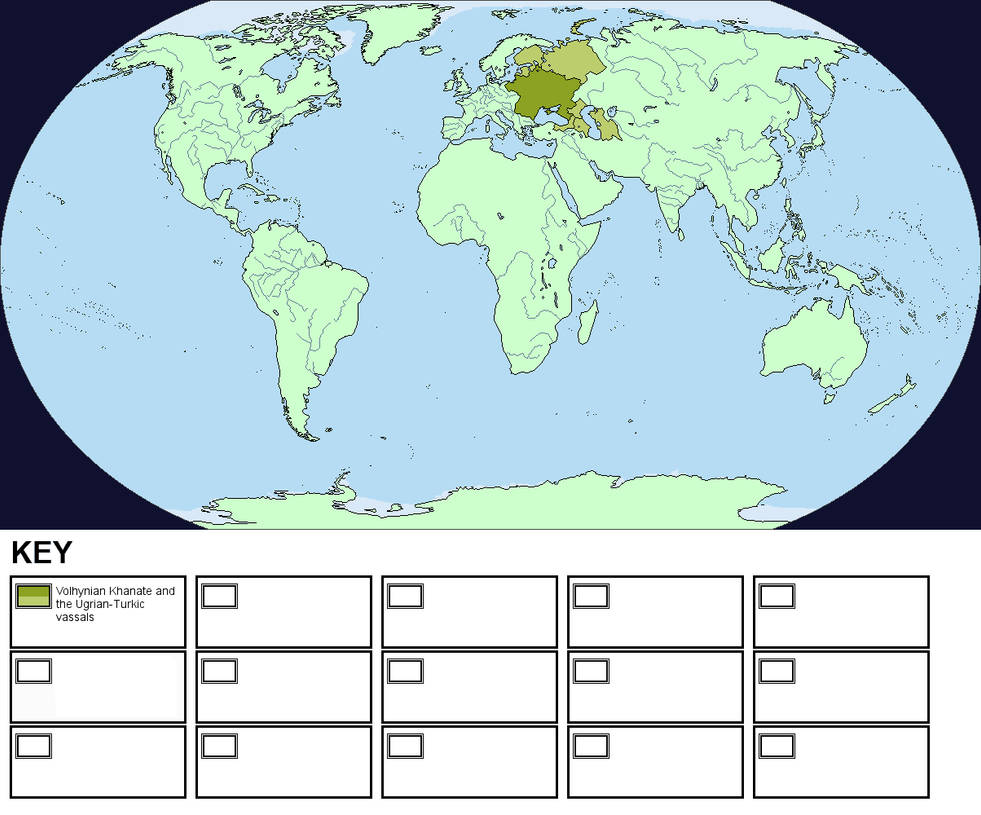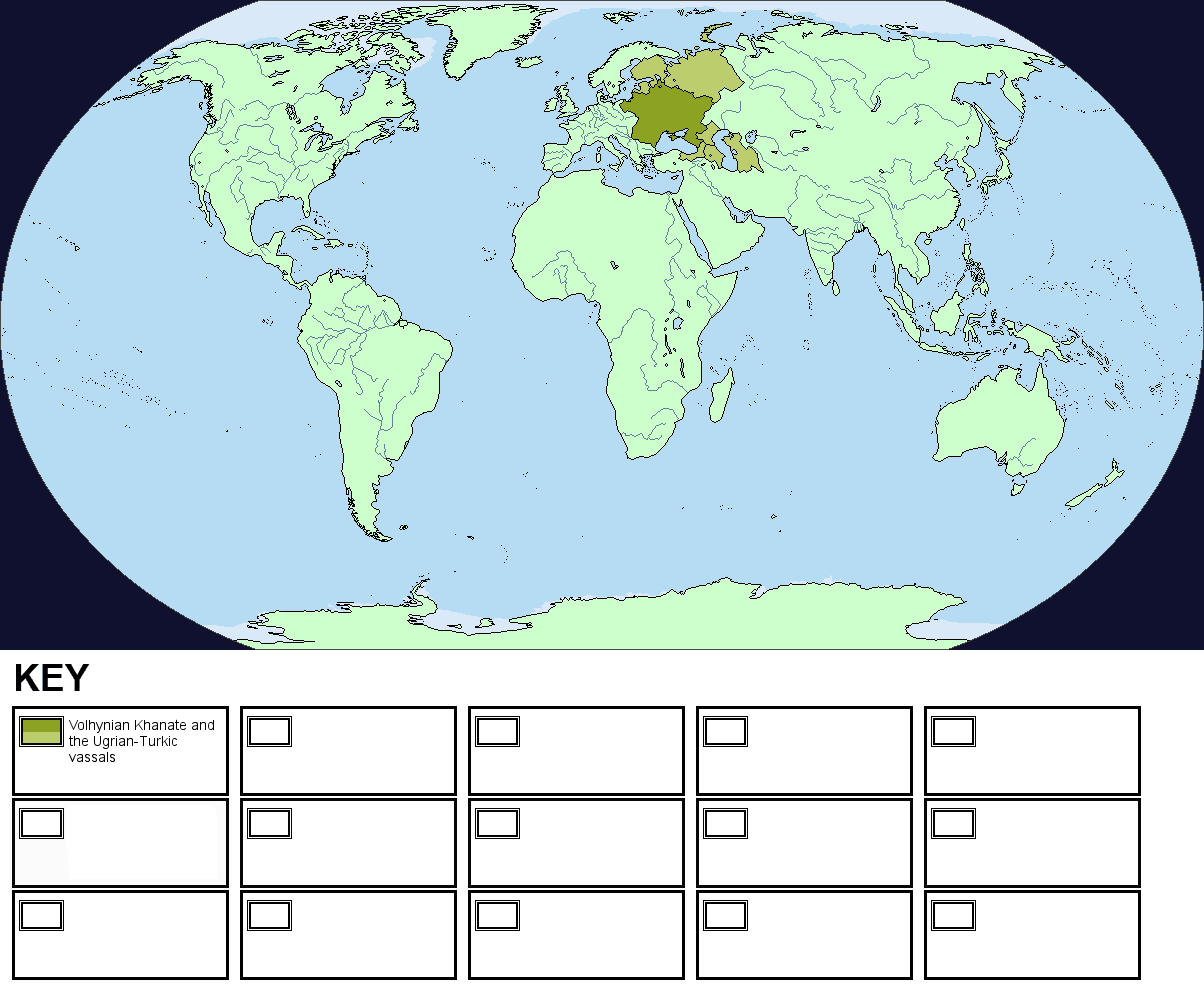 Got bored trying to find a website to rotate a map, so I'm going with this instead

------------
1242, and Vienna burns.
Ogedei Khan lives for another twenty years, and the Mongolian Hordes overrun Europe. By 1265, when he finally dies and the Mongolian generals have to head back and elect a new leader, Mongolian troops have burned and pillaged from Rome to Paris, Madrid to Berlin, and have dipped their toes in the Atlantic (the greatest "lake" they've ever seen) on the Portuguese and Brittany coasts. As they retreat they leave behind millions of dead and displaced, entire nations dissapeared under their swords. Thousands more are either enslaved or freely join the Mongols, French, Germans, Magyars, Spanish and Slavs joining the Horde on their trek back into the heart of Asia.
Seven centuries later, and the Volhynian Khanate is one of the nations formed long after the dust has settled over eastern Europe, and the age of the Horde has passed. The Volhynian people have an incredibly mixed descent; the Khanate was initially founded as an Orthodox Christian Kingdom, half a century after the Mongol retreat, by gatherings of Slav and German refugees. This first Kingdom was then conquered and colonised by Turks coming across the Black Sea in ever greater numbers. Later influxes of Mongols and Europeans rounded out the ethnic diversity, and interbreeding over the next six hundred years created a unique and distinct peoples ruling this side of Europe.
The religious complexion of the Volhynian Khanate is just as mixed as the ethnic background. Largely Sufi Muslim, there are also large minorities of Tengriites (
[link]
) and Buddhists from central Asia, and Orthodox and Fundamentalist Christians (Catholicism was pretty much wiped out, with no surviving Papacy) from the west.

I'll do a turn whenever, but given the PoD, I don't know if I'll capture the awesomeness of this so well o:
Reply

Hmm...have the turns been assigned already?
Reply

Nope, is this you claiming a spot?

Reply

how different is Fundamentalism compared to the original catholic faith ?
Reply

It's largely similar in doctrine and teachings, it's mostly the organisational structure that is different; rather than being lead by a single pope, it's lead by a "college of cardinals", probably a dozen of them, based (probably) in Tuscany or somewhere in France, wherever they could find a mountain fort to reconvene after the Mongols hordes retreated. The college was formed initially because they couldn't agree who would be the next pope, but over the centuries they've found it difficult to avoid splintering and factionising without strong central leadership.
Reply

Thanks for the information. If I may say so, would it not make more sence for the college of cardinals to base themselves in the british isles or in scandenavia rather then in mainland europe since the mongols have devistated it so badly ?
Reply

Maybe so

if you want to do something involving them, feel free to fudge their lore
Reply

I hope I didn't come across as rude when I wrote that comment, I didn't and don't plan on messing with any lore I was mearly curious.
Reply

Nice one, so ships of line, primitive rifles and basic steam engines then?
Reply

Pretty much

I'd imagine naval technology to be a little less advanced, but not enough to matter.
Reply

So travel from the Indies to Europe is, if not easy, routine?
Reply

Yeah pretty much... might have to make a few more stops than in the 1890's of our time, but it would be possible on a large-ish scale.
Reply

Hey, I'm new to the group. Could I get started with your game?
Reply

Okay, I claimed a place. So in generell, when will I have to take part? Can I do it everytime I like or do I have to wait until I'm in line?
Reply

Well, for this map you can get going straight away

Each time a new map game is started everyone has to claim a turn, then we all take turns until it comes round to the top again. There's a kinda unspoken 48hr limit

Reply

So you mean I could just start right now? I like this group.

Reply

Also please keep the map in .PNG format, if you can - makes it easier for other people to edit after yours.
Reply

Yes, I prefer png as well. What do you say, would something about the Egyptian Mamluks be legit?
Reply

You were the first person to claim after I started it, makes it your turn

Just keep the setting in mind

Europe wiped out by the mongols, technology and expansion about the level of the early 1800's.
Reply

Setting up said website as we speak...
Reply