Kato-Regama
is doing an art raffle (RARE), so if you like cartoon vector art or beefy art or both, check it out!

RARE September 2015 ***CLOSED***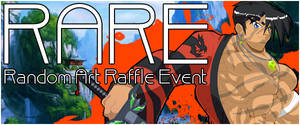 *Logo Background from a free-wallpaper website.
What is RARE?
- RARE is a monthly 'Random Art Raffle Event'.
- Two winners are selected at random every month.
- Winners will receive a half-body full-color artwork request from me.
- There must be a minimum of 10 participants to do RARE each month.
How Do I Enter?
- Post a comment in this journal with links to reference images of your character or characters.
- No text descriptions, pics only. Sorry!
- You may submit as many characters as you like, but I will only choose one.
- You are ENCOURAGED to enter every month, even if you won last month.
What Happens If I Win?
- Winners will NOT be announced when RARE closes.
- You will know you have won when finished pics are posted.
- There are TWO winners every month.
How Can I Improve My Chance to Win?

- RePost, ReTweet, or ReBlog THIS JOURNAL will add your na
If you enter, tell 'em
neekko
sent ya. :3
Thanks for looking!