Entries now closed! And the sketch goes to...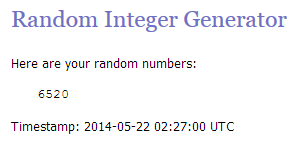 Resafandrab
, who chose 6146. Congrats!

And thank you to everyone for participating! I'll try to do another one of these in the near future.

----------------------------
I need to sketch something, so...
Post a link to a picture reference of your character and a random number between 1000 - 9999 in the comments below.
Some time this evening a random number will be generated and the individual who posted a number closest to it will receive a sketch (maybe with added flat colors if I am feeling particularly ambitious). Artwork will be worked on this evening/tomorrow and will be delivered as is with no edits. You may do whatever you want with the sketch, but please provide a link back to my gallery if you repost it anywhere.
Things
not
to post in your comment (auto-disqualifies you):
text refs (talking about your character is fine, but I need a picture reference first and foremost)
ref of a character you do not own
more than one character
a number that goes below 1000 or over 9999
a number that has already been posted by a previous commenter (if it's unintentional, please reply to your own comment with a new number)
If I had drawn something for you within the past 365 days, please refrain from entering (don't be greedy).
Thanks and good luck!