so... here it is..the thing that critically injured my book...
some fun insight for any of you who want to get your own series running...
without promotion...quality won't get you far.
let's put things into context
this is death vigil series result on comic book roundup
comicbookroundup.com/comic-boo…
comic book roundup is to comics what metacritic is to games and whatnot. it compiles multiple reviews and creates an average score.
based on reviews death vigil has a score of 9.1 out od 10
and yet here we are.
i will now copy a part from my previous journal as it is relevant
_________________________________________________________________________________________________________________________
now, as i work predominantly for independent companies, my work can be a bit hard to get.
reason for this is a simple one. comic book stores buy their supplies from diamond. the main distributor.
they buy stuff they know will sell. comics aren't a huge profit business so they have to choose the winners on their own.
it is a harsh system but comic store owners have bills to pay as well. so don't take this as me harping on them in any way

it's more of an explanation of how things work for those interested in getting into creator owned/indie market.
some stores will stock on indie stuff, most will stock on issue 1 and judge on people preordering issue 2 onward, whether or not they will keep ordering the book.
unfortunately this is how good books often die. customers don't really know this process. i certainly didn't.
we enter a store pretty much expecting the store to hold the product that is relevant to their business and our interest. it is a given to us.
unfortunately this doesn't work with comics. preorders and pull lists are what makes or breaks an indie book, so if you plan on making and publishing a comic, keep this in mind. this nearly killed death vigil.
it is a vicious cycle.
it is a road to failure and here is how it goes
1 publish a book and people like it- you are in 7th heaven...
2 people don't know about preorders so they count on the store to keep ordering and they'll keep buying. this isn't so. store orders significantly less copies of volume 2 and 3 and publisher regulates the printrun accordingly
3 you start realizing that the initial profit melts away after issue 1 with alarming rate, and by issue 3 you find yourself struggling to keep your head above the water...
4 this is when you take on sidegigs to help finance the book you are passionate about. while you are trying to make ends meet, your book starts suffering delays...and the interest in it wanes
5 orders catastrophically drop with delays as readers more and more start trade waiting. ironically trade at that point might be a very optimistic idea...
6 misery and despair
many books vanished this way. my personal solution to this is-
1 inform people interested in your books about how this works
2 promote the good books.
way too much time i see spent on people discussing stuff they hated in books or stuff that offended them.
way too rarely do we enthusiastically speak about the stuff we love. often we take the good entertainment for granted. hell just look at youtube. majority of successful channels and up being the ones shitting on the bad stuff. we thrive on cynicism nowadays.
it is the lifeblood of the internet.
also for a more detailed experience of creating indie comics
i highly recommend
www.jimzub.com/creator-owned-e…
jim zub is a veteran indie comic writer at image comics, currently writing skullkickers and wayward.
KEEP THIS IN MIND! DON'T BE DISCOURAGED! this is merely here to show you the pitfalls, now you can work on avoiding them. i was told a lot of this from other industry professionals so now i'm passing it forward
so good luck to all your dream projects becoming a reality

_________________________________________________________________________________________________________________________
so... now to the topic of preorders.
unlike videogames comics are primarily a printed medium. sure there is digital but for the most part it is a bonus. not in all cases of course, to anything there are exceptioons..
but wha are preorders important?
well, if you are going indie, and creator owned, they are the onyl thing that will let the store owner know you want the product. unlike games , comics are a far smaller industry, and store owners have their own bills to pay, so risking on overstocking on a book that might not sell is a very risky business decision for them.
fact is, without preorders, subscriptions, or pull lists, they will usually not get the book.
this is what happened to death vigil volume 2. people loked the book and expected to walk into the store the next month and find it there.
alas, store owner got no feedback and so they regulated their orders... and the kicker is, then with halved orders, image did the next logical step.
they regulated the print runs.
and from there on it went from bad to worse.
truth is , no one is at fault. it was a learn from your mistakes kind of a situation so hopefully, if you plan on making your own book, you take my experiences and make use of them.

now, i will be posting preorder links for death vigil volume 1 here. whenever i find more i will add to the list. those familiar with sunstone will recognize this as it helped many get the book

but before i end this,
1- don't apologize if you can't buy the book! i was once where you are now. i get it. if you can spread the word , it means a lot but beyond that i hope you like the story.

2 if you have any preorder links or a story that will carry the book that you want added to the list, let me know
3. thank you everyone who supported me and keeps supporting me, you have my most sincere gratitude.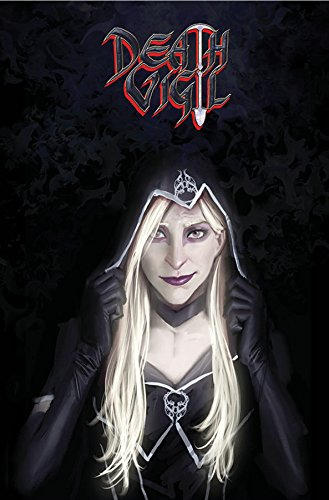 before preorder links, here is a comixology link for digital versions. stuff i post here is in a lower resolution to accomodate loading speed
www.comixology.com/Death-Vigil…
and image comics digital
imagecomics.com/comics/series/…
PREORDER LINKS
amazon
www.amazon.com/Death-Vigil-Vol…
amazon canada
www.amazon.ca/Death-Vigil-Volu…
amazon uk
www.amazon.co.uk/Death-Vigil-V…
archonia.com- online comic store thatdt delivers in europe
www.archonia.com/comicshop/en/…
they also have available preorders for death vigil t shirts and prints so if that's your thing
www.archonia.com/comicshop/en/…
forbidden planet uk
www.forbiddenplanet.co.uk/deat…
t.f.a.w
also a wide variety of death vigil stuff
www.tfaw.com/Search?_results_u…
book depository
www.bookdepository.com/Death-V…
more to be added.

I know this is really old, but I wanted to say thank you for all your hard work. Not just regarding death vigil, but in all your comics. You're an amazing writer and artist, and your dedication and productivity are admirable. I am sorry for these struggles and I hope you continue to make your own original work in the years going forward.