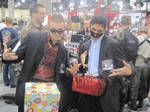 What's up? I'm Nate, and I like to draw pretty pictures.

Feel free to browse around; if you like what you see, go ahead and watch. Thanks for visiting! (By the way, I'm on the right).
Current Residence: ASU - Go Devils!
Favourite genre of music: Just About Anything!
Personal Quote: In Pursuit of the Chill
Favourite Visual Artist
AssasinMonkey, Underpable, Huussii, Raikoh, AnticularPony, Darkflame, RainGear, WhiteDiamonds, DanLuVisi, and Feng Zhu
Favourite Movies
Gladiator and Aliens are at the top of a very long list. :)
Favourite TV Shows
MLP FiM, Gunslinger Girl, Ghost In the Shell and Cowboy Bebop.
Favourite Bands / Musical Artists
Very Many. :D
Favourite Books
The Hunger Games Trilogy, the Inheritance Saga and American Sniper
Favourite Games
Shadow of the Colossus, the Gears Trilogy, the Halo Saga, War Thunder, and Splinter Cell: Chaos Theory
Favourite Gaming Platform
PC
Tools of the Trade
Wacom Intuos 4 Medium and Photoshop CC 2014
Other Interests
Being as chill as possible. :)