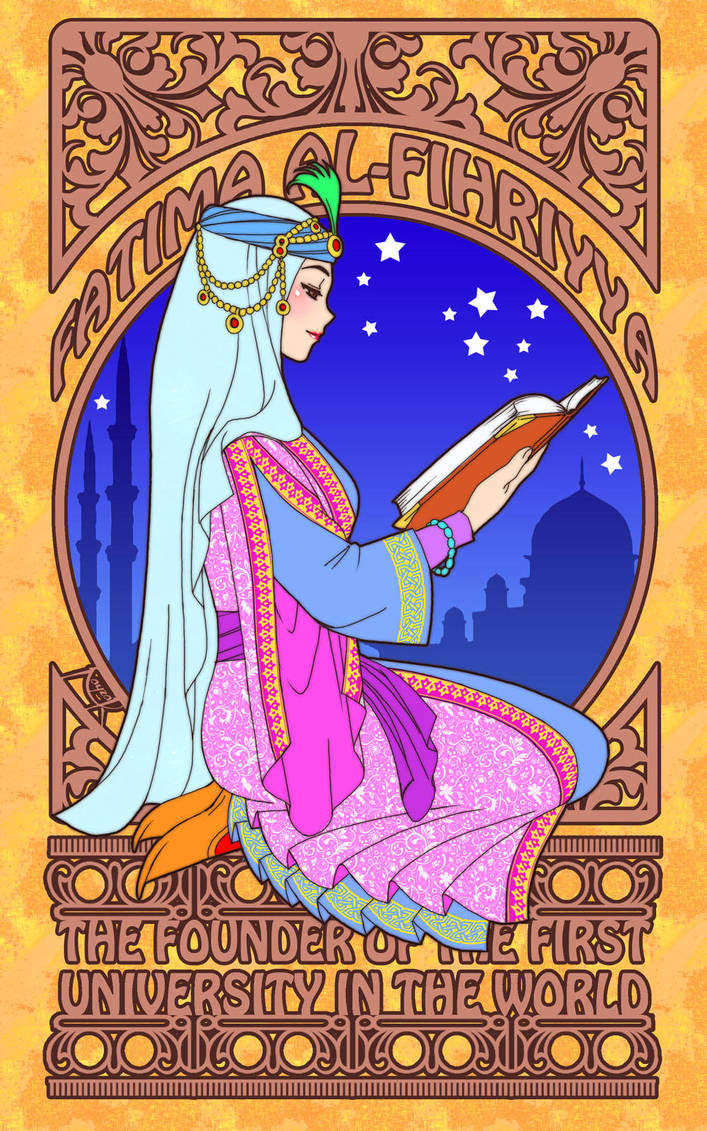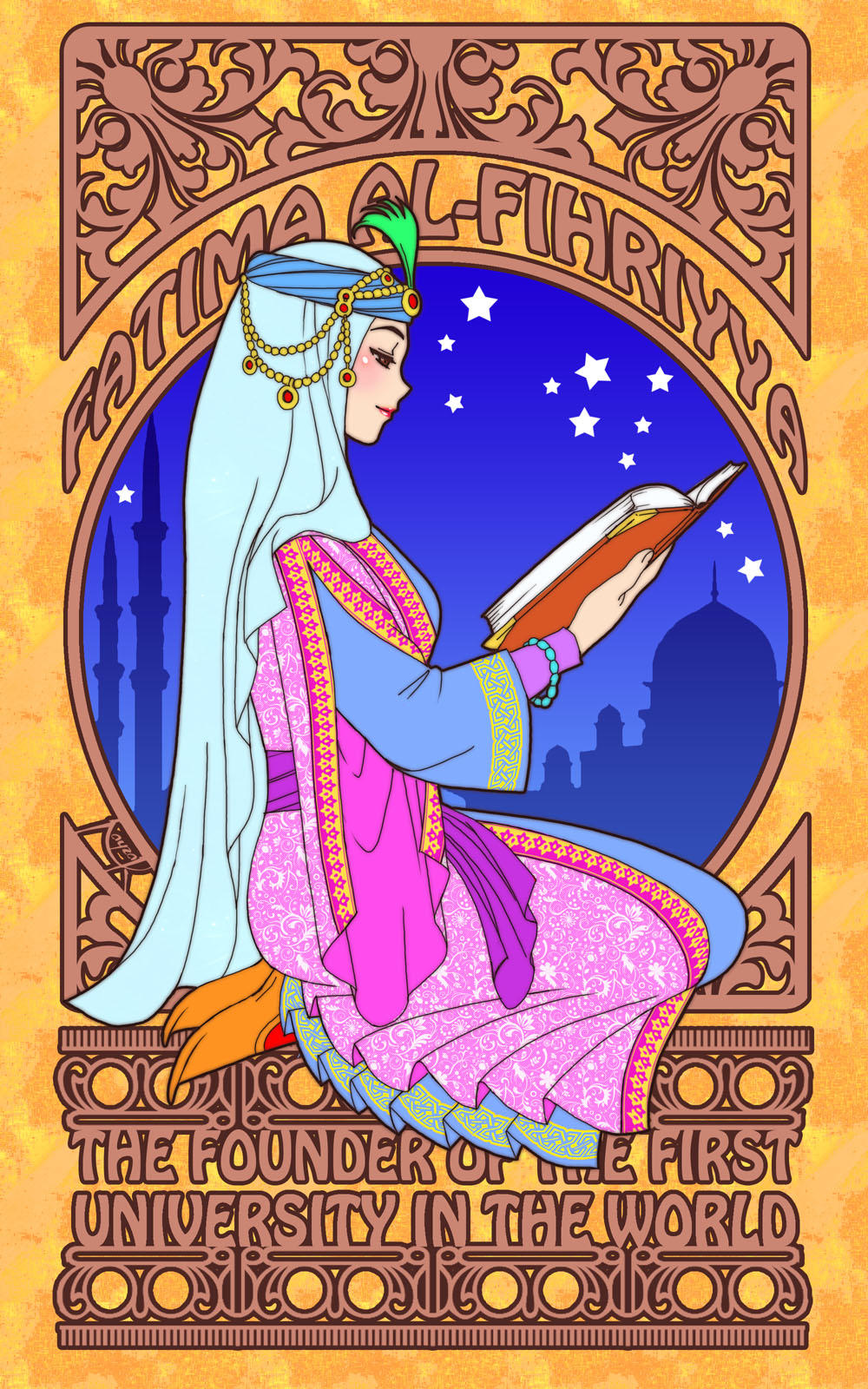 Watch
Assalaamu alaikum [Peace be to you],

An Exceptional woman:
If you had been born into a prestigious family, would you have been content just to live the celebrity lifestyle?
Twelve hundred years ago, a young, wealthy and well educated woman named Fatima Al-Fihiyya (also known as Fatima Al-Fihri) inherited a big fortune from her businessman father. Her interest was neither in shoes or handbags, nor in any celebrity lifestyle, neither to woe a man for marriage, nor in any of the stereotypes that are usually associated with women.
Fatima had a vision that was cultivated and allowed to grow because of the Islamic society she lived in and encouraged her. Her vision did not remain a dream but was accomplished and the results can still be seen today. In 859 CE, Fatima Al-Fihriyya founded the oldest academic degree-granting university existing today, the University of Al-Qarawiyyin in Fes, Morocco.
Fatima and her family were among several families who moved from Tunisia to Morocco during the reign of the Moroccan King Idriss II.
After her husband and her brothers died, she and her sister Mariam inherited a large fortune. Both women wanted to devote their money to pious work that would benefit the community in order to receive the blessing of God. To this end, Fatima built the Al Qarawiyyin mosque, while Mariam built the Al-Andalus mosque.

The Oldest University in the World
The Al-Qarawiyyin Mosque is one of the largest mosques in Africa and the oldest true university in the world. Al-Qarawiyyin is the perfect example of how Islam combines the spiritual with education and that Islam is not separate from life's affairs. This is not only an example of how education and religion merge in this small corner of the globe, but it sheds light on the esteemed role that women played in the Islamic community - an aspect of Islam that is often misunderstood.
learn more about the Al-Qarawiyyin University in my other page here:

Sad present and mysterious future:
It saddens me to say that in the Muslim world today, such inspirational women, the likes of Fatima Al-Fihriyya became rare. Many Muslim Women are engulfed with problems of oppression and subjugation at different levels and hence not able to realise their true potential. This problem is a result of an oppressive, male-dominated society that went far from the true teachings of Islam, and governments that lack Islamic laws and systems and rulers that are more interested in the lining of their pockets then the real development and protection of its citizens. As a result many Muslim women have suffered and taken on the burden of being voiceless in society.
Fatima Al-Fihriyya is an example of the empowerment and encouragement Islam gives to women. she should encourage Muslim women today to take practical steps. She should make them reflect on how they should want more in this life as Muslim women. She should make them realise the rights Islamn gives them and fight in order to get them back.
References:

- Fatima al-Fihri [link]
- Meet Fatima Al-Fihri - An Inspiration [link]
- Fatima al-Fihri [link]


I hope this was beneficial for you

If you want to read more about Muslim Heritage, I recommend this website: muslimheritage.com [link]



THE DRAWING:
I wanted to do something in Art Nouveau for a long time. if you have any constructive critiques, please let me know.



If I am right, it's from Allah. if I am wrong, it's from myself.
personally i would just like to say how much not only the artwork captivates me, but also the story.

I'm mixed race, half palestinian arab in fact and even so i could have never imagined this, but i think I've grown up around western stereotypes.
This women is an inspiration to the world and a slap to the face to any sexist weather they be eastern, western or otherwise.

other than the captivation you have paid detail it's much deserved attention to make this one of the most beautiful works of art I've ever seen. not only is the lady in the picture and her exquisite clothing a wonder to gaze upon, but also the art around her is truly a marvel in itself
The Artist thought this was FAIR
30 out of 30 deviants thought this was fair.
My first words have to honestly be: Wow. Just...Wow.

The art style is gorgeous, and everything on Fatima (if I may address her that way) blends in beautifully. The color palette is rich and vibrant and give her a beautiful feminine aura, while not at all taking away from her stature and demeanor. You managed to keep her looking very distinguished, with her back straight and eyes directly at the book, she shows that it is education that really means alot to her. The patterns are gorgeous. The background is also very skillfully done, from the pattern to the foreground and the fact she looks like she's in one of the Qur'an pages.Again, amazing.. Very educational, and also a great motivator. Kind of makes me want to go found a school, haha. Please, keep it up, this style works WONDERFULLY for you!
The Artist thought this was FAIR
23 out of 23 deviants thought this was fair.
The owner of this deviation has disabled comments.