1) How long have you been on DeviantArt?
At the time of writing: 14 years, 2 months, and 9 days
2) What does your username mean?
It never used to mean that much but became a bit of a self fulfilling prophecy as I became more contrarian over the years...
... Also I've always thought it was best to try hard to have a username that lacked a number at least sounded like a real word.
3) Describe yourself in three words.
I wouldn't know.
4) Are you left or right handed?

Mostly right handed.
5) What was your first deviation?

I'm not sure... possibly a very, VERY, basic little thing called Rocket: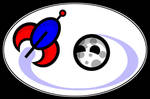 I've gotten a lot better since then.
6) What is your favourite type of art to create?
Smooth clean vector images... usually black on white.
I'm proudest of things with some clever trick to them, like ambigrams, but they may not actually be my strength.
7) If you could instantly master a different art style, what would it be?

Calligraphy
8) What was your first favourite?
Not sure, I removed a bunch... my favs gallery says it was something by
passenger
that is now in storage.
9) What type of art do you tend to favourite the most?
Fantasy maps seem to take up a large portion of my Favs... I'm a fan of people who lay out cartography of places that only exist in their head.
10) Who is your all-time favourite deviant artist?
I'm not sure... when I started out
keen
was a super kind and thoughtful person with amazing input and output.
w00zy
also occupied that space, and
teaspoons
was always fascinating as well.
These days, as a far less involved Deviant I find
DrRiptide
is always producing amazing things, so... I'll say he is in the running...
How about
naiiade
! As I own actual games with amazing art by this deviant, I'd say they probably have a leg up to my #1 spot.
11) If you could meet anyone on DeviantArt in person, who would it be?
I don't really want to take the digital masks off anyone... I like their characters a lot... but I bet
keen
has the best stories.
12) How has a fellow deviant impacted your life?

Beyond the few who I knew as friends before I knew them as deviants?
They corrected my terrible spelling from time to time and gave me a few small examples of positive interactions with the faceless sea that is the internet... that seems pretty valuable really.
13) What are your preferred tools to create art?
No surprises: Illustrator and PhotoShop
Usually on a laptop.
14) What is the most inspirational place for you to create art?
Wellington, NZ.
I can not add reason to that... it is just a feeling.
15) What is your favourite DeviantArt memory?
Some time near the begining... in the first few years I joined, when I was young and pretty bad at art and design, but less aware of it... I managed to make some passable stuff and people were kind enough to give me real feedback on what needed to be better.
DA was small then, so those contacts felt like people had taken the time to inspect something glinting in the wealth of submissions, rather than just plugging in to other Deviants who you had some reason to first visit and waiting for them to produce something.
I remember logging on to DA from my first full time professional job and seeing a little icon that meant I had feedback and feeling inspired by that.
Oh and, back when less stacks were tracked I used to take great care and joy in keeping all my stats identical... like this: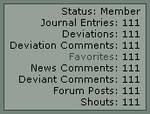 #deviantartistquestionnaire