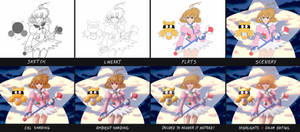 Yomi's Step by Step Pics + WIPs!
Thank you for stopping by! 😁 Feel free to subscribe to check out the process behind my art and get a Portfolio Review (+ Tips to improve your art!) as a welcome gift at the cost of a modest monthly donation! 🚀✨
---

SKIN: a tutorial - Part 2
Description
Whew… okay. This section is very long, and a little intense. I realize I am simultaneously telling you to choose a unified palette, AND throw color all over the place. It's definitely the most difficult and advanced section of the entire tutorial.

DOWNLOAD THE SUPPLEMENT CHART HERE

Import it into a program with a color picker, and go nuts. Compare the swatches, look at how the colors, saturation, and values changes. It will help, promise.
_

IN THIS SECTION:

Skin tones: how to achieve a range of skin tones (light, medium, dark, and fantasy) using the basic formula laid out in Section I.
This tutorial is very extensive and will be publish in four parts. If you just found it, please be sure to start with Section I!

SECTION I: Skin Basics
. Expanding beyond the usual shadow-midtone-highlight formula, and how to use each tonal range most effectively.
COMING SOON:

SECTION III: Background color and ambient light. How surrounding colors affect skin.

SECTION IV: Building a skin tone, blending and texturing. The technical section showing how to paint skin start to finish.
_
This tutorial uses mostly digital work as examples, but the theory behind it should apply to ALL mediums. But of course it goes without saying that this is hardly the end-all-be-all of skin painting tutorials. Just my way of thinking about it.
Also-- this should go without saying, but I will say it anyway: the ONLY WAY to learn how to paint/draw anything well, let alone realistically, is to STUDY COLOR THEORY AND FORM. All the stuff I blather on about in this tutorial is meaningless unless you take the initiative to learn the fundamentals of color and figure drawing.

You can find color theory resources
here in my journal.
Please, any questions, concerns, criticisms, etc: comment below.
follow me:
Instagram
::
Tumblr
::
Facebook
::
Twitter
::
Prints & Originals Store
Image size
900x4500px 1.87 MB
Just wanted to say, I am SO HAPPY to have found this tutorial once more and have shared it with many others on Discord as something that should be bookmarked. THANK YOU SO MUCH for making this tutorial. I remember finding this many, many years ago and it's really helped me with my colouring skills over the years.