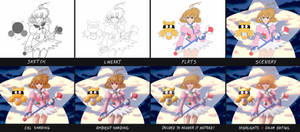 Yomi's Step by Step Pics + WIPs!
Thank you for stopping by! 😁 Feel free to subscribe to check out the process behind my art and get a Portfolio Review (+ Tips to improve your art!) as a welcome gift at the cost of a modest monthly donation! 🚀✨
---

SKIN: a chart - SUPPLEMENT IMG
402.7K
Views
1
Collected Privately
Description
Supplement for Section II of the Skin tutorial. It's much easier to see the compare the colors for the different skin tones in this format.

This is not the tutorial itself!

Please read the tutorial in full to get the most out of this supplement image!

Section I: Skin Basics

Section II: Skin tones

Section III: Background color and ambient light [coming soon]

Section IV: Blending and texturing [coming soon]
__
If you are having a hard time understanding Section II (and don't feel bad if you are—it's difficult stuff!) take this chart and go through it with a color picker. That should help you a lot in seeing the hue, value, and saturation differences that occur between skin tones, and within the different mid-tone / shadow / highlight ranges.
If color is really difficult or confusing for you, go here:

Color Theory Resources
Thanks for reading

I hope it is helpful.
follow me:
Instagram
::
Tumblr
::
Facebook
::
Twitter
::
Prints & Originals Store
Image size
450x1400px 230.34 KB