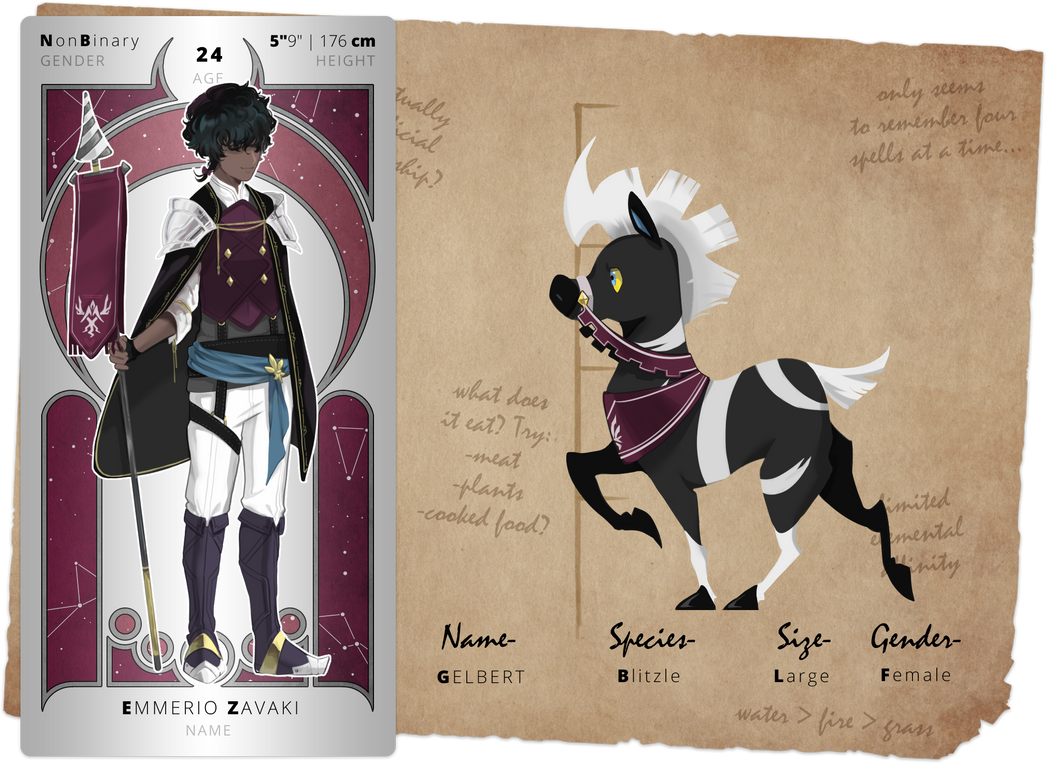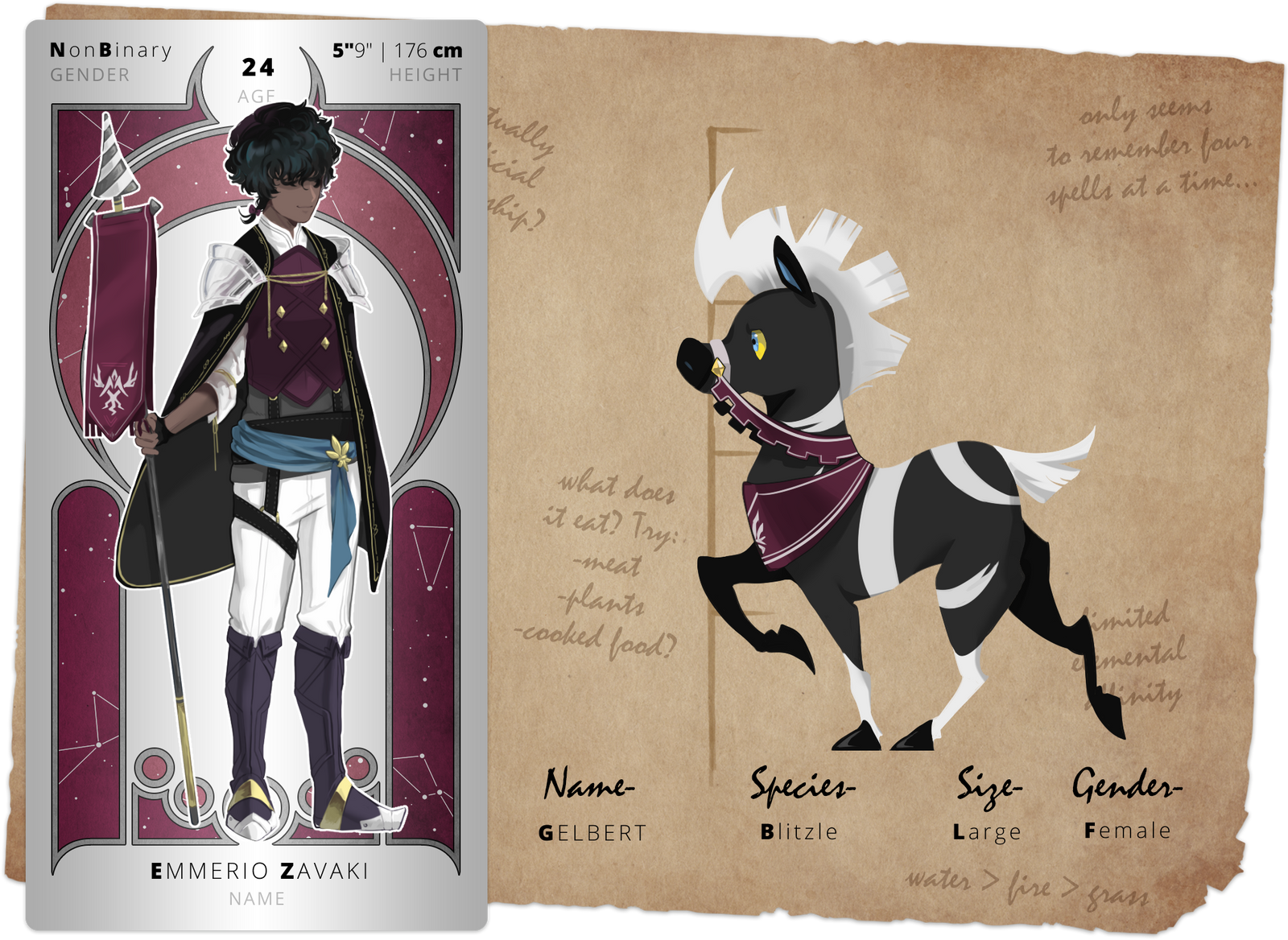 Watch
fantasy pokemon oct FANTASY POKEMON OCT!!!!!
fANTASDSYPOEKMONOCSJASJJSD ;;;;
also i'll have more details covered as the story progress ya ya ya

Character
Name: Emmerio Zavaki (surname: Carnavan)
Nickname: Emery
Gender: Non-binary
Age: 24
Height: 5'9" | 176 cm
Alliance: Mistilos
Class: Arcanist
Type: Electric
Moveset: Wild Charge | Quick Attack
Hometown:
Illustead, occasionally visits the family business in Ironport.
Occupation: Squire - not paid in gold; commendation and experience are often enough for them.
Inward
Steadfast | Diligent | Simple |
Low-key ambitious | Obtuse | Focused
Outward
Nonchalant | Zealous | Diplomatic | Frivolous | Naive | Sidestepper
Emery is a drinking buddy; one that happens to be in the taverns to valet Mistilan knights yet can be found enjoying the scene with a mocktail because their job is done punctually well. They may captivate other visitors from a humorous recount (particularly about how clumsy squires can be) and interchange interesting story and information. They are a good listener with genuine interest overlooking preferences and alliance, but Emery has been against to disclose their life beyond the occupation as being in the times of difficulty, their lavish background wouldn't be anything motivational and they thought it was also being the reason that caused them to understand and experience less than most people. Recognizing their lack of raw talent for the knighthood, any kind of feedback is honoured; believing things happen solely for their betterment and this often got them ensnared in turmoil. Despite everything, they are doing their best and Mistilos is assured they have one good knight to-be.
In the training grounds, Emery took swordsmanship religiously, frugal of words, and their concealed eyes make it difficult what was pushing them through and through.
-----History (Outlines)-----
"This story is a fiction…but not everything is made up." is a prelude of any bedtime stories their late mother used to lull every night. A humble magi she was, using her gift only to entice their children into the morals of each tale by making it a tangible experience. It remains bedtime stories to the rest of the siblings but Emery. The epic image of a mounted magus knight remains in their mind to this day.
The father and four children lives in mostly hassle-free and fortune from the influence of their father's Earl status, which he used them to divert the family away from the tides of war. Even Emery and a younger sibling is known to have not come from his official wife, his love for his children remain fair; particularly because they are more promising than the first two who are just gaudy and needy. Because of Emery's choice, the Earl cannot hide the truest nature and situation of their kingdom and often brought them on his travels that becomes the foundation to their decision they will most likely pledge unwavering loyalty to Mistilos though they had no personal reason to adverse the opposing kingdom. They had seen the most demonstration of being a magus from the Earl who uses it both for political and military causes.

Abandoning their regular courses of etiquette and fancy dancing, Emery's swordmanship begins when they were ten with two years later having the intentional bonding with the Blitzle. As a Squire, they cater and personally attend different knights once in a while; some of them giving their wisdom and techniques away as the gratitude of their service while some had treated them no differently than a dirty cobbler's apron. Though never really haven't used the sword on actual war, with every swing and parry, they believe it was nothing more than a step closer to achieve their noble dream.
Pokemon
Name: Gelbert the "Striped Donkey"
Species: Blitzle
Size: Large
Gender: Female
Ability: Motor Drive
Moveset: Discharge | Protect | Pursuit | Thunder
-----Personality-----

A vigilant equid paralleled by its boldness,
Gelbert
makes either a difficult or a helpful companion given different situation. It greatly dislikes people and does not like the attention that comes from complete strangers - usually needing to be convinced by
Emery
on quests that involve other people. While it may look like the zebra is dependent, it's capable to roam on its own and has actually saved
Emery's
back more than they can count. It doesn't need constant attention; as long as its appetite being constantly fulfilled.

Apparently Gelbert can read human scripts as well as setting up communicative morse-code like using sparks when it spares some extra effort than whining and snorting.
------History-----

A thunderstorm is a classic traveler's threat in the open plains and there be warning signs of them about proceeding most cautiously as there often a herd of feral Zebstrikas that has significantly caused more nightmare than the thunder itself. Twelve years prior,
Emery
and their father took an uncharted road from
Vsevets
to
Cliffmoor
believing after founding the freshwater end of the red river would take them directly to their destination. The Earl managed to drove the inhospitable herd away with a considerable effort yet it left an infant Blitzle that mistakenly followed the carriage's pokemon footprint is of it's herd all the way to
Cliffmoor
. The family felt utterly responsible and the Earl feels that it is possible for his child to manage the bond if it ever happens as he visioned a Zebstrika would make a highly beneficial pokemon for the needs of war, by that time.

Currently Gelbert helps a part of the knight's logistics, occasionally seen with the group of domesticated Mudbrays. Hence he was given the nickname.
Index

That Blitzle is so dang cute!! And I love the color scheme they're sharing.
Reply

your style is beautiful!!! ToT)9
this pair has so much style... i cant wait to see more of them!
Reply

thanks aaaaaa!! wanted to see the teamwork between hinrik and skender too!! <3
Reply

oh wow....... Damn cant wait to see more of you
Reply


! They look so cool! Good work

Reply