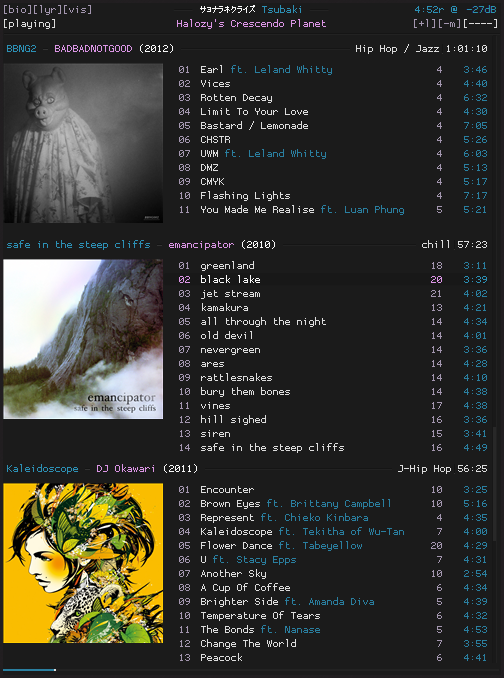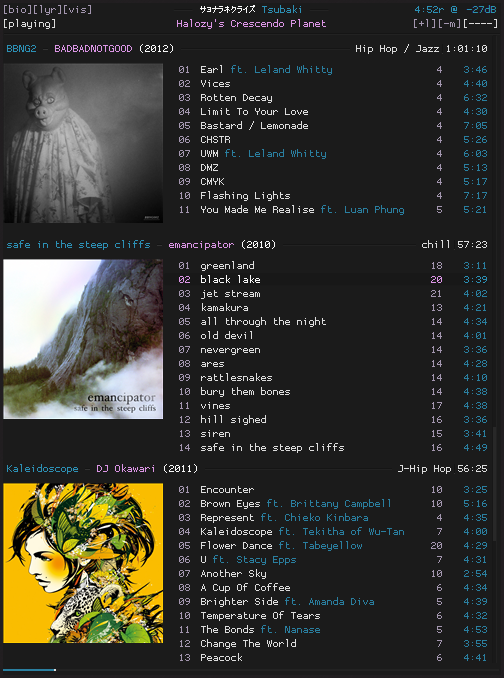 Watch
My mod of
ahoka's
foo_ncmpcpp skin. This mod adds some new panels, changes up some of that tags that are displayed and includes full last.fm playcount sync support. There are a few minor issues with this skin that are bugging me.. but, they should go unnoticed by most. For those who need help installing this please use the readme.
Preview
Readme
Extensive FAQ
Notes:
If you downloaded this before it had a readme on gist download it again. I also failed to include all of the required fonts at one point.
Changelog:


09-03-12 | fixed an error in the script with the [+m] button


11-03-12 | added more grouping options and fixed some clipping issues on the [vis] page


15-03-12 | minor text fixes and pixel alignment


30-03-12 | switched from Profont to ProggyTinySZ also removed all smoothing from fonts and cleaned up a few other things


01-05-12 | updated readme / fixed problem with 'DARK.COLOR.3' global variable


10-05-12 | added a few more grouping options for el_playlist (should be easier to add custom groupings)


Today (01-04-12) I decided to do a fresh install of foobar and follow my installation instructions to see where all of the problems in the comments were coming from. It seems like many of the problems stem from foobar being installed in non portable mode.
Installing it in portable mode should fix anything strange.
It is also advised to make sure that you are running foobar as an administrator.
Update: since da no longer accepts archives that contain executables I will simply link the most recent .fcl in the description.