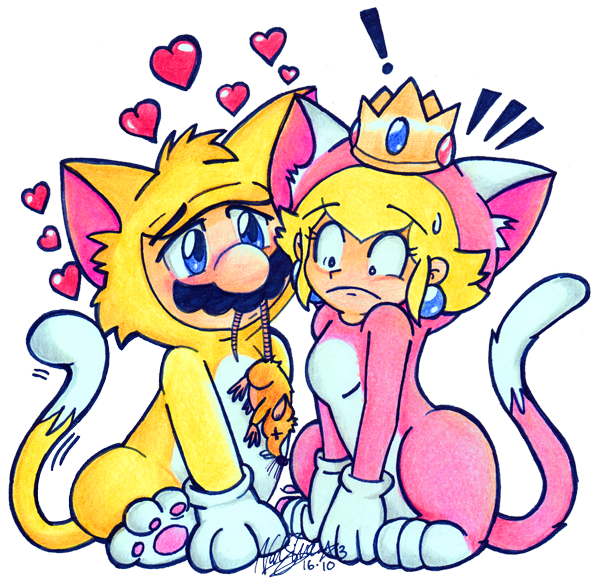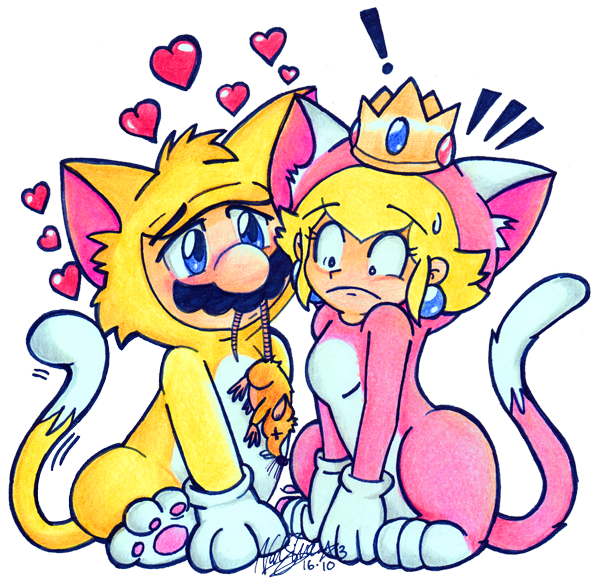 Some thing to compliment

This time instead of spitting out fur balls, I decided to make it a bit more romantic...what better way to express your love to that lucky lady of yours than giving her a dead rat? X]
Ohh! The joy of receiving a half mutilated pest as a gift!!

ahahahahaaaa....
Funny how the pic is with them in the exact same spot as the previous one, I didn't intend on that.. heh.

Coloured with Crayola pencils, Faber Castell. Relined with Sharpie.
Tis a quick colouring job, which only took me an hour? :b still...was in a bit of a doodling fernzy and thought this up.. yep, still much in to the cat mood.. and I'll be that way for a while C:
Yeah~ you probably noticed I didn't colour in the official way......again.....
and you know what I will say right?

yep, suck mah ballz! 8D
:b hope yeh like et!
Mario and Peach (c) Nintendo!
Updated* Thanks to my bouw
=
Badooleoo
for the alpha transparency edit C:
Extremely well drawn and thought through. The way how you drew Cat Mario and Cat Peach was astonishingly amazing, and I like how you captured EVERY detail. The disgusted expression on the Princess's face made one of the best impacts of the whole picture, besides Mario's hearts floating all over above himself. The rat was a nice addition to the piece, and I literally can not stop laughing at this. I like how you caught the light reflecting off of Peach's earrings, too. Good job on the picture and your other works, and keep up the good work in the future!
The Artist thought this was FAIR
25 out of 26 deviants thought this was fair.
Hmm... this is quite interesting. Let's get down to it, shall we?

Vision: First of all, love the feline interpretation here. Second, I think the tails are cool. Four stars.
Originality: You would think that with all the Mario Bros. fanart out there there would be at least one deviation of this kind. I'm pretty sure this will pave the way! Four and-a-half stars.
Technique: I like how Mario is holding the rat's tail with his mouth. That's quite a way to impress a female cat! Four and-a-half stars.
Impact: This is unique, comical, and entertaining all at once. I think that there should be more of this to go around. Four stars.

Overall, I think you did a fine job with this and I can only expect that you'll be a master at this kind of art before long. Good luck in your future endeavors!



--Kevin 'The Skull' Anderson
The Artist thought this was FAIR
25 out of 25 deviants thought this was fair.