B
orn in September. INFJ, lawful/neutral good, mage healer, Dalish elf. Jedi. Writer-procrastinator. Pizza lover, catlady, heavy tea drinker.

Likes:
comics. Star Wars. Sewing. Cosplay. Writing. Movies. Indie rock/pop. Looking at sunsets and sky. Photography. The smell of books. Foreign languages and cultures. Playing with the snow. Art. Music. Going to the cinema. Home made sweets. Cats. Singing. Ethnic restaurants. Videogames. Animals and nature.

Hates:
racism, mean people, homophobia, hypocrisy.
I hope you like my gallery and my cosplays!


My buddies <3








:




Bae & Me


(Icons by lovely GrappleMace)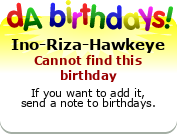 Current Residence: Fabletown.
Favourite genre of music: Indie Rock/Pop, Metal, Folk, Classical, Pop...
Favourite style of art: Impressionism, Art Nouveau, Pop Art, Japanese Classical Art.
Operating System: Windows 10
MP3 player of choice: iPod Nano 16 Gb
Wallpaper of choice: Rey and Kylo Ren.
Favourite cartoon character: X-23, Ahsoka Tano, Belarus, Ren Tao, Satine Kryze...
Personal Quote: "Be humble, for you are made of earth. Be noble, for you are made of stars.".